Iconic Landmarks of Ingleside 3 Pin Gift Set
$100 $90 for community news and a neat gift The Ingleside Light commissioned neighborhood artist Neil Ballard to design little enamel lapel pins of Beep's Burgers, Ingleside Terraces Sundial and the former El Rey theater to support the publication's reader-funded community journalism. While su

$100 $90 for community news and a neat gift
The Ingleside Light commissioned neighborhood artist Neil Ballard to design little enamel lapel pins of Beep's Burgers, Ingleside Terraces Sundial and the former El Rey theater to support the publication's reader-funded community journalism.
While supplies last, get all three Iconic Landmarks of Ingleside pins and an annual subscription to the Ingleside Light ($72 value). It's perfect for the holidays!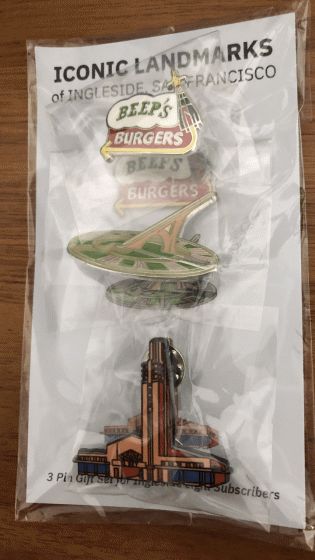 F.A.Q.
What if I already have an annual subscription? A year will be tacked on to your existing subscription.
What if I'm a monthly subscriber? You will become an annual subscriber.
What if I want more than one 3 pin gift set? Let's make a deal! Send a message here.
When will the 3 pin gift set be shipped? We make one shipment per week.