Overgrown with weeds and covered by windblown trash, the city-owned plot of land at Lakeview Avenue and Summit Street on the juncture of the Ingleside and Ocean View street grids has served as a makeshift shortcut up and down the hill.
But neighbors put together ecologically-minded plans over the past four years to build a destination staircase adorned with native plants that showcases the neighborhood's stunning views. The $1.2 million project to build the Lakeview Summit Steps was fully funded by the city but became a casualty of the pandemic.
Now they're advocating for city government to get it done.
After all, if it had been located in a neighborhood on the northern side of the city, the vacant hillside plot would already be improved with a staircase, landscaping and public art popular for its stunning views.
"If that right-of-way existed in Pacific Heights, the Marina or Noe Valley, there would be a sidewalk staircase there," Gonzalo Mannucci, the project award-winning volunteer landscape designer, said.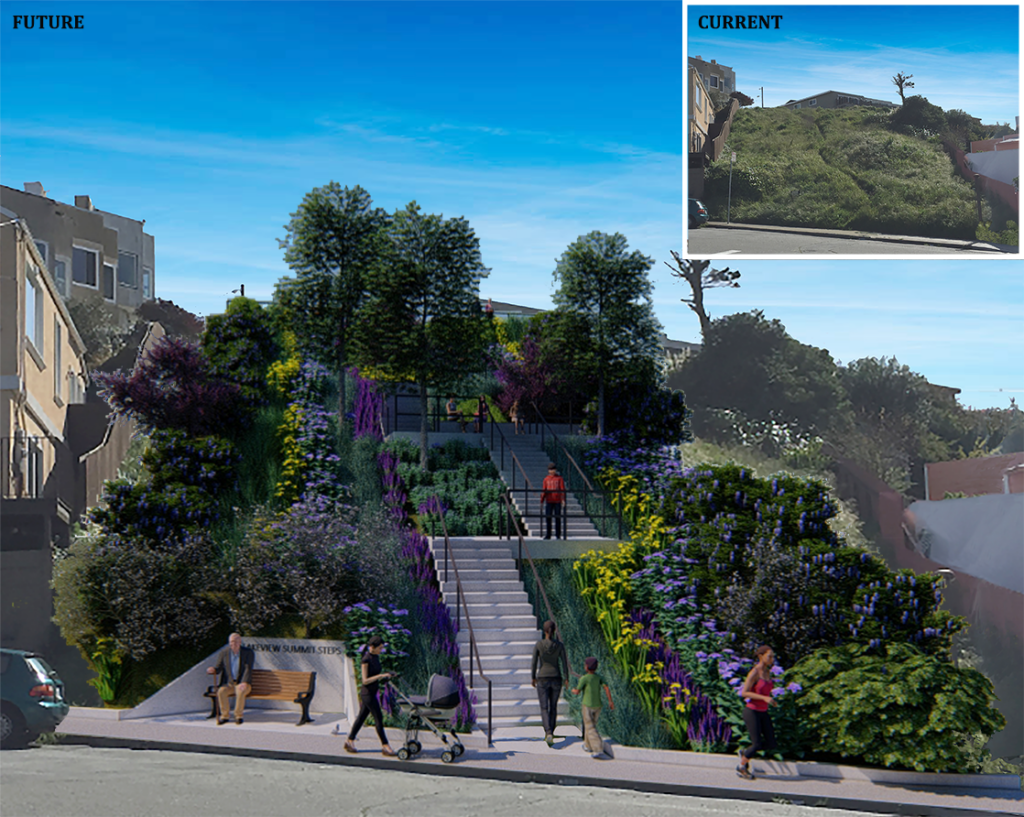 Beginnings
In the fall of 2017, Lakeshore Elementary School art teacher Daniella De Lutis, 44, and Amazon Web Services technical product manager Dante De Lutis, 46, had neighbors over for dinner at their Ingleside home.
The conversation turned to Ridge Lane, the nearby right of way that had recently been beautified. It occurred to them there was a similar property in need of beautification and access improvement: the city-owned plot at Lakeview Avenue and Summit Street. They reached out to newly elected District 11 Supervisor Ahsha Safai for a meeting.
Safai and the group of neighbors met at the plot. Safai recommended that they sign up with the  nonprofit San Francisco Parks Alliance as a fiscal sponsor and perform neighborhood outreach for a kickoff meeting.
Process Kickoff
In October 2017, a kick off meeting was held at the De Lutis home.
"I would say there were at least 25 people in that initial meeting," Daniella said. "Ahsha was very impressed with the turnout."
Dante and Daniella, who had gathered a diverse core group of 40 residents, were voted in to lead the project.
Ocean View resident Gonzalo Mannucci, a student at the UC Berkeley Extension's landscape architecture program, suggested he could find a landscape architect. The group insisted that he take on the project himself.
Mannucci, 52, a San Francisco resident since 1998, moved to Ocean View in 2013 but decamped for Concord in 2020.
Regular monthly meetings were held at the Ingleside Library Community Room with Parks Alliance and Public Works representatives on hand.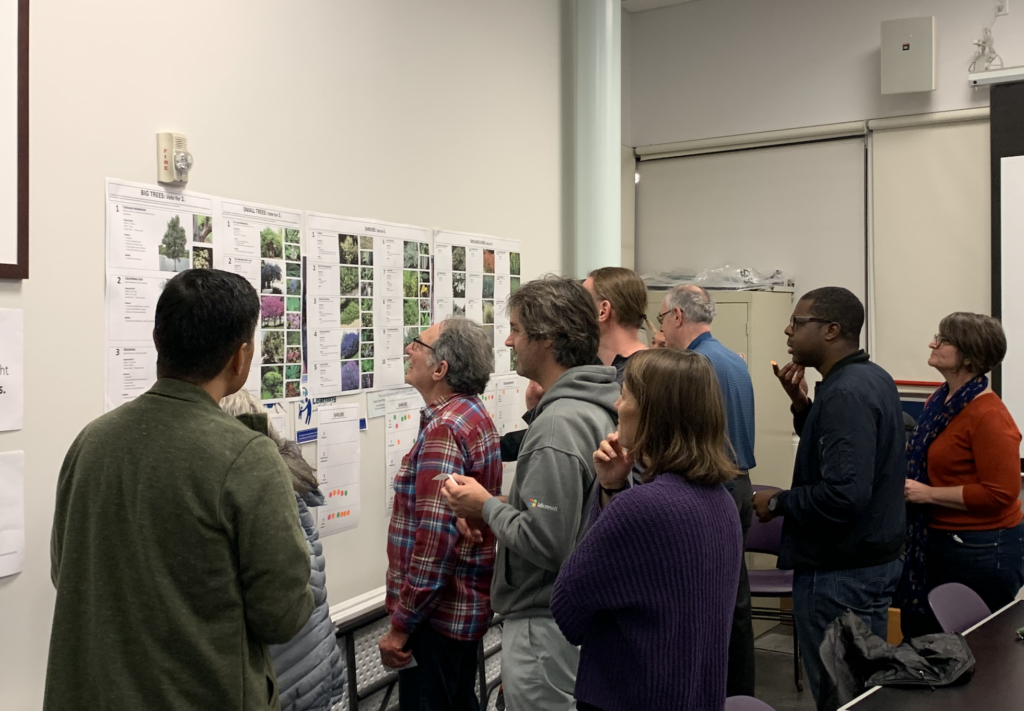 "We basically had the neighbors that bordered the project, who had never really worked together or even communicated, thrusted into this big decision that was gonna affect their views, their backyard, the way that people walk by their buildings," Dante said. "It was something big for them to all come to agreement on."
"There was very much a free thinking, free flowing community-based initiative where we took input, did various votes on plants and design and gathered feedback," Dante added. "A lot of times decisions weren't what we wanted, necessarily, but we took it into consideration and let the public speak."
While sometimes decision making could be tense, the group persevered.
"Everybody was there because they really cared about what happened to this space and making it better," Mannucci said.
Design
The group inherently knew making a safe connection between the two streets was the first priority.
"Erosion is a pretty big concern on such a steep grade," Daniella said.
That would require the installation of stairs, terraces and lighting.
"You have this rocky outcrop to dig into and build terraces and concrete steps and a viewing terrace at the very top with safety bollards, but it's an amazing physical asset, not just for the neighborhood, but for the city," Mannucci said.
Mannucci conducted a site analysis, led community workshops, completed conceptual and schematic designs and completed design development documents, delivering in total 300 volunteer hours.
Mannucci's work was given a Merit Award in the student category of the ASLA NorCal 2020 Design Awards. He now works as a landscape designer in Walnut Creek at Gates and Associates.
"Every time I sat down to do anything design related, I was thinking about the last meeting we had, and the last set of needs that I heard from community members," Mannucci said.
The plans call for California native trees, shrubs and ground cover plantings that will be pollinator friendly.
"We're improving the ecology of the site by going all in on California native plants that are going to create habitat and food and just, you know, an ecologically smarter site," Mannucci said.
Once the project is completed, Daniella has designs on adding public art.
"One of our goals was to have a set of destination steps like other neighborhoods," Daniella said. "After the site is fully built, and the steps are installed in cement, the next phase of the plan is the beautification of those steps with tiling or painting."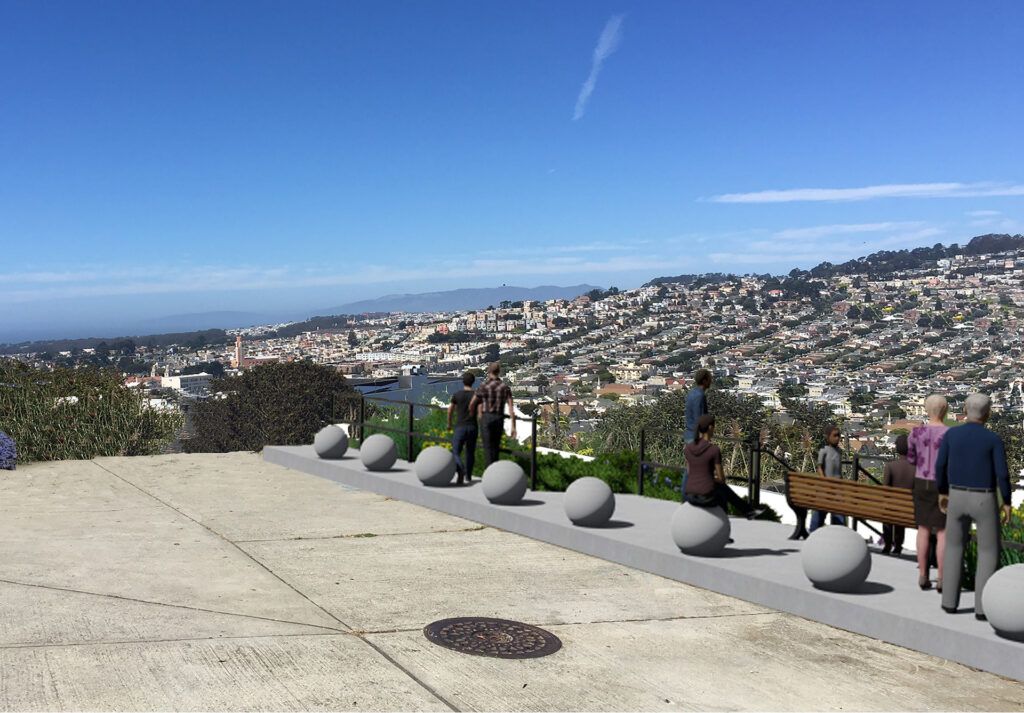 Next Steps
In approximately a year's time, the group completed a design plan.
At Safai's request, Mayor London Breed included the project in the 2019-2020 budget. Once the pandemic struck, the $1.2 million were reallocated toward relief efforts.
The project cannot easily be done piecemeal because of the major concrete work required.
"Unless we can get the project fully funded, we'll basically have to go back to the drawing board and think of a design that doesn't use as much concrete," Daniella said.
Safai's office is still looking into fully funding the project.
"It's really a project where the neighborhood came together," Daniella said.
For more information about the Lakeview Summit Steps, visit the project website.
---
Support independent community news
No media outlet covers our neighborhood like The Ingleside Light. Full stop.
Reader support sustains the expensive reporting our community needs and deserves. Will you join the hundreds of readers and become a member?