Politics
$20,900 Prototype Trash Can Ready For Review On Ocean Avenue
Three prototype waste receptacles have been installed across the city for testing to determine the public's preference.

The rectangular trash can standing at the south west corner of Ocean and Plymouth avenues beside a bus shelter doesn't look like much yet it cost $20,900.
The prototype waste receptacle, called "Soft Square," is designed to collect garbage and bottles and cans while making it difficult for over-filling and rummaging.
The costly can is one of three custom models deployed in 26 locations by the Department of Public Works this week as part of a $550,000 pilot program to test the prototypes along with three readily available models.
After 3 ½ years of planning and design, one of the six models will be chosen to replace the 3,000 faulty cans produced by a company owned by Walter Wong, a permit expediter ensnared in the city's corruption crisis.
Over the next two months, residents are encouraged to try the prototype trash cans and provide feedback. The three readily available models will be deployed for review during the following two months.
Aside from aesthetics, the prototypes fulfill the criteria that new waste receptacles be able to hold a rolling toter for easy collection by Recology workers; resist rummaging; and use sensors to tell Recology when they're full and should be emptied. They each have a durable and cleanable component to handle recyclables.
The "Soft Square" is the only prototype model that surpassed the Board of Supervisors' stated price ceiling of $20,000 per can.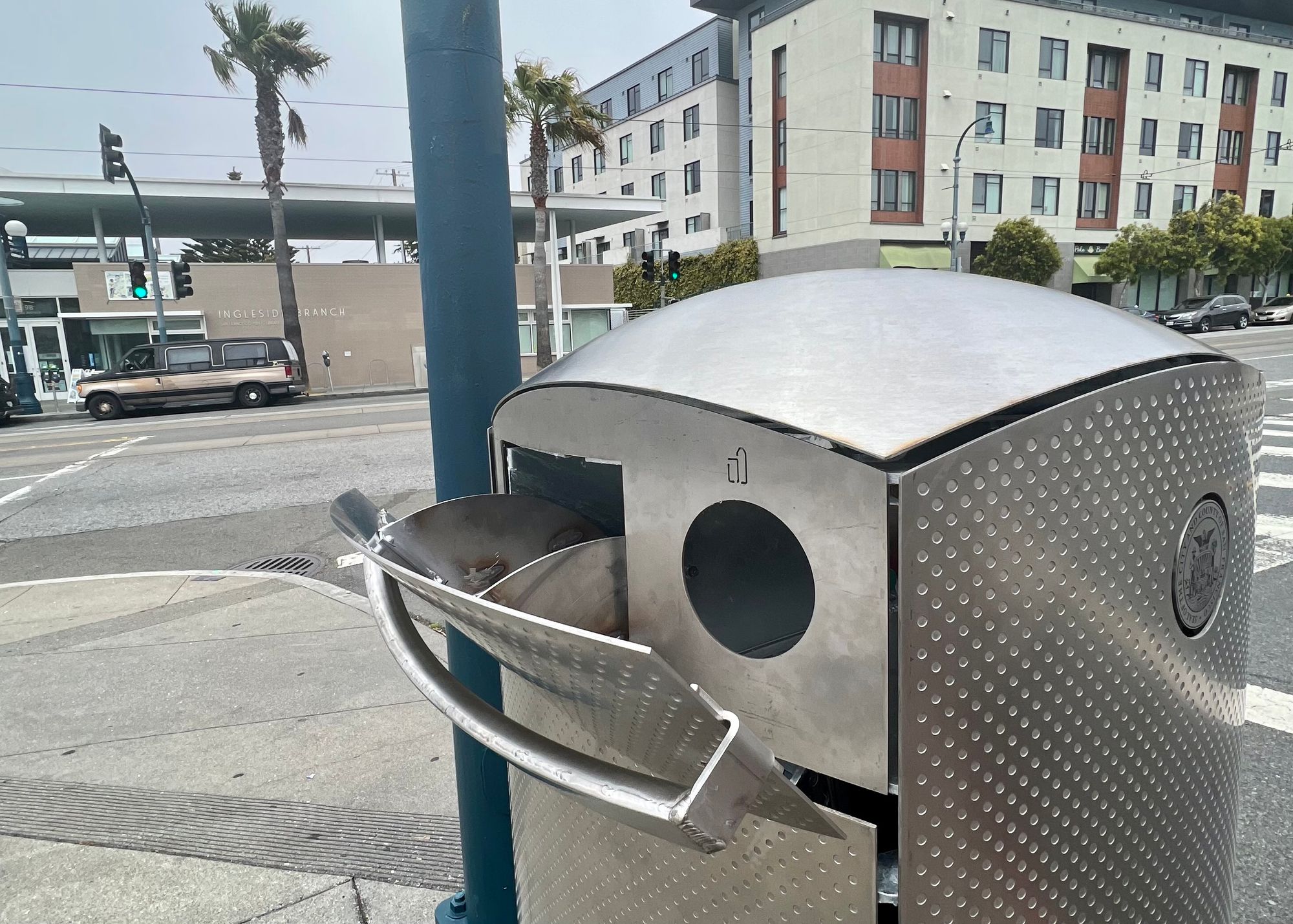 Can Confusion
There are four types of public trash cans on Ocean Avenue between Manor Drive and Frida Kahlo Way: the "Soft Square" prototype, the old green concrete cans, the metal Renaissance cans and one "smart" can.
Many older model trash cans were recently deployed in the neighborhood. During Gavin Newsom's time as mayor, the number of cans on the street was reduced citywide in an attempt to disincentivize illegal dumping.
DPW placed a "smart" trash can at Unity Plaza. Manufactured by PEL Waste Reduction Equipment, the SolarStreetBin is outfitted with cigarette butt and dog waste cans on its sides and topped with a solar panel to power its motorized trash compactor along with the ability to inform Recology when it needs to be emptied.
A DPW source told The Ingleside Light that the can did not meet the city's standards and would be removed.
---
Support independent community news
No media outlet covers our neighborhood like The Ingleside Light. Full stop.
Reader support sustains the expensive reporting our community needs and deserves. Will you join the hundreds of readers and become a member?