The community nonprofit is seeking a temporary place to operate since the New Year's Eve storm damaged its building.
The Ingleside Light is an independent news outlet. Sign up to receive our latest stories as soon as they're published.
Services at the I.T. Bookman Community Center have been relocated or done on Zoom since flooding during the Dec. 31 rainstorm caused extensive damage to the building, making it unsafe for staff and clients.
In the meantime, the Lakeview Wellness Hub is temporarily closed, and the center's Winter Jam Series, a community social event with live music, had to be relocated to the Geneva Powerhouse.
Felisia Thibodeaux, executive director of the nonprofit Southwest Community Corporation which operates out of the center, said walls and flooring need to be repaired.
"We've been in this community for 38 years, and we intend to dig deep and continue providing services to this community that really lacks a lot of nonprofit services necessary for communities to thrive and help our community overcome barriers," Thibodeaux said. "We are an essential hub providing much needed services to the entire community."
Thibodeaux said they are looking to open a temporary location, possibly on Ocean Avenue.
"We just suspended our programming for in-person," Thibodeaux said. "We're utilizing the offices and my reason to find space for my program manager so that we can start to prepare for the necessary rehab that has to happen."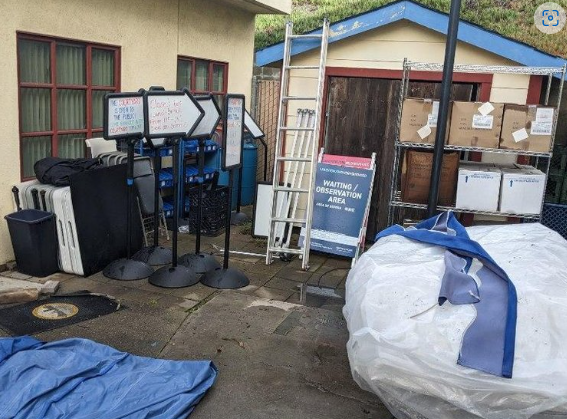 The center has provided the community with more than just recreation. It offers meals, fitness classes and educational workshops.
Its wellness hub, under Thibodeaux's leadership, made headlines for the number of Covid-19 vaccination completions and other pandemic-related services it offered.
"We're definitely not trying to leave the community because our 400 plus seniors that we serve in any given year rely heavily on our access to nutrition, our recreation and our wellness services," Thibodeaux said.
The Southwest Community Corporation is accepting donations on its website.
Support Independent News
This story you've just finished was funded by our readers. We want it to inspire you to either sign up to become a member or make a gift to The Ingleside Light so that we can continue publishing stories like this one that matter to our community and city.
The Ingleside Light is a reader-funded news publication that produces independent journalism to benefit the community. We were founded in 2008 to fill a void in San Francisco's press: An outlet dedicated to the people of the greater Ingleside neighborhood. More than a decade later, The Ingleside Light is still here doing the work because it is critical to democracy and our civic life.
Your contribution today will help ensure that our critical work continues. From development to small business, to parks and transportation and much more, we are busier than ever covering stories you won't see anywhere else. Make your gift of any amount today and join the hundreds of readers just like you standing up for the power of independent news. Thank you.
JOIN NOW