Ingleside's tried and true neighborhood grocer is open after a five-year hiatus with the addition of a new flower shop.
The Ingleside Light is an independent news outlet. Sign up to receive our latest stories as soon as they're published.
The customers returned as if nothing ever happened.
Fruit Barn, the family-run neighborhood grocer located on the 1600 block of Ocean Avenue, closed in 2017 shortly after it was sold to new owners.
Five years later, it's open again but with the addition of a small flower shop. Customers rushed back.
New owners Adel Almaznai and Faroq Mazid acquired the beloved neighborhood grocer last year, completed a remodel initiated by the previous business owner and held a grand opening on Tuesday, June 7.
"Our goal is simply community, give them better products organically, you know, good food," Almaznai said.
The store has a wide variety of produce ranging from fruits such as strawberries that are on sale for $.99 to vegetables like asparagus starting at $1.89, along with other non produce items such as drinks, household items, frozen goods and more.
They want to provide all kinds of cultural cuisine ingredients as well to ensure that every population is well serviced by their inventory, according to Almaznai.
On opening day, there was a line of a dozen customers at the cashier.
"I want them to know that we, me and the customers, can do better things," Almaznai said. "I want to grow and I want to help the community grow."
Peter Kay, an Ingleside resident, said he had shopped at the Fruit Barn multiple times over the years. Now that it's reopened, Kay is ecstatic.
"We're happy because it's nice to have a market that you can walk to and [it] looks like the first time I came in," Kay said. "The produce is fresh and it's quite a selection of other things. The previous markets didn't have as much of a selection. It's pretty impressive."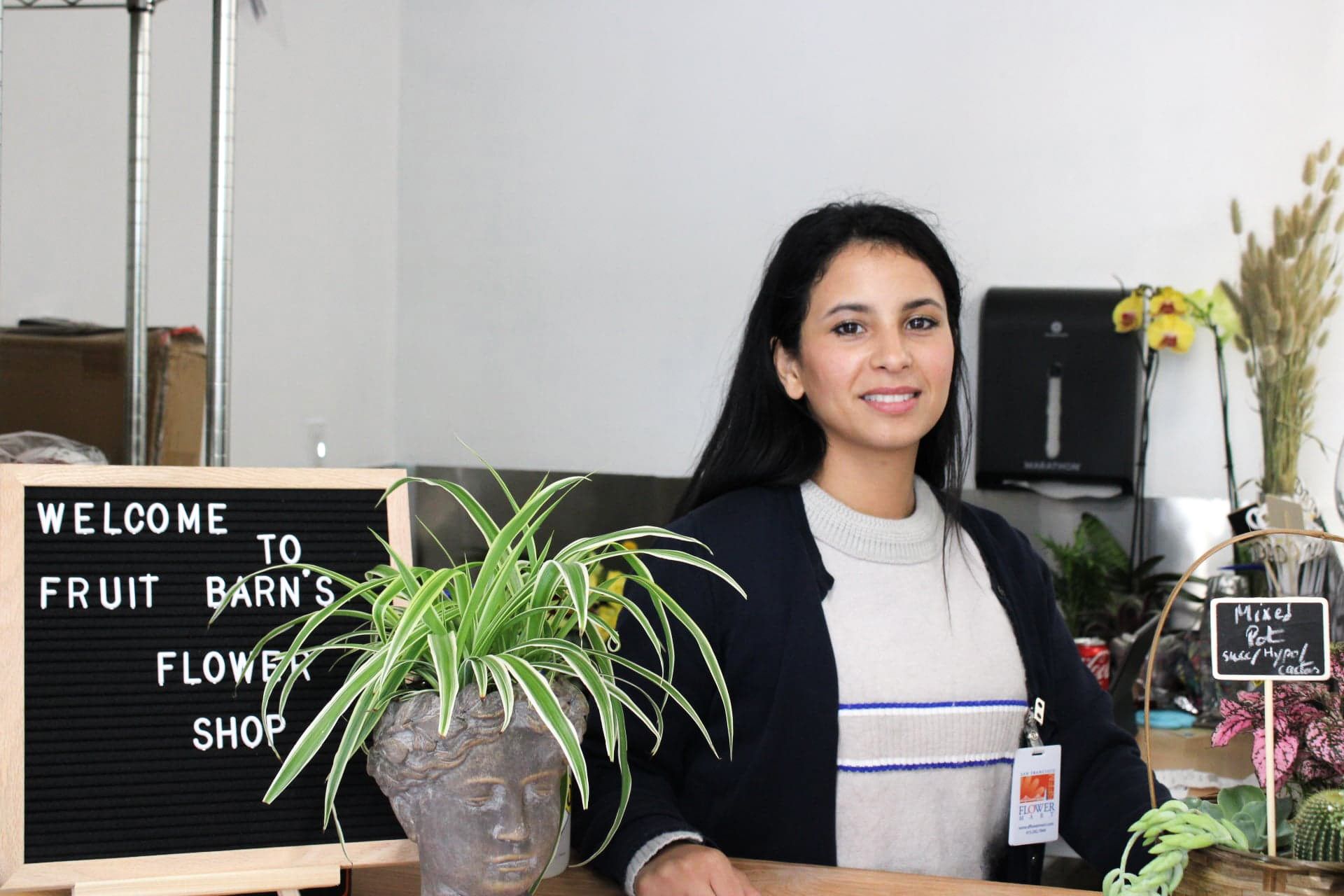 New Flower Shop
The addition of a small flower shop offering a variety of fresh cut flowers and potted plants creates more incentive for customers to visit. The idea to add this extension came from store partner Mazid and flower shop operator Asmae Siko.
"You see every grocery store, the bigger ones, they have a flower shop area so we wanted to have it too," Siko said. "Maybe at different prices or lower prices than them to make it affordable to everybody."
Siko, who worked for the store in 2016 under the previous management, is happy to be back helping some of the same customers.
"I love making customers happy — and I know the flowers make everybody happy," Siko said.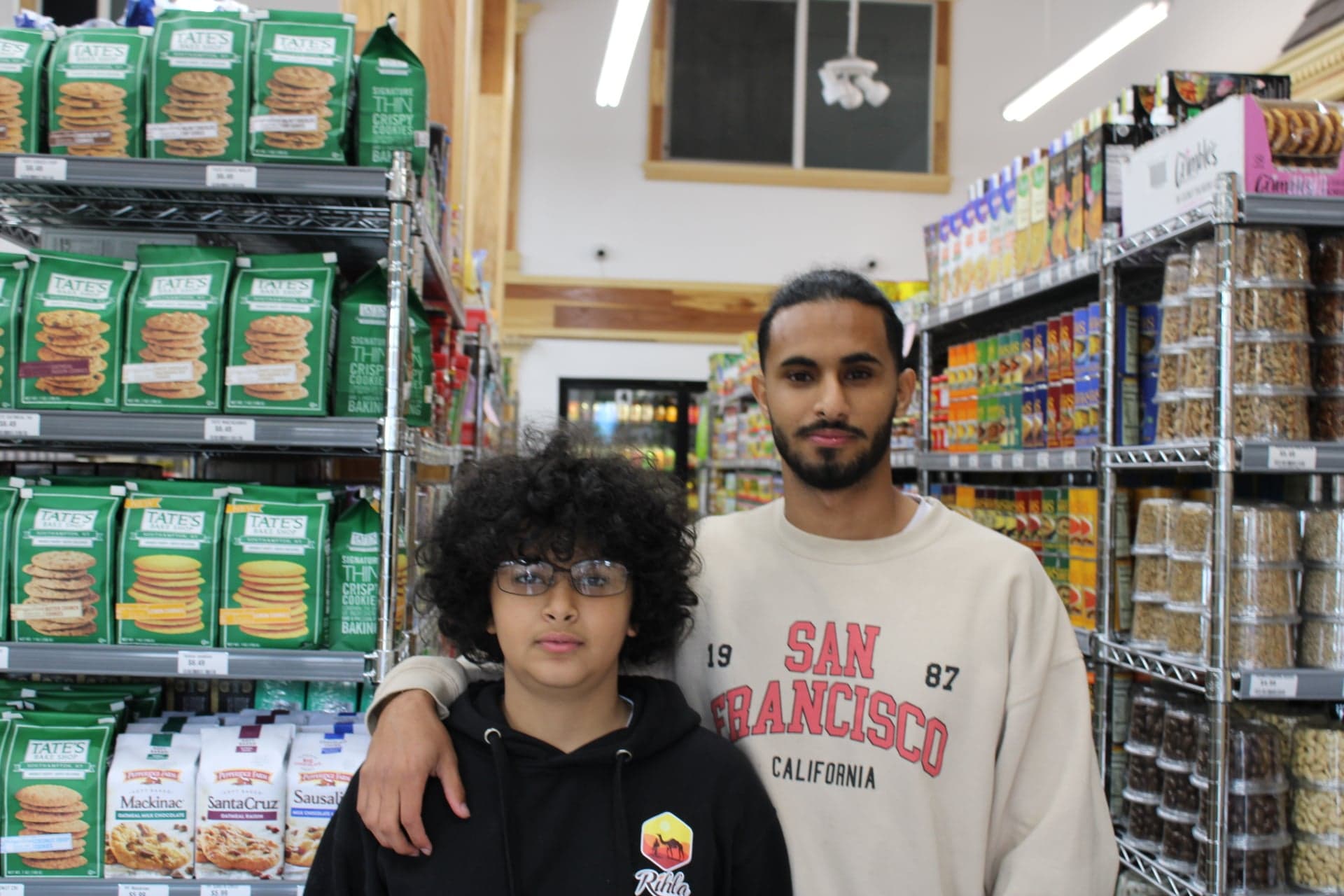 Community Market
This small grocer is family run. Almaznai's sons help out at the store doing all sorts of tasks.
Luai Almaznai, his son, wants people to know that Fruit Barn isn't just his family's store, but the community's store as well.
"I want people to know this is a community market, not just the typical big corporation," Luai Almaznai said. "Feel free to tell us what to improve on and what we should bring in. We care for the customers and we want to improve it."
Having only been open for a few days, they have already seen significant foot traffic.
"They've been waiting for years and years for this grocery market to open and I'm glad that we answer to them," Luai Almazanai said.
A new website is coming soon for people to place in-store and delivery orders, Almazanai said.
Fruit Barn
Address: 1616 Ocean Ave.
Hours: 8 a.m. to 9 p.m.
Phone: (415) 469-8010
Support Independent News
This story you've just finished was funded by our readers. We want it to inspire you to either sign up to become a member or make a gift to The Ingleside Light so that we can continue publishing stories like this one that matter to our community and city.
The Ingleside Light is a reader-funded news publication that produces independent journalism to benefit the community. We were founded in 2008 to fill a void in San Francisco's press: An outlet dedicated to the people of the greater Ingleside neighborhood. More than a decade later, The Ingleside Light is still here doing the work because it is critical to democracy and our civic life.
Your contribution today will help ensure that our critical work continues. From development to small business, to parks and transportation and much more, we are busier than ever covering stories you won't see anywhere else. Make your gift of any amount today and join the hundreds of readers just like you standing up for the power of independent news. Thank you.
JOIN NOW