Politics
Black OMI/Lakeview Shares Input on San Francisco Reparations Plan
The San Francisco reparations committee came to the neighborhood to gather feedback ahead of a key hearing.

The San Francisco African American Reparations Advisory Committee met with members of the Ocean View-Merced Heights-Ingleside and Lakeview community Thursday to discuss the final reparations report and recommendations to make amends for historical displacement and discrimination.
Over 30 people from the neighborhood's Black community attended the meeting at I.T. Bookman Community Center. The gathering was the fifth of seven community engagement meetings held over the last two months while the committee prepares for the Board of Supervisors to issue its final recommendation for reparations plan at Sept. 19 hearing.
"This is the place where most things are demonstrated for the rest of the country," said Tinisch Hollins, the committee's vice chair. "If it happens here, it happens in lots of other places which is why the process that we have in San Francisco is so important."
The committee was founded in December 2020 following District 10 Supervisor Shamann Walton's introduction of the legislation in February 2020 to address the harm and injustice that Black people have faced in the city. Part of the report's recommendation included giving qualified individuals a lump-sum payment of $5 million in addition to housing aid and other services.
Over the last two years, the 15-person committee has hosted several public and community engagement meetings to create the city's reparations plan. The nearly 400-page final version was filed to the board of supervisors in July 2023.
"We all represent different focal points," Hollins said. "Some of us have been displaced. Some of us have experienced different types of harm and some of us have had different experiences. We bring all of that into this work that we've led over the past two years. Our charge has been to identify the harm that has been done to black San Francisco."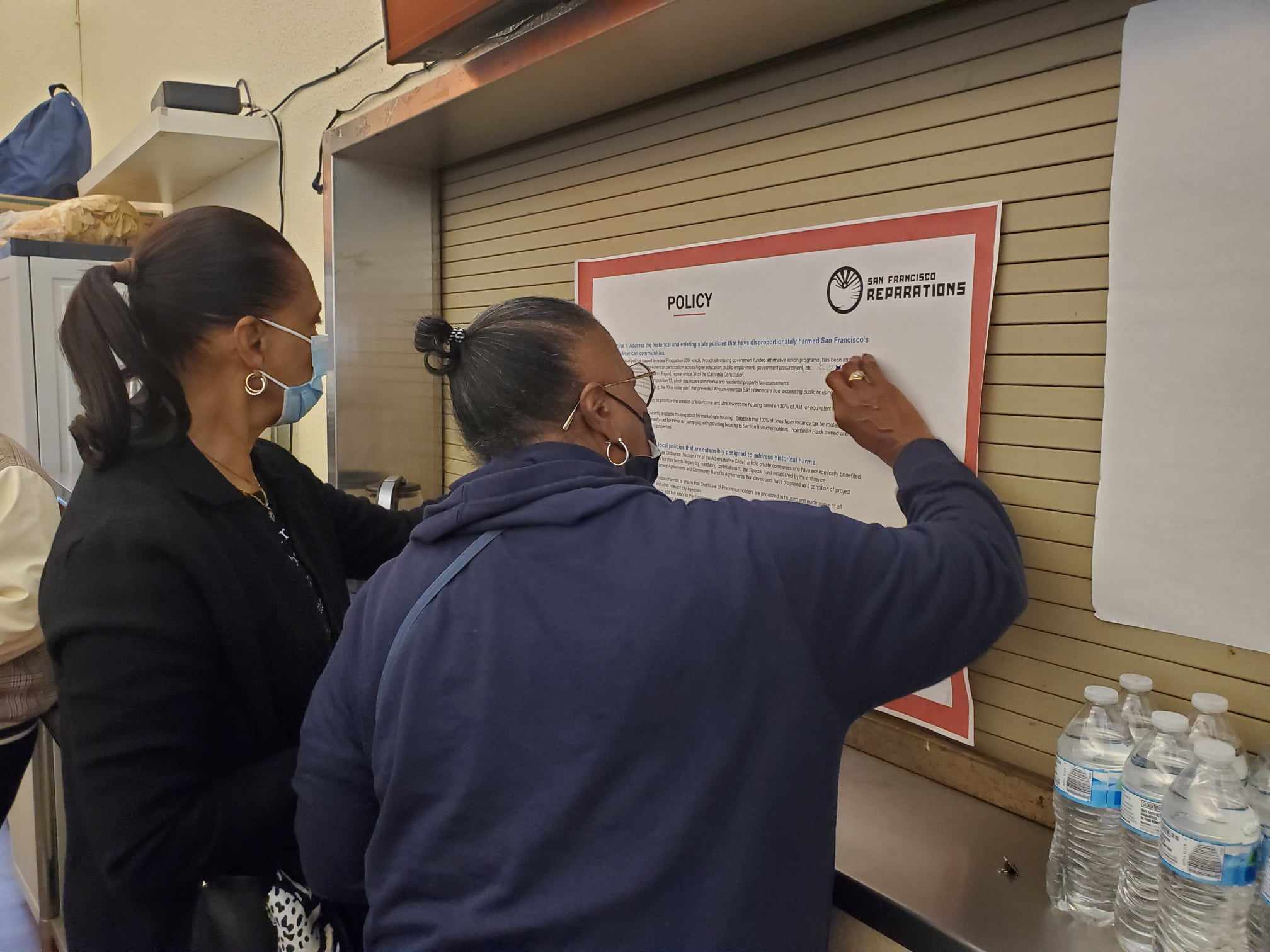 Thursday's meeting highlighted the final four sections of recommendations that focus on economic empowerment, education, health and policy. Each section had two or more objectives that detailed specific actions and programs that could be created once approved.
"Over here in Lakeview we always complain about our voices not being heard," Youth 1st Executive Director Renard Monroe said. "We miss out on opportunities so we brought the reparations meeting to our district — to our community — for us to have a voice. It's real important for us to stay involved in all aspects of our community—all we have is us. We have to depend on us so your voice is so important."
Each participant was given stickers to place on the key objectives they felt were most important and were asked to give feedback at each section.
"The United States has money," said Virginia Marshall, president of the San Francisco Alliance of Black School Educators. "They owe us because they've harmed us for 400 years of slavery and harmed us ever since that time. We have to hold the board of supervisors accountable and all of our city leaders."
Several community members voiced concerns on the lack of services listed for early childhood education, creating affordable taxes for generational wealth and the consequences should supervisors deny the plan.
"What we're fighting for is we're fighting for agency to choose how we want to repair the harm," Hollins said. "We have a right to do that and we have a right to push the city to look for more options. Just because the city budget may not have what we need it to right now, San Francisco's wealth is much bigger than the city budget. San Francisco's value is much deeper than what's in its bank account."