The dispensary's seventh location and first in the Bay Area is in Ingleside on Ocean Avenue.
The Ingleside Light is an independent news outlet. Sign up to receive our latest stories as soon as they're published.
The neighborhood's five-year cannabis dispensary dry spell is over now that KOLAS opened its doors.
The Sacramento-based chain soft-opened its seventh location and first in the Bay Area on Jan. 17 on Ocean Avenue between Capitol and Miramar avenues. KOLAS also offers weed and cannabis delivery services in Sacramento and throughout Northern California.
The opening was a longtime coming. KOLAS took over Waterfall Wellness Center and registered its business at the storefront in January 2019.
Neighborhood cannabis dispensaries Waterfall Wellness and 1944 Ocean Cooperative closed in 2018, despite holding active city permits allowing for operation.
A dispensary called 1019 Smoke is trying to open five blocks away.
Eric Luchini, the company's marketing and communications director, said the main reason they chose the neighborhood was because it is situated between both the City College of San Francisco and San Francisco State University.
"Legalized cannabis looks to better the entire community, and that's what we bring to San Francisco," Luchini told The Ingleside Light. "We don't do anything shady. Everything's by the book — whatever city, state and federal laws say we follow — because there's a lot for us at risk."
Luchini said they want to bring San Francisco an actual community dispensary which they felt the city was missing.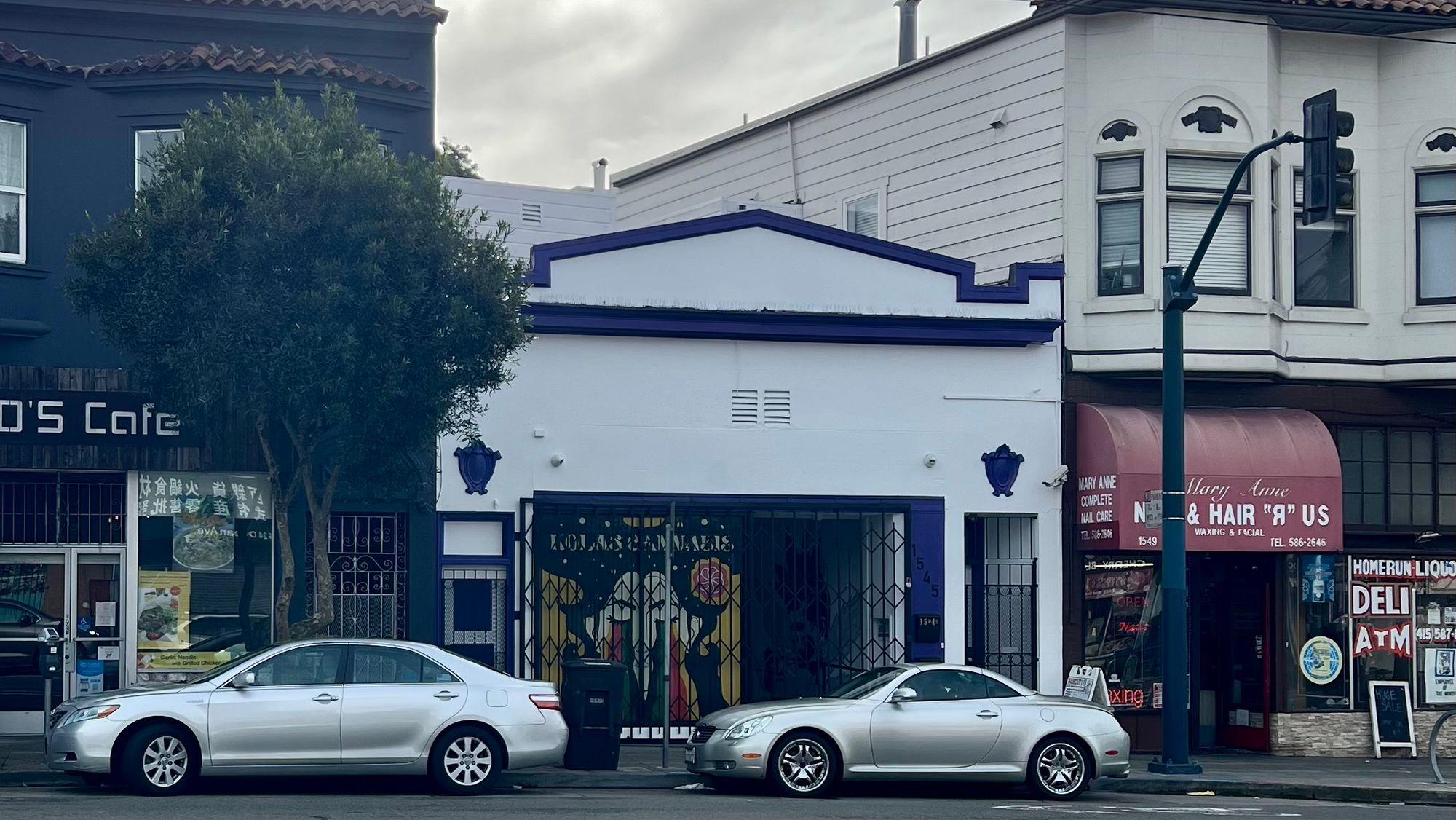 Backstory
The storefront KOLAS operates in has been home to other dispensaries long before retail cannabis was approved by California voters in 2016.
In 2005, during the days of medical cannabis when it was called Herbal Relief Center, it was one of three clubs raided by federal agents in "Operation Urban Harvest." Marijuana plants, growing equipment were seized.
It reopened under the name Norcal Herbal Relief Center and a few years later Waterfall Wellness Center.
In 2007, the club made headlines again when it was uncovered that Supervisor Ed Jew owned one-third of the building after an investigation was opened into Jew for soliciting illegal payments from a boba tea operator and failure to meet residency requirements for elected officials.
KOLAS has made headlines for opening a 7,700-square-foot marijuana megastore in the Sacramento area and for being investigated in 2019 after a Sacramento Bee report uncovered ties between one of its minority investors and a Ukrianian-born businessman Andrey Kukushkin, who was arrested in San Francisco for his connection to an alleged 2018 campaign finance scheme in Nevada with Lev Parnas and Igor Fruman. Parnas and Fruman were associates of Rudy Guiliani, President Donal Trump's personal attorney.
Modern Dispensary
KOLAS remodeled and outfitted the location with art fitting San Francisco's iconic countercultural past. Pot products on display include pre-rolls, gummies, flowers, vapes, edibles/beverages, tinctures, topicals, CBD, specialty products and accessories.
The Ocean Avenue location will have 10 employees to start, who will wear KOLAS-branded clothing and routinely be trained to stay up-to-date on the uses of their products. A security guard will be on the premises during operation hours.
"The goal is to hire as many employees from the immediate neighborhood, as possible, to support the local community and present an organic neighborhood experience," KOLAS Operations Manager Matt Haynes said.
Luchini said revenues come second to helping enhance people's lives and the community.
"Our retail slogan is 'elevate your senses,' but our global slogan is 'elevate your life,'' Luchini said. "Anything we can do to make your day better, whether it's cannabis, healthy sleep, aches and pains, lifestyle recreation, support the community, support the local business, support music, art — whatever it takes."
KOLAS plans to support local businesses and get involved with the community organizations.
"We just want to be a good neighbor in the community," Luchini said. "KOLAS is your store. Please come and visit us. Say, 'Hi' to your neighbor. We'll always say 'Hi' back."
KOLAS
Address: 1545 Ocean Ave.
Phone: (415) 376-4420
Soft-open Hours: Daily, 12. to 9 p.m.
Visit Website
Support Independent News
This story you've just finished was funded by our readers. We want it to inspire you to either sign up to become a member or make a gift to The Ingleside Light so that we can continue publishing stories like this one that matter to our community and city.
The Ingleside Light is a reader-funded news publication that produces independent journalism to benefit the community. We were founded in 2008 to fill a void in San Francisco's press: An outlet dedicated to the people of the greater Ingleside neighborhood. More than a decade later, The Ingleside Light is still here doing the work because it is critical to democracy and our civic life.
Your contribution today will help ensure that our critical work continues. From development to small business, to parks and transportation and much more, we are busier than ever covering stories you won't see anywhere else. Make your gift of any amount today and join the hundreds of readers just like you standing up for the power of independent news. Thank you.
JOIN NOW