News
Ocean Paws Pet Shop Expands To Add Vet, Hotel Services
Ingleside's pet boutique moved its retail business into a larger storefront next door to offer more products and services for furry companions.

The Ingleside Light is an independent news outlet. Sign up to receive our latest stories as soon as they're published.
Ingleside's neighborhood pet shop just got bigger and better.
Ocean Paws Pet Boutique, the pet store that opened last year on Ingleside's stretch of Ocean Avenue, took over the space vacated by Chase Bank in its building complex to increase its space for retail and vet clinic along with a pet hotel.
Co-owners Mike Sorrels, Fernando Gomez and Raul Morales completed weeks of renovations and held a soft opening on Oct. 1 and a grand opening party this weekend.
"We made a deal and moved retail over to this space," Sorrels said. "So we threw in and we're doing it — we're making it happen."
They are adding new items daily to their inventory and still operate grooming services and the pet playground. They carry significantly more cat products among a variety of pet clothes, toys and treats that fill the floor. They have added new freezers for a variety of food and TV screens to display deals, services and photos of the pet of the week.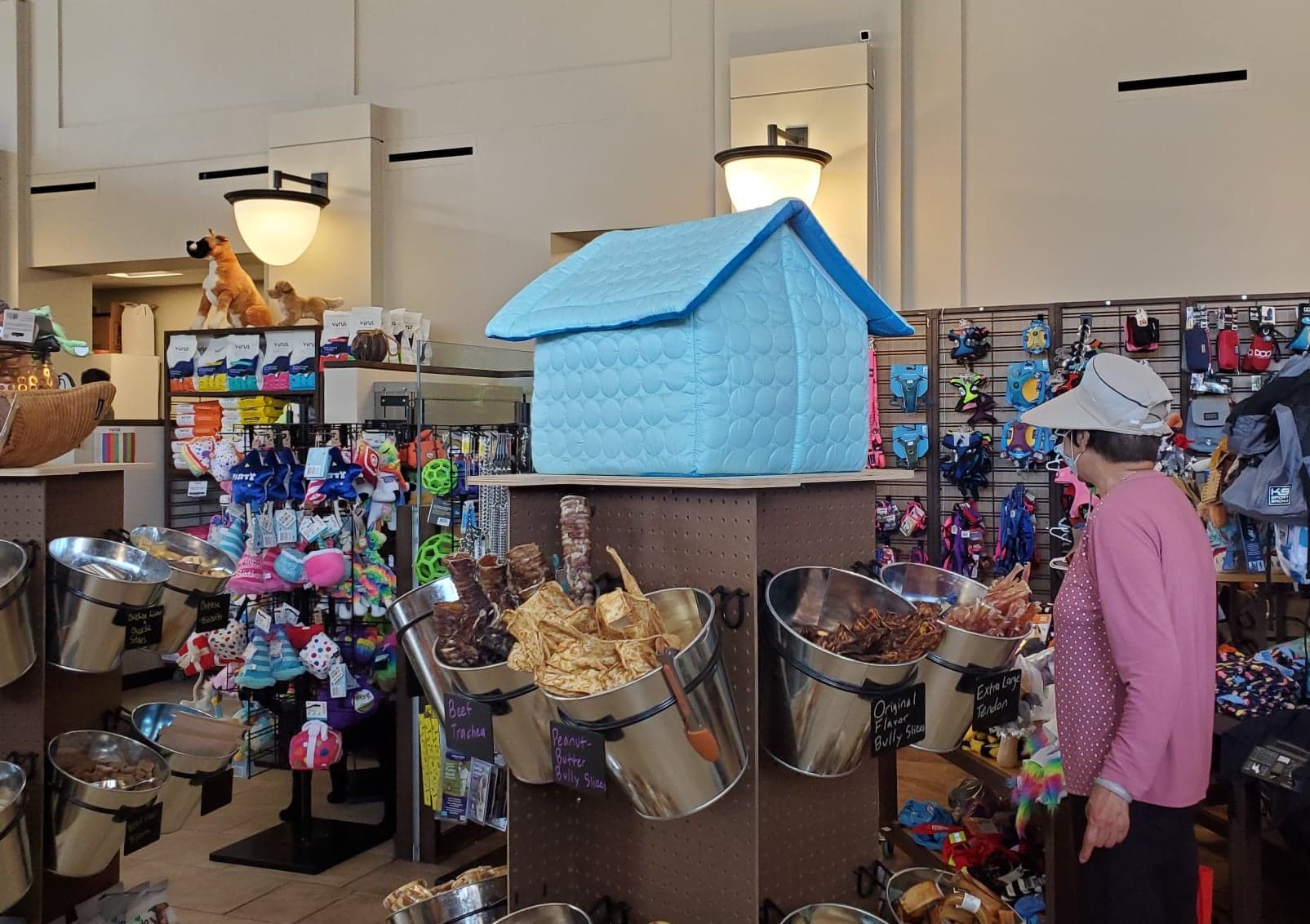 "We have so many more products that we can help guide our customers to have the best product possible as well as a nice open space for people and the whole community to have something accessible for their pets," said Gabriel Rios, the store's clerk and inventory manager.
Sorrels said they also have a loyalty rewards program, a promo book and plans to release a monthly email newsletter filled with deals.
The store's grand opening is this Saturday from 12 to 3 p.m. during the neighborhood's Halloween block party on Faxon Avenue. Visitors can expect a variety of deals such as $10 off 25-plus pound bags of kibble, giveaways, raffles and more.
"Everybody's super excited to see the store grow and to be able to know that we're neighbors," Sorrels said. "That's probably the most rewarding part I think, for us, is that we have such a great base of loyal, kind, neighborhood customers. It makes all the difference in the world."
While they are keeping up with the latest trends in the industry, they are more than willing to add or help you find any items you are looking for that are outside of their current inventory.
"It's just nice to see. Mike's been a really hard worker, wanting to branch out so we're glad that he did and we're here to support," customer Smitty Smith said.
Ocean Paws
Address: 1649 Ocean Ave.
Hours: Daily, 9 a.m. to 6 p.m.
Phone: (415) 347-7305
Website: www.sfoceanpaws.com
Support Independent News
This story you've just finished was funded by our readers. We want it to inspire you to either sign up to become a member or make a gift to The Ingleside Light so that we can continue publishing stories like this one that matter to our community and city.
The Ingleside Light is a reader-funded news publication that produces independent journalism to benefit the community. We were founded in 2008 to fill a void in San Francisco's press: An outlet dedicated to the people of the greater Ingleside neighborhood. More than a decade later, The Ingleside Light is still here doing the work because it is critical to democracy and our civic life.
Your contribution today will help ensure that our critical work continues. From development to small business, to parks and transportation and much more, we are busier than ever covering stories you won't see anywhere else. Make your gift of any amount today and join the hundreds of readers just like you standing up for the power of independent news. Thank you.
JOIN NOW