News
71 Parking Spots Eliminated in Latest M Ocean View Proposal
The project's goal is to install accessible passenger boarding areas while also making pedestrian safety improvements.

A new detailed project proposal is available online this May from the San Francisco Municipal Transportation Agency that seeks to improve the reliability and passenger boarding areas of the M Ocean View light rail line between Junipero Serra Boulevard and Balboa Park BART station.
The latest proposal in the M Ocean View Transit and Safety Project includes adding a transit-only lane along the San Jose Avenue portion of the route, removing transit stops and installing new traffic signals at intersections with transit signal priority to speed up the M, which travels an average of 9 mph during peak times in the project area.
The project also seeks to improve train boarding areas with new ADA transit stops, installing passenger boarding islands and transit bulbs. Pedestrian improvements are included in the designs.
Installing transit bulbs and new transit boarding islands will require the removal of parking spaces, which the SFMTA said they recognize is a concern from the community.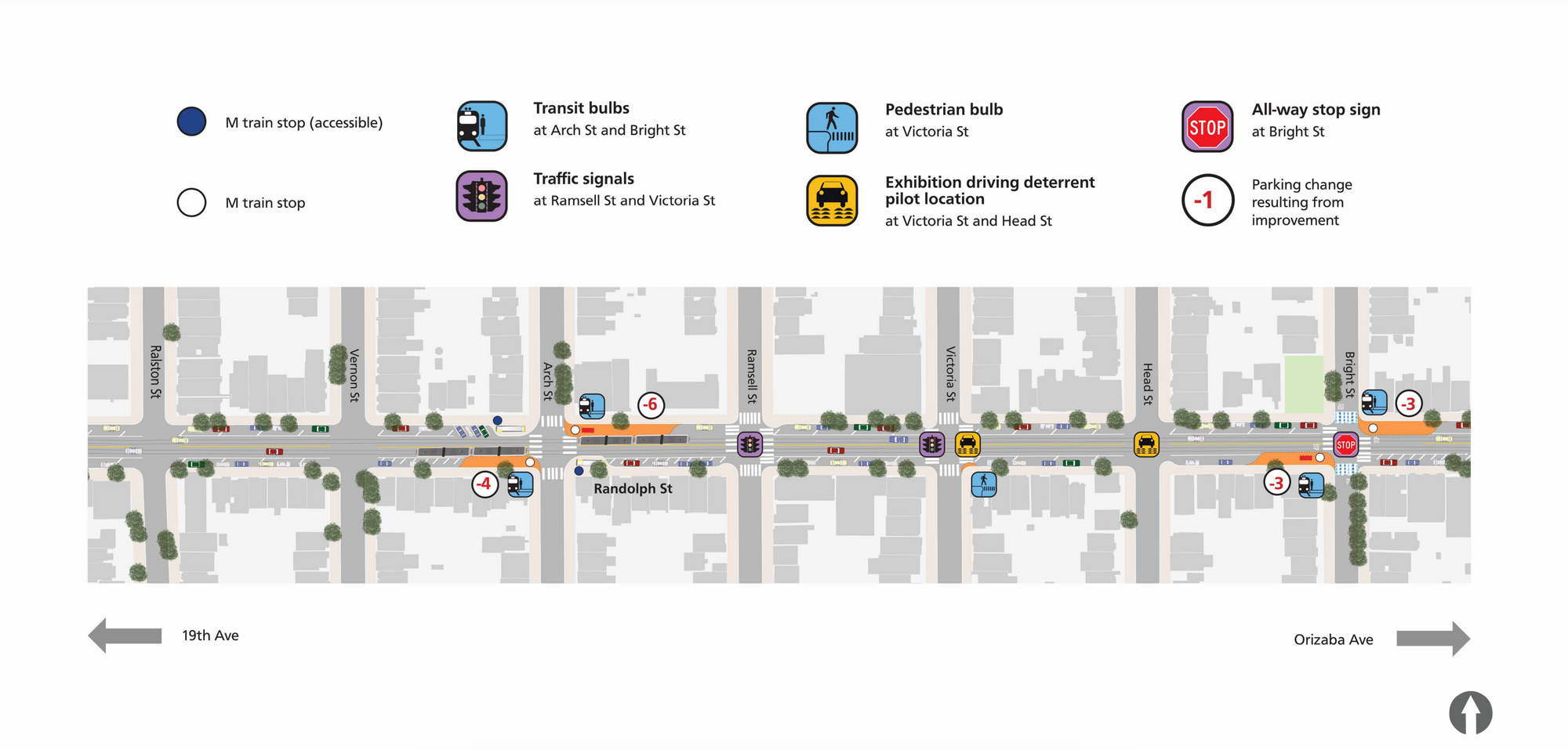 SFMTA spokesperson Stephen Chun said the latest proposal will remove approximately 45 parking spaces from 19th Avenue and Junipero Serra Boulevard to San Jose Avenue and Mt. Vernon avenues. An additional 26 parking spaces are proposed for removal in the San Jose Avenue and Geneva Avenue portion of the project.
Chun added that the estimated parking changes are subject to change as the project team continues working on identifying possible locations where they can add new parking spaces based on community feedback and further design review.
Speaking on his own behalf, Marc Christensen, president of the Merced Extension Triangle Neighborhood Association, said the removal of more than 70 parking spaces was unacceptable and will have "severe" impacts to residents who live in the surrounding area.
"Residents and businesses will be adversely affected by the removal of parking spaces along the entire route, including specifically six parking spaces in front of I.T. Bookman Community Center, and 26 spaces slated for elimination between Mt. Vernon Avenue and Geneva Avenue, directly near the new Balboa Park Upper Yard housing development," Christensen said.
He added that the neighborhood association had not yet taken a position on the project.
Chun said the project proposal follows a resolution that the Board of Supervisors approved in 2021 that urged the transit agency to improve safety and accessibility of transit stops by removing parking spaces, which prevents passengers from having to maneuver through parked vehicles in order to board Muni buses.
"Treatments like boarding islands and sidewalk extensions can help reduce traffic crashes along these corridors," Chun said. "Portions of 19th Avenue, Randolph Street and San Jose Avenue in the project area have been designated as 'high-injury corridors,' where some of the city's most serious traffic-related injuries and fatalities occur."
Bigger boarding areas could potentially also mean more amenities, including seating, a transit shelter with possible NextMuni information and a wheelchair ramp.
The latest proposed design does keep transit stops at Bright and Randolph streets and at Orizaba Avenue and Broad Street. Last fall, the SFMTA presented conceptual ideas that removed the two stops, but heard from the community that the removal will make it difficult to access a future library being built along Brotherhood Way.
Transit stops are still being proposed for removal at Junipero Serra Boulevard and Randolph Street in both directions as well as the transit stops at Mt Vernon Avenue in an effort to improve reliability.
Chun said the latest project proposals are in no way final and that the SFMTA continues to gather feedback. The transit agency plans to release an updated project proposal this summer and then hold a public hearing to gather additional feedback.
The SFMTA Board of Directors will consider the project proposal sometime in the fall.