The lower Balboa Reservoir is no longer owned by the city or managed by City College.
The Ingleside Light is an independent news outlet. Sign up to receive our latest stories as soon as they're published.
The development team behind the 1,100-unit housing project set for the Balboa Reservoir is now in the student parking business.
Reservoir Developers hired Douglas Parking to manage student parking in the reservoir after taking ownership of the property in December from the San Francisco Public Utilities Commission.

"As we head into the Spring 2023 semester, CCSF will start to work collaboratively with the landowners and hopefully develop a long-term agreement at consistent parking rates," the college's Police Department said in an announcement.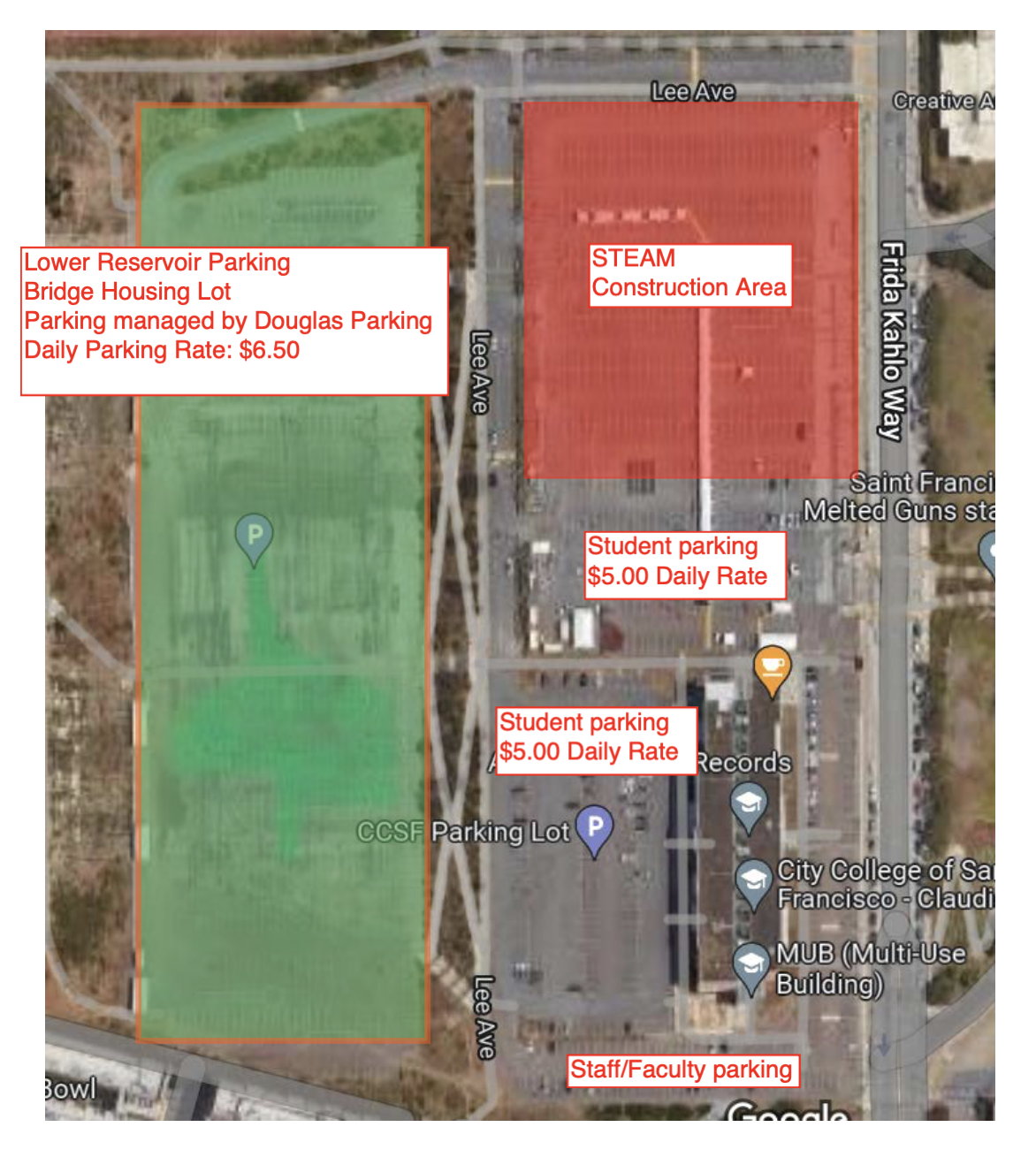 Parking will cost $6.50 daily starting Jan. 17. Motorists can use a QR code located on ticket machines to make electronic payments. No app is required, and no parking monitor will be on on-site to accept cash payment. Douglas Parking will assess fines for parking without paying.

Students can park on the lower lot from Monday at 6 a.m. to Friday at 6 p.m. and will be closed from Friday at 6 p.m. until the following Monday at 6 a.m.

City College parking permits will not be honored for this area. But parking on City College's portion of the reservoir beside Frida Kahlo Way costs $5 daily.

It's unclear if motorcycle classes will still be offered on the lower reservoir.
Support Independent News
This story you've just finished was funded by our readers. We want it to inspire you to either sign up to become a member or make a gift to The Ingleside Light so that we can continue publishing stories like this one that matter to our community and city.
The Ingleside Light is a reader-funded news publication that produces independent journalism to benefit the community. We were founded in 2008 to fill a void in San Francisco's press: An outlet dedicated to the people of the greater Ingleside neighborhood. More than a decade later, The Ingleside Light is still here doing the work because it is critical to democracy and our civic life.
Your contribution today will help ensure that our critical work continues. From development to small business, to parks and transportation and much more, we are busier than ever covering stories you won't see anywhere else. Make your gift of any amount today and join the hundreds of readers just like you standing up for the power of independent news. Thank you.
JOIN NOW