Transportation
Updated: BART Begins Upgrading Wireless Service Between Balboa Park, Daly City Stations
New low-profile poles each spaced a half-mile apart will modernize BART's Wi-fi and cellular coverage.

Computer and smartphone download speeds on BART trains and in the neighborhood may soon become a bit more rapid.
BART will install four low-profile poles along its trackway between Balboa Park and Daly City stations starting this November to provide upgraded wireless services for riders as part of a larger project to install poles every one-half mile systemwide by 2025.
The project will also provide "seamless Wi-fi coverage in all stations and onboard Fleet of the Future trains," according to BART.
Riders on trains and platforms will benefit from "improved app functionality even in underground stations and crowded conditions" and a "better in-station customer experience, including the possibility of real-time, proximity-based communication through smartphones, tablets, smartwatches, and other mobile devices," according to BART.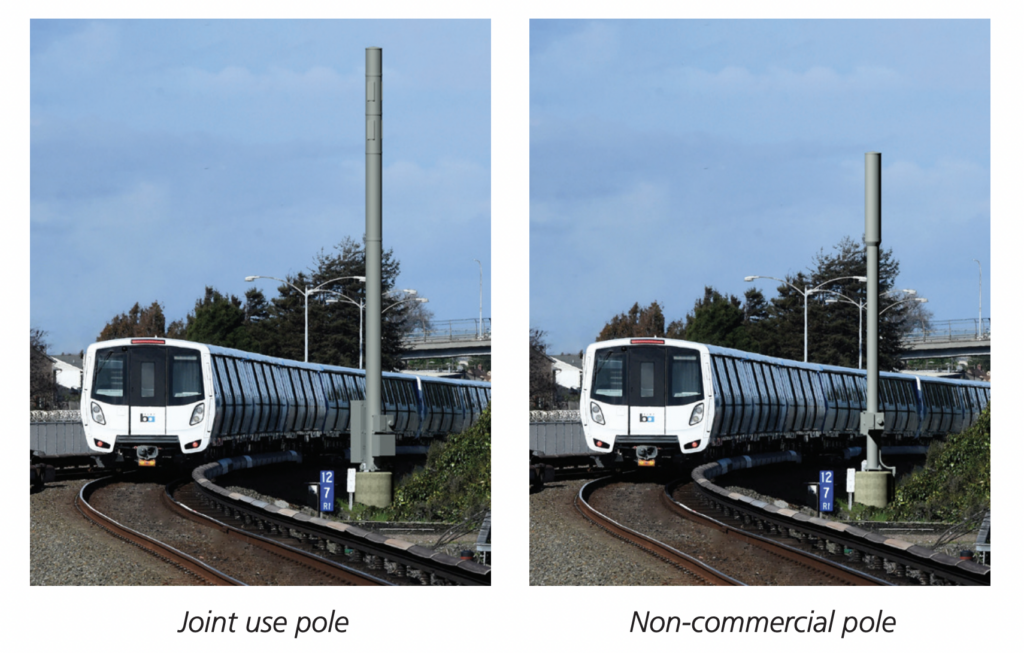 The sleek-enough poles, which come in four muted but modern colors, are all being installed in the City and County of San Francisco near Foote Avenue, Laura Street, Goethe Street and Shakespeare Street. They stand up to 39 feet above the BART tracks at grade and 25 feet above elevated tracks.
Increased wireless connectivity may extend into trackside neighborhoods by a half mile, according to BART. Benefits include expanded 5G cellular coverage, fewer dropped calls and less network congestion during emergencies or other disaster situations.
Each pole will take about a week to install depending on its location.
Update: The Ingleside Light inquired about the community's input on the project and whether the poles will have lighting. BART Media Relations Manager James Allison said, "There has been, as of this writing, no significant input from the community on the project even though we have hosted a number of virtual office hour opportunities (which will continue)."
The poles will not have lights, he added.
For more information, visit BART's website page for the project.
---
Support independent community news
No media outlet covers our neighborhood like The Ingleside Light. Full stop.
Reader support sustains the expensive reporting our community needs and deserves. Will you join the hundreds of readers and become a member?