The small business offers students a place for a creative outlet in a variety of media.
The Ingleside Light is an independent news outlet. Sign up to receive our latest stories as soon as they're published.
Set up in a new storefront, C.C. Arts & Crafts owners Caroline Chiu and Mei Chi Chan are ready to train a new generation of artists.
They moved their studio two doors down on Ocean Avenue in January to grow their business in a larger space.
Chiu opened the studio in South San Francisco in 2019, and brought it studio to the neighborhood in 2020.
"We saw more potential on Ocean Avenue because there are so many students and schools," Chiu said. "There are a lot of studios in Sunset, but not here."
In January, they moved the operation into the former space occupied by longtime Comics Outpost.
Chiu, who is originally from Taiwan and has an undergraduate degree in crafting and a graduate degree in industrial design, taught art at many schools and studios including Sunshine Nursery School in Taiwan and East Art Studio in San Francisco.
Over the years she learned how to make art more hands-on and engaging for students.
"We very much like to inspire students, guiding them and leading them to show their ideas and put it down," Chan said.
Classes are dedicated to working on 3D models like jewelry making, digital art creations and 2D mixed-media work with acrylic paint, markers, even trash from the street and more. They teach weekly with a one teacher to six student ratio starting at the age of three years-old up to adult.
The studio offers single-session classes around major holidays that use an array of mixed media like clay, fabric and more. They also offer a trial class for $20 and provide supplies for people to try their classes without the commitment. If participants choose to sign up for a regular class, the $20 fee will be waived and a $25 one time registration fee will be added.
"We wanted to connect all the communities here," Chan said. "We are family friendly and this is what we really wanted to do."
Classes come in a number of packages. They offer a four-part class that starts at $130 for one-hour sessions or $248 for two-hour sessions. They also offer a 12-class and 25-class programs.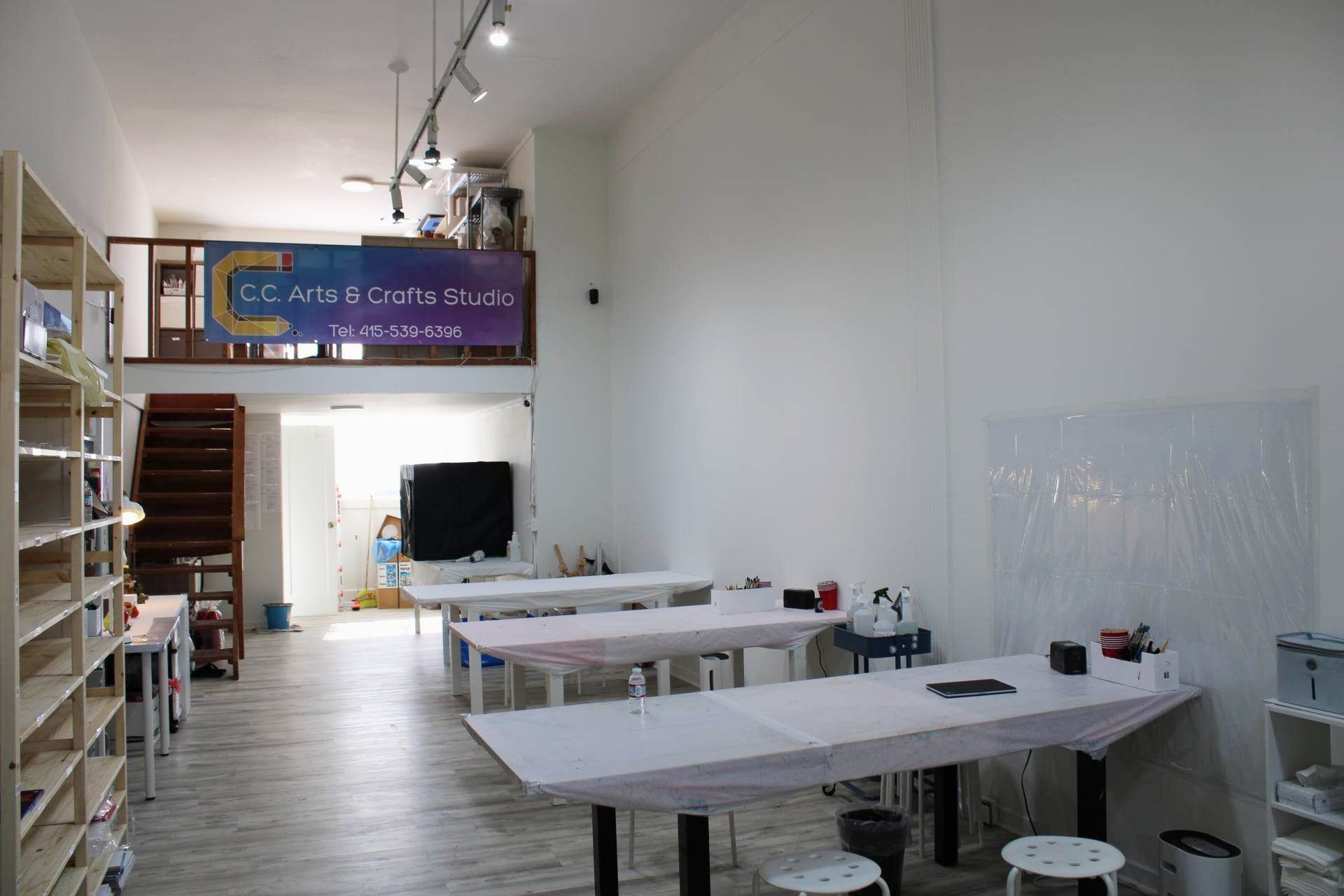 Peter Tham, a principal of Loc Tham Group Real Estate and vice chair of Ingleside Merchants Association, said the studio's expansion is great for the neighborhood.
"There aren't enough of them in the area," Tham said. "The next closest one is in West Portal, so it's a welcomed sight for sure."
C.C. Arts & Crafts is hosting a summer camp this year with one-week long sessions from June through August. Themes include the solar system, digital art design, toy design and more.
Chiu said the teaching staff guide students with not just creativity but also environmentalism. Many students go on to participate in contests such as the Past, Present, Future contest hosted by Bow Seat Ocean Awareness, andsSome have won awards at the Arts For The Future contest and contests held by the World Association of Young Artists.
"Anyone who wants to learn art or do something for fun can come to us," Chiu said.
C.C Arts & Crafts
Address: 2381 Ocean Ave.
Hours: 2 p.m. to 7 p.m., Wednesday to Friday and 9 a.m. to 6:30 p.m. Saturday to Sunday
Phone: (415) 539-6396
Visit Website
Support Independent News
This story you've just finished was funded by our readers. We want it to inspire you to either sign up to become a member or make a gift to The Ingleside Light so that we can continue publishing stories like this one that matter to our community and city.
The Ingleside Light is a reader-funded news publication that produces independent journalism to benefit the community. We were founded in 2008 to fill a void in San Francisco's press: An outlet dedicated to the people of the greater Ingleside neighborhood. More than a decade later, The Ingleside Light is still here doing the work because it is critical to democracy and our civic life.
Your contribution today will help ensure that our critical work continues. From development to small business, to parks and transportation and much more, we are busier than ever covering stories you won't see anywhere else. Make your gift of any amount today and join the hundreds of readers just like you standing up for the power of independent news. Thank you.
JOIN NOW