Education
City College Teacher's Union Protests Faculty Layoffs
About 500 attended two in-person and virtual events on March 15 to protest City College of San Francisco's plan for laying off 50 teachers.

About 100 people appeared on campus and 400 online Tuesday, March 15, for two events held in response to City College of San Francisco's plan for laying off 50 tenured faculty members.
Called the "Pink Slip" Day of Action, the events were coordinated by the American Federation of Teachers Local 2121 with support from several other labor groups and many students.
"The rally was also a way to speak out to the Board of Trustees that this action by the chancellor and administration is not acceptable," AFT Local 2121 President Malaika Finkelstein said. "These are elected officials, they represent us and are accountable to us."
Chancellor David Martin obtained approval from the Board of Trustees to send pink slips to eliminate 5o positions in a what was described as a bid to make the college financially secure ahead of a review of its accreditation. The college laid off many service employees in January as part of the plan.
The reduction in full-time faculty will necessitate that 150 part-time faculty lose their jobs due to contracting rules, according to AFT Local 2121.
The college administration claims there is a structural deficit while the faculty union and other labor groups claim there's actually a budget surplus.
Martin did not respond to an interview request.
"These cuts are a downward spiral that ultimately results in denying education to our communities," District Four Supervisor Gordon Mar said in a news release. "Between academic years 2017-18 and 2020-21, over 30% of CCSF's sections were cut and a 36% decline in enrollment followed. The administration's current cuts will close classroom doors to hundreds of fully enrolled classes, impact thousands of students, and perpetuate an era of crisis at CCSF."
Aside from directing the board and administration from changing course, the rally was an opportunity for faculty, staff and students to express feelings and concerns about the impact the proposed faculty layoffs and course cancellations will have on the college community.
"We want to be heard and publicize our demand to discuss the budget," Finkelstein said.

Virtual Rally
After the in-person meeting, a virtual meeting with students, faculty, classified staff and community and labor allies was held via Zoom.
Speakers emphasized how much CCSF made an important change to their lives. Many expressed bafflement at reducing courses such as English as a Second Language, better known as ESL.
ESL is a lifeline for those who need to understand English in order to not only succeed for the future but to survive. It is one of the most primary classes for immigrants and their families, and enrollment is increasing, according to Finkelstein.
"Architecture, mechanical engineering — courses where there is a lot of training and tactile instruction — these courses, the enrollment is full and needs to expand," said Finkelstein. "Yet the administration wants to shrink these classes and courses."
More than course elimination, the cuts have a ripple effect on the whole institution.
"CCSF, as do all of our community colleges, transforms lives on multiple levels," California Federation of Teachers Senior VP Lacey Barnes said.
Barnes said allowing layoffs and course cuts causes "disastrous ripple effects and a downward spiral" that hurts students, especially the most vulnerable of the population, who must receive an education in order to better their lives.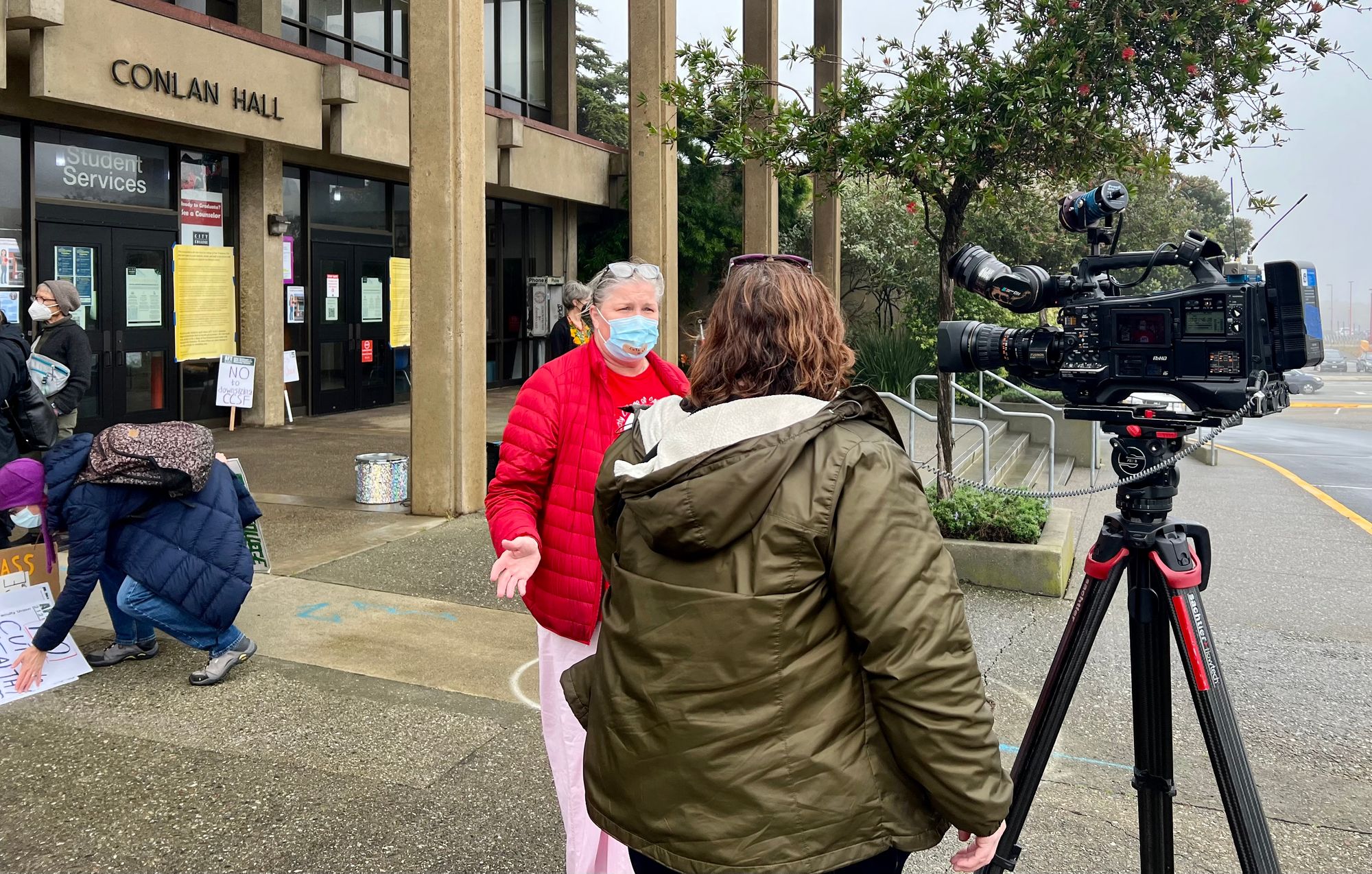 Demands
Aside from ending the layoffs, AFT Local 2121 called for a budget hearing with the administration and elected officials to get the budget issue out in the open.
"We met with administrators and some Board of Trustees last semester and showed them are budget analysis findings: that there is a surplus," Finkelstein said. "But the chancellor and the administration continues on this austerity mind-set. Buzzwords like 'structural deficit' says more about downsizing than about accommodating the needs students have."
One of the requirements of accreditation by the college's accreditor is solvency.
AFT Local 2121 will host a meeting about the the college's budget on April 13. The Board of Trustees are invited and the administration.
"We want to have this all out in public," Finkelstein said.
Another group also had demands.
Both in-person and online, the CCSF Higher Education Action Team shared a list of demands that included no layoffs, more class offerings, restoration of the mailed printed course catalog to all city residents, online registration system improvements, COVID-19 safety measures, the firing of an administrator, more state funding, no union busting and the end of privatization.
Disclosure: The publisher of The Ingleside Light is a part-time faculty member at City College and a member of AFT Local 2121. This reporter is graduate of City College.
---
Support independent community news
No media outlet covers our neighborhood like The Ingleside Light. Full stop.
Reader support sustains the expensive reporting our community needs and deserves. Will you join the hundreds of readers and become a member?