Education
Commodore Sloat, Balboa High Among Public Schools Identified For Renaming
Two public schools in the greater Ingleside may soon be renamed as part of an effort to make sure they reflect San Francisco values.

The greater Ingleside's Commodore Sloat Elementary School and Balboa High School may be renamed as part of an effort to make public schools reflect community values.
The San Francisco Unified School District's Names Advisory Committee, a panel formed in 2018 to create a process for renaming schools, shared a research document last month that highlights 20 schools for renaming.
While the report hasn't been substantively discussed by the Board of Education, according to SFUSD spokesperson Laura Dudnick, two neighborhood schools have been identified for renaming: Commodore Sloat Elementary and Balboa High.
"We get attached to things that define our identity and give us a sense of comfort from our childhood (like Roxie and Mitchell's)," Excelsior neighborhood native Kim Contreras told The Ingleside Light. "It's hard to roll with changes that somehow make you feel like you are losing a piece of your personal history."
Changing the name would put people on the right side of history moving forward, she added.
"Change the name … our memories do not dim or fade … and our collective consciousness gets lit up!" Contreras said.
Commodore Sloat Elementary was named after Commodore John Sloat, who the document notes was a colonizer who "claimed/stole California from Mexico." The document refers to Vasco Núñez de Balboa asa colonizer who "once murdered 40 Indigenous men by feeding them to dogs for punishment of  homosexuality and the wearing of women's clothing."
Balboa's name marks many landmarks across the state. A park, a reservoir and a regional transit station are named for him just in the neighborhood.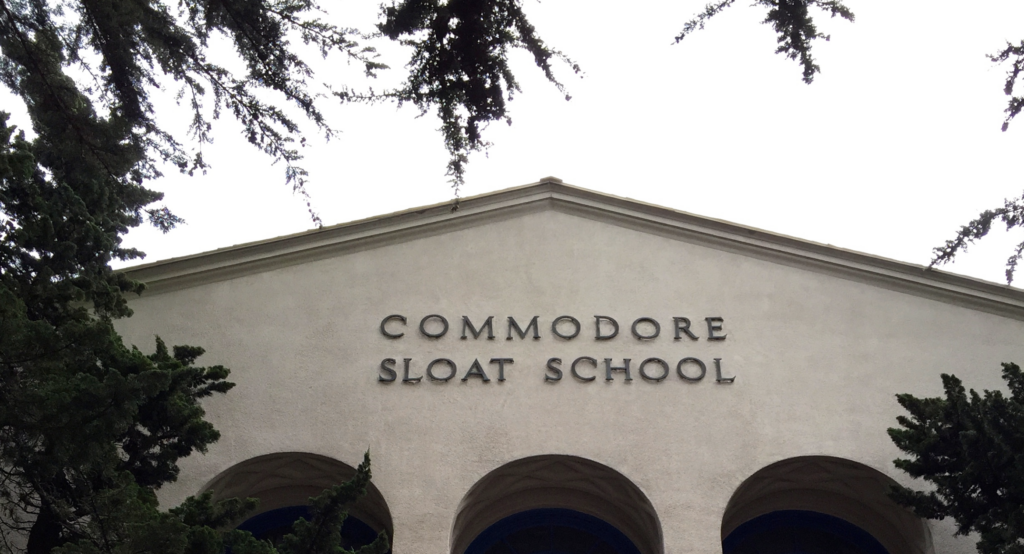 An online petition demanding Balboa be renamed has gathered 287 signatures.
Dennis Guardado, a Balboa alumnus, Excelsior native and Latino of indigenous descent, said he likes his former school's name, but he is open to its being changed.
"There are many worthy and less problematic people that we could name the school after," Guardado said. "Just because we let it slide for decades doesn't mean we can't strive for change now."
Alan Duncan, a San Francisco native raised in the Excelsior and Balboa graduate of 1962, suggested renaming the school after Calvin Simmons, an alumnus who became renowned as the first African-American conductor at a major symphony orchestra.
"I always was proud to say I went to Bal," Duncan said. "I knew who Vasco Balboa was and that he named the Pacific Ocean and colonized much of what became known as New Spain. The history books made no mention of his atrocities but now we know … We as a society need to confront the past if we are to have a future."
Some opposed the idea of changing school names.
Vicki Seelig, a San Jose resident whose family has been in San Francisco since 1911, said Balboa's name should be left alone.
"My mother graduated in 1940. Balboa High School graduates so many through the years," Seelig said. "We can't change history, but we can improve on it."
SFUSD has renamed more than a dozen schools over at least the past three decades.
A document of guiding principles, also created by the Names Advisory Committee, states a desire to rename schools named after people who had been colonizers, participants in enslavement, slave owners and perpetuators of slavery or genocide. Additional names that might get changed include those of people who exploited others or directly abused or oppressed children, women or queer or transgender people. Others included are names of racists, white supremacists and people known to exploit others, espouse racist beliefs or have a connection to human rights or environmental abuses.
The Names Advisory Committee is seeking school name replacements meeting a number of requirements, such as being grounded in social and economic justice or reflecting SFUSD's core values. The guiding principles can be read here.
Public input can be submitted at school_names_advisory@sfusd.edu. It is included "as a key part of every meeting," SFUSD spokesperson Dudnick said.
The next meeting is Aug. 12 at 5:30 p.m. and can be accessed via this page.
---
Support independent community news
No media outlet covers our neighborhood like The Ingleside Light. Full stop.
Reader support sustains the expensive reporting our community needs and deserves. Will you join the hundreds of readers and become a member?