News
Community Leaders Recognized for Neighborhood Vaccination Efforts
Community leaders EJ Jones and Felisia Thibodeaux were honored along with seven others from across the city for their work in response to the pandemic.

From the outset of the pandemic they managed COVID-19 testing sites, worked to curb hunger and directly assisted the city in reaching a high vaccination rate. On Monday, they were recognized by Mayor London Breed and the San Francisco Public Health Department for their efforts in a ceremony at City Hall.
EJ Jones and Felisia Thibodeaux were honored along with seven other community leaders for their work in response to the pandemic.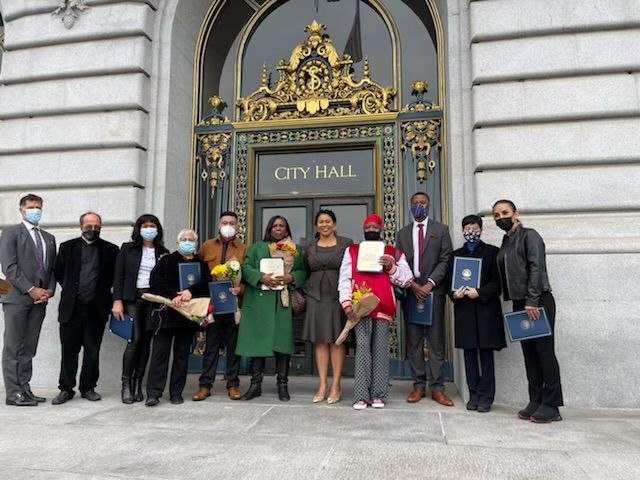 "It was truly an honor," Jones told the Ingleside Light. "The award was accepted on behalf of the entire OMI community because it wasn't just myself, it was a team effort. All of the organizations — the I.T. Bookman Community Center, Youth First, OMI Community Collaborative, OMI Cultural Participation Project, OMI Neighbors In Action and Out Kids First — really worked collectively and tirelessly to make sure that our community was safe for our elders and friends, our neighbors."
Jones, who grew up in the neighborhood, was a board member of Southwest Community Corporation and worked for the Bernal Heights Neighborhood Center before later joining District 11 Supervisor Ahsha Safai's office as a legislative aide.
Jones reminisced about the rewarding work he did managing COVID-19 testing before the holiday season last year.
"People were so appreciative to be able to come in and get tested and know that they were virus free," Jones said. "And just to be able to go see their families, right during the holidays, because at that time, there were so many uncertainties."
Thibodeaux, executive director of the Southwest Community Corporation, made headlines as a "vaccine ambassador" to the Ocean View-Merced Heights-Ingleside community for directly convincing more than 1,000 people to get vaccinated.
"The great partnership that we've developed in the Lakeview/OMI between the Invest Black cohort, the OMI Community Collaborative, as well as the Neighborhood Empowerment Network for Resilient OMI, all three of those is how our hub has come together," Thibodeaux told the Ingleside Light.
Their work, which focused on low-barrier and equitable access, helped San Francisco reach an 80% full vaccination rate among eligible San Franciscans ages five and older through outreach.
"These nine individuals represent the outstanding and dedicated work in our many, diverse communities across San Francisco to save lives and bring us out of this pandemic," Mayor Breed said in a statement. "They are truly the 'Vaccine S/Heroes' of this pandemic, and their stories can inspire the rest of us to reach out with a helping hand whenever we seem someone in need. We're here today to recognize their work and make sure they are appreciated — we couldn't have gotten this far in the pandemic without them."
The vaccine is offered at approximately 100 locations through the city's network of community access sites, neighborhood health centers, health systems and pharmacies, according to a news release. Children ages five to 11 are now able to be immunized against COVID-19.
For more information on vaccinations in San Francisco, visit sf.gov/getvaccinated or call (628) 652-2700.
---
Support independent community news
No media outlet covers our neighborhood like The Ingleside Light. Full stop.
Reader support sustains the expensive reporting our community needs and deserves. Will you join the hundreds of readers and become a member?