News
San Francisco Leaders Hear Safety Concerns at Town Hall
What to do when someone's having a mental health crisis on the street to hate crimes were topics broached by the public.

San Francisco District Attorney Brooke Jenkins, Chief of Police William Scott, Sheriff Paul Miyamoto and District 11 Supervisor Ahsha Safaí held a public safety town hall Thursday at the Minnie & Lovie Ward Recreation Center.
Over 30 people attended the nearly two-hour meeting.
"One of the things I think that is very straightforward is that crime is of concern to many, many residents," said Safaí, who is running for mayor in next year's election. "We get hundreds and hundreds of emails of concern and it's as little as people's cars being broken into, businesses being robbed, stores that have been in the community for decades that are experiencing this on a different level."
The first half of the meeting addressed questions from Safaí's office about the DA's handling of open-air drug markets where the deadly drug fentanyl is sold and how police respond to homeless people following the injunction on encampment sweeps.
"I came in saying we've got to be advocating for public safety at this point and we can't allow people to peddle death and then just cycle repeatedly back out there," Jenkins said.
The DA's Office created a prosecution strategy with the U.S. Attorney, CHP, National Guard, DEA and FBI to charge and detain fentanyl dealers but struggle to get judges to keep repeat offenders in custody, Jenkins said.
Scott said San Francisco must have enough shelter beds open to accommodate those who are displaced when clearing encampments. Police must also ascertain if the people involved are voluntarily or involuntarily homeless.
Camps that create accessibility issues may be moved, Scott added, but the department is working with the City Attorney's Office to clarify policies.
Hate crimes and retail theft especially at the Safeway in Excelsior were also discussed.
Jenkins said charging hate crimes is not simple but important.
"When you feel like you're being targeted for what you look like or who you are, there's nothing more jarring than that because most of us can't change those characteristics, nor should we have to so what I did in particular in our office to try to address this a little differently was to create a vulnerable victims unit," Jenkins said.
The vulnerable victims unit provides resources for victims such as an advocate to walk them throughout the court process and mental health service referrals.
While there have been strides made to help tackle retail theft like placing uniformed and undercover police in stores, Miyamoto said it's still not enough.
"Unfortunately, I'm sure that everyone in here can probably attest to either being witness to something that happened in a commercial business or hearing about it," Miyamoto said. "It still affects us as people. It still affects us not just as a community but as the individual who's victimized and sometimes we lose sight of that in the larger scale things."
Violeta Vasquez asked the panel how the city deals with mental health calls outside of using law enforcement. Vasquez had also witnessed a mental health crisis earlier that day at Hummingbird Farm where she was told to call SFPD after calling the crisis hotline for assistance.
"I don't know if it was mental health," Vasquez said. "I don't know if it was drug-induced or if it was a combination of both but what I often see growing up here in San Francisco is that it's oftentimes hand-in-hand and I'm wondering, what is the medical approach to that?"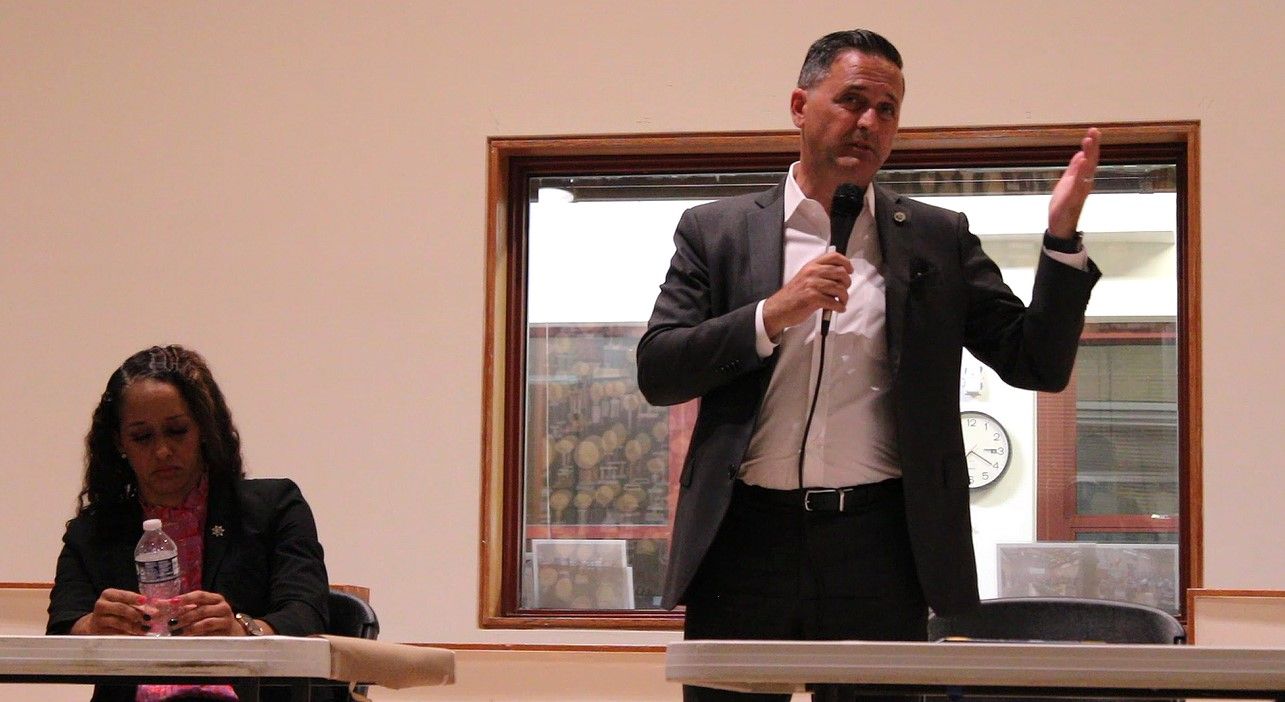 Rebecca Browning, co-secretary of the Tenderloin People's Congress, had a similar question about community outreach to help those in the Tenderloin with food insecurity, mental health services and more.
"When I did live there [in the Tenderloin,] we cried out to the police department for help and none was given," Browning said. "What outreach have you done with community organizations in San Francisco? When I say outreach, I don't mean Urban Alchemy. I don't mean community ambassadors. I mean true community organizations, like you said, that can help the people."
Miyamoto said the Street Crisis Response Team, a collaboration between the Department of Public Health to have behavioral health specialists, social workers, paramedic EMTs available to help, has been one investment. Miyamoto also said they partner with local organizations on a regular basis for input.
"People do have a tendency to call for help and call law enforcement when they see somebody in crisis, walking down the street or acting out toward other people or to themselves and the concern there is more of treating it as a health crisis or something like that, not criminalizing their behaviors and that's the challenge," Miyamoto said.
Nancypili Hernandez, manager of the Excelsior Strong Casa De Apoyo, demanded justice for Banko Brown, a 24-year-old Black man who was shot at a Walgreens by security, and decried a lack of city resources and support for some communities.
"If there's any type of accountability conversation with this DA telling us that she needs to hold petty theft people accountable, I want to see accountability from the SFPD who have killed our neighbors and gotten away with it," Hernandez said. "The question is how can we be distracted by the conversation about retail theft when there's currently violence happening in our streets that has nothing to do with Safeway and nothing to do with Walgreens. The real issue is that we have problems in our community and the problem is poverty driven."
Members of the audience started speaking during Jenkins' remarks and Safaí tried to control the crosstalk.
Renard Monroe, who leads Youth 1st in Merced Heights Clubhouse, said everyone in the room had the same goal.
"I'm not here to defend nobody but I am going to defend my community," Monroe said. "Your voice is important but if we're not working together, our voices don't mean anything."