On the 1500 block of Ocean Avenue, a new mural on the weathered rollup of a storefront is more than colorful fresh paint. It's a call for the community to remember and uplift itself.
The phrase "Ingleside Pride," spray painted on 1507 Ocean Ave., resonates as a "sign of hope to the faded importance of neighborhoods" and a timeless quote from Harvey Milk, according to Dan Pan of the First Amendment Gallery.
The quote is from a speech Milk gave at a celebratory dinner after his election to the San Francisco Board of Supervisors in 1977.
"The American Dream starts with the neighborhoods. If we wish to rebuild our cities, we must first rebuild our neighborhoods. And to do that, we must understand that the quality of life is more important than the standard of living. To sit on the front steps — whether it's a veranda in a small town or a concrete stoop in a big city — and to talk to our neighborhoods is infinitely more important than to huddle on the living-room lounger and watch a make-believe world in not-quite living color."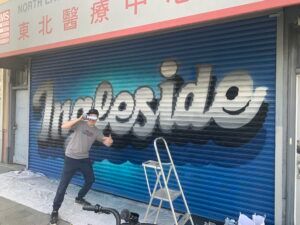 "Ingleside Pride" was painted by muralist Antoine Marnatta, who also recently painted the Best Is Yet To Come mural at the former ATM vestibule on the 1600 block of Ocean Avenue. He also painted the mural on the former El Rey theater and the Geneva Avenue retaining wall.
"It was time to update it to reflect the community," Faxon Garage and 1507 Ocean Ave. owner Walee Gon said. "The mural reflects the classic feel of the neighborhood. I really like the design and everything. It looks great."
Pan, an Lick-Wilmerding High School alum, designed the mural. (Disclosure: This journalist organized the commissioning of the mural.) It was paid for by dollars raised by the Ingleside Community Fund's public art initiative and Gon.
---
Support independent community news
No media outlet covers our neighborhood like The Ingleside Light. Full stop.
Reader support sustains the expensive reporting our community needs and deserves. Will you join the hundreds of readers and become a member?