A special crew from the Department of Public Works spent the day tidying up street signs and sidewalks.
The Ingleside Light is an independent news outlet. Sign up to receive our latest stories as soon as they're published.
A crew from the San Francisco Department of Public Works specializing in deep cleaning commercial streets visited Ingleside's stretch of Ocean Avenue on Thursday.
The team started on Ocean Avenue and Victoria Street and worked its way to Frida Kahlo Way, scraping off stickers on road signs and poles, painting over graffiti and power washing sidewalks.
"It takes a city and all our agencies to work together to keep our city clean," DPW Deputy Director DiJaida Durden said. She oversaw work crews.
The work was done under Clean Corridors SF, a DPW program started in 2021 to create more welcoming environments across the city's commercial districts. They tackle an area in one of the city's 11 supervisor districts every week.
"We would like to put it in the budget permanently because it encourages the business owners to do what they need to do in front of their businesses," Durden said.
Clean Corridors SF has the support of District 7 Supervisor Myrna Melgar, Melgar's legislative aide Emma Heiken said.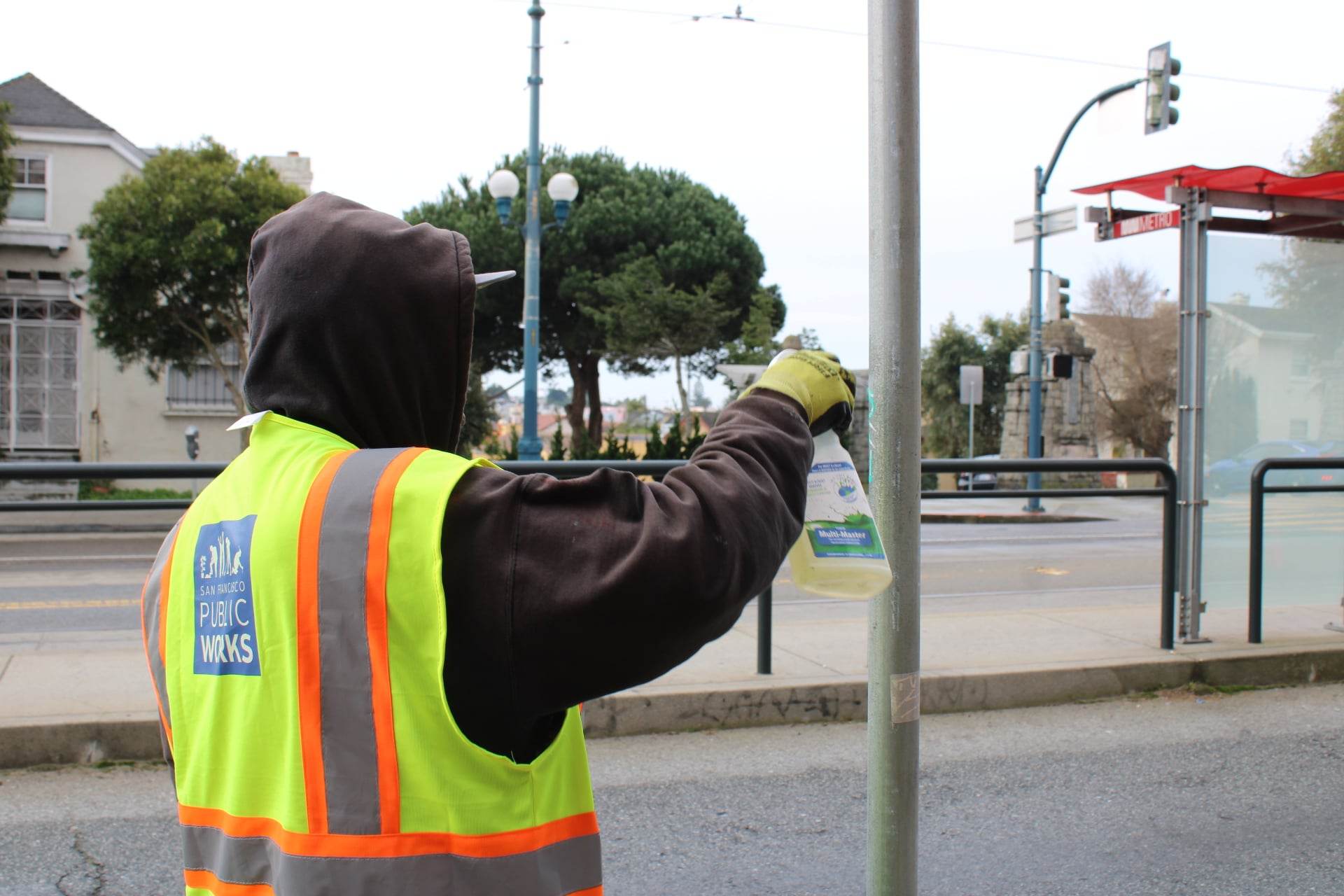 Melgar allocated $505,000 in the 2022-23 add-back budget to DPW for cleaning along the district's commercial corridors. She also sponsored a two-year pilot program launched last year that gives property owners the option to allow DPW to clean up graffiti for them at no cost.
The cleaning is in addition to that done by the nonprofit Ocean Avenue Association, a special-use district paid for by assessments on property owners. It contracts with Recology-owned Cleanscapes to perform many of these tasks throughout the week.
DPW employee Frederick Johnson has been painting over graffiti for the program for about one year.
"It's kind of embarrassing when people come to visit our city and they get off the freeway and see all the graffiti and trash," Johnson said. "It's not welcoming so this helps."
Support Independent News
This story you've just finished was funded by our readers. We want it to inspire you to either sign up to become a member or make a gift to The Ingleside Light so that we can continue publishing stories like this one that matter to our community and city.
The Ingleside Light is a reader-funded news publication that produces independent journalism to benefit the community. We were founded in 2008 to fill a void in San Francisco's press: An outlet dedicated to the people of the greater Ingleside neighborhood. More than a decade later, The Ingleside Light is still here doing the work because it is critical to democracy and our civic life.
Your contribution today will help ensure that our critical work continues. From development to small business, to parks and transportation and much more, we are busier than ever covering stories you won't see anywhere else. Make your gift of any amount today and join the hundreds of readers just like you standing up for the power of independent news. Thank you.
JOIN NOW