News
K-Ingleside, T-Third Light Rail Lines To Separate In January
The KT-Ingleside-Third light rail line will be no more once the Central Subway fully opens for service in early January.

San Francisco's Central Subway has an official opening date for full service after years of delays and cost overruns.
The San Francisco Municipal Transportation Agency last week made the announcement that the new subway will open for full, seven-day-a-week service on Jan. 7, 2023. That means the KT-Ingleside-Third line will come to an end as the K-Ingleside and the T-Third separate.
A new Muni Metro service plan for January shows the K-Ingleside ending at Embarcadero station and the T-Third heading to the new subway stations, starting at the Fourth and Brannan street-level station instead of entering the Market Street subway at the Ferry Portal.
From there, the T-Third will make new stops at the Yerba Buena/Moscone, Union Square/Market Street and Chinatown-Rose Pak stations.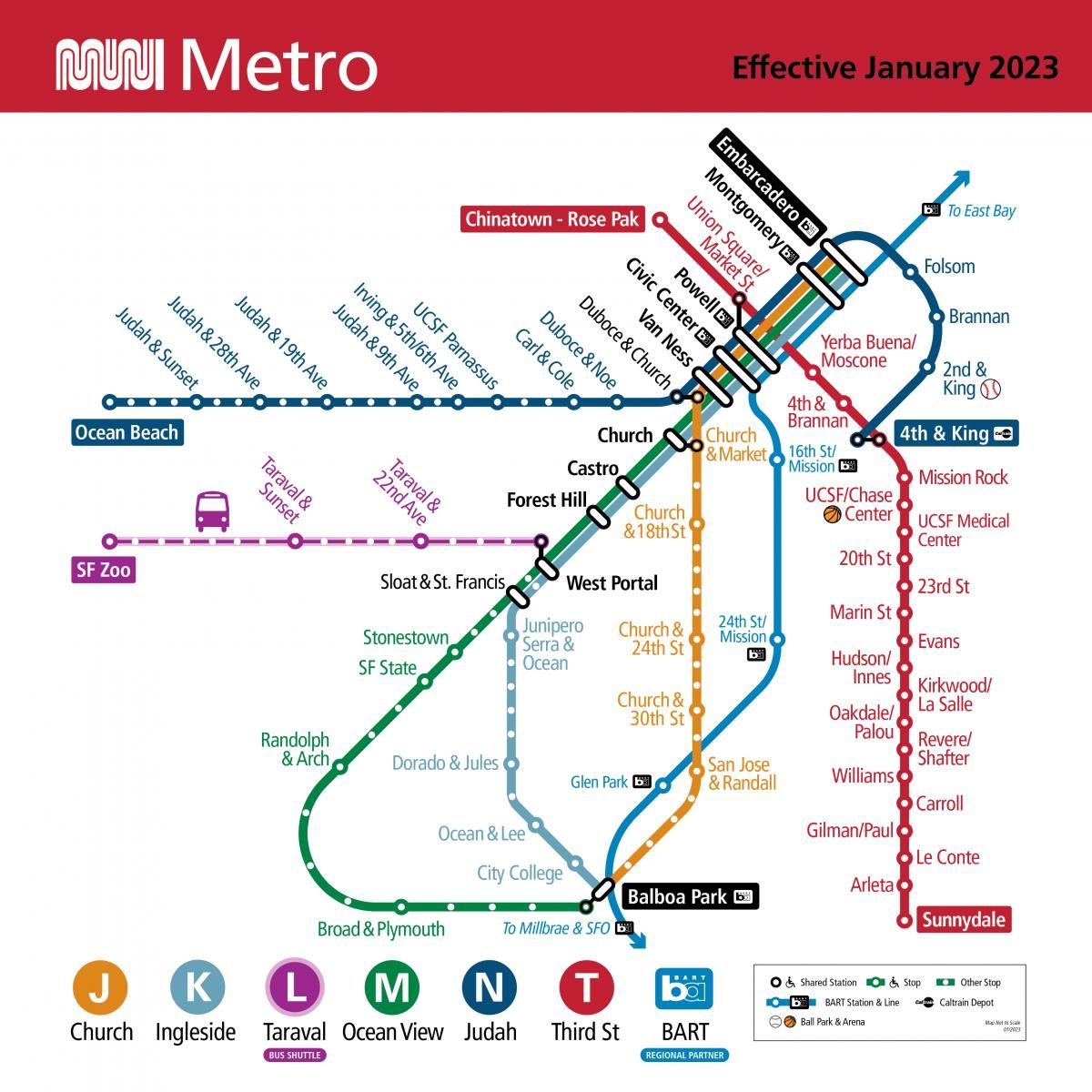 K-Ingleside passengers who want to continue past Embarcadero station will need to make a transfer along the way depending on the final destination. Passengers can transfer to the N-Judah at any subway station stop between Van Ness and Embarcadero if they need to access transit stops between the Embarcadero and Folsom and Caltrain. This includes heading to Giants games or events at Oracle Park.
Passengers on the K-Ingleside who need to go to Mission Bay Dogpatch, Bayview and Visitacion Valley neighborhoods, or going to Chase Center, will need to get off at Powell station and transfer to the T-Third by walking underground to the Union Square/Market Street station.
The SFMTA is planning a Nov. 19 soft opening of the Central Subway where the agency will run a weekend-only shuttle service that will only serve the new stations. The K-Ingleside and T-Third service will continue to run as normal as one route up until the Jan. 7 date. The weekend service will run approximately every eight minutes from 8 a.m. to midnight.
Future K-Ingleside Service
It's unclear how long the K-Ingleside will remain on the new route. Supervisor Gordon Mar said at an event in September that SFMTA leadership intends to join it with the L-Taraval in a bid to relieve congestion in the subway.
"There's been no community outreach or opportunity for public input on that plan," Mar said.
SFMTA spokesperson Erica Kate pointed to the fact that the combining the two lines was briefly tried during the pandemic.
More information about the service plans can be found on the SFMTA's website.