Arts & Entertainment
Here Are the Little Free Libraries In and Around Ingleside
Find the diminutive book boxes throughout the neighborhood with this guide.

Across the nation and even the world, Little Free Libraries are satisfying readers with books at no cost—and the greater Ingleside neighborhood has its fair share.
Over 50 libraries are scattered throughout San Francisco with some standing within several feet of each other. Each library is handcrafted or put together from kits. They vary in size with the standard being 16 inches tall. Books inside can also range from children's to adult non-fiction and more.
The rules, much like their motto, are simple: Take a book, leave a book. One does not have to always leave a book in order to take but thanks to community contribution, it keeps each stand filled for more to enjoy.
With help from Little Free Library, a nonprofit organization the propagates the libraries, we located all of the registered book boxes in around the neighborhood.
Here's where to find them.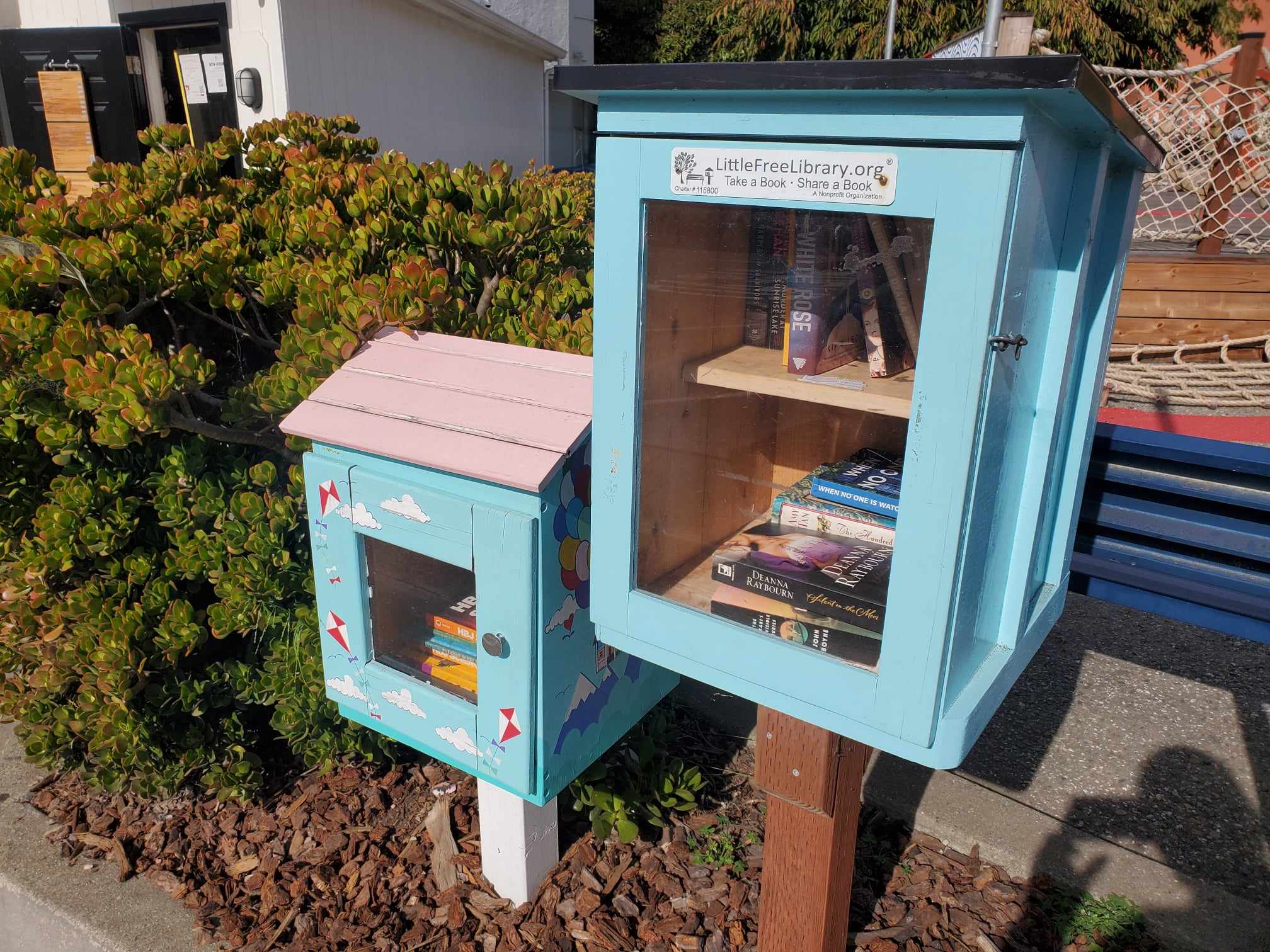 Lakeside Landing Library
📍2522 Ocean Ave.
The two sky blue libraries are located just outside of Lakeside Landing. The whimsical cloud and kite design invites passer-goers to grab a book or two before making their way into the seating area. Contributions to this stand are made by Friends of Lakeside Village, a nonprofit that promotes and enhances the corridor for everyone to enjoy.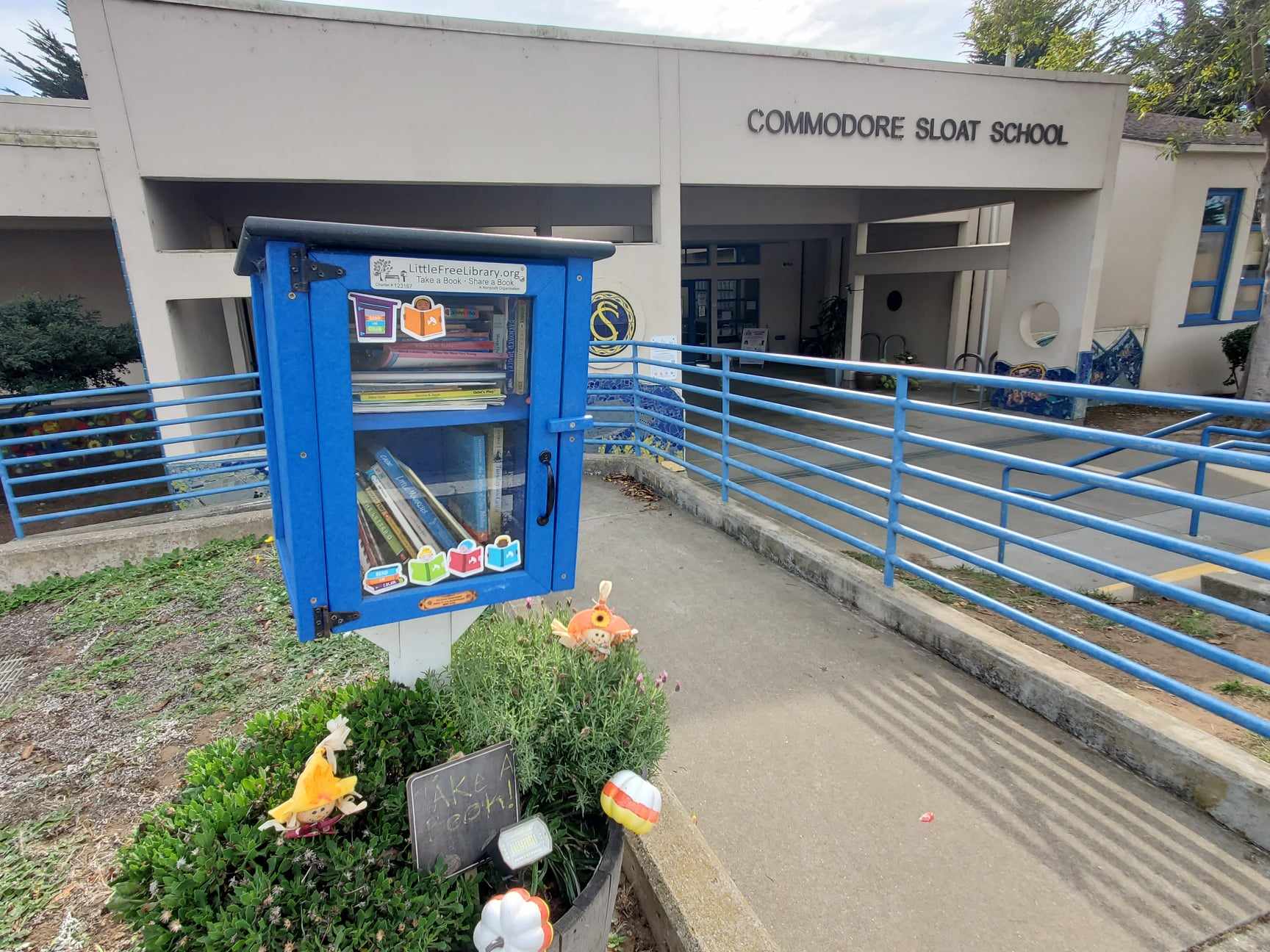 Sloat Sharing Library: Girl Scout Troop 62422
📍 50 Darien Way
The royal blue library equipped with stickers of children reading and a "take a book" sign is located directly in front of Commodore Sloat Elementary School's main entrance. It's filled with predominantly children's books. It was also a Bronze Award project by Girl Scout Troop 62422. During the pandemic, the troop had missed going to school and wanting to see friends so they banded together to create a way to still connect with their community during a time where they couldn't easily do so. Leading up to purchasing one of the build kits from Little Free Library's website with their troop funds, they saved books they read and brainstormed how to maintain and grow their library.
Urbano Loop Library
📍 840 Urbano Dr.
This little library is jam packed with recycled and repurposed materials. The white house body with dark wood and red accents is nestled along the southwest portion of the former horse race track within Ingleside Terraces. It was a custom built single-shelf library from various parts across the city. Plywood was used from cabinet doors that were left out on the street, the roof was made from Building Resource (architectural salvage) from the Dogpatch neighborhood and its hinges were left over parts from the creator's garage.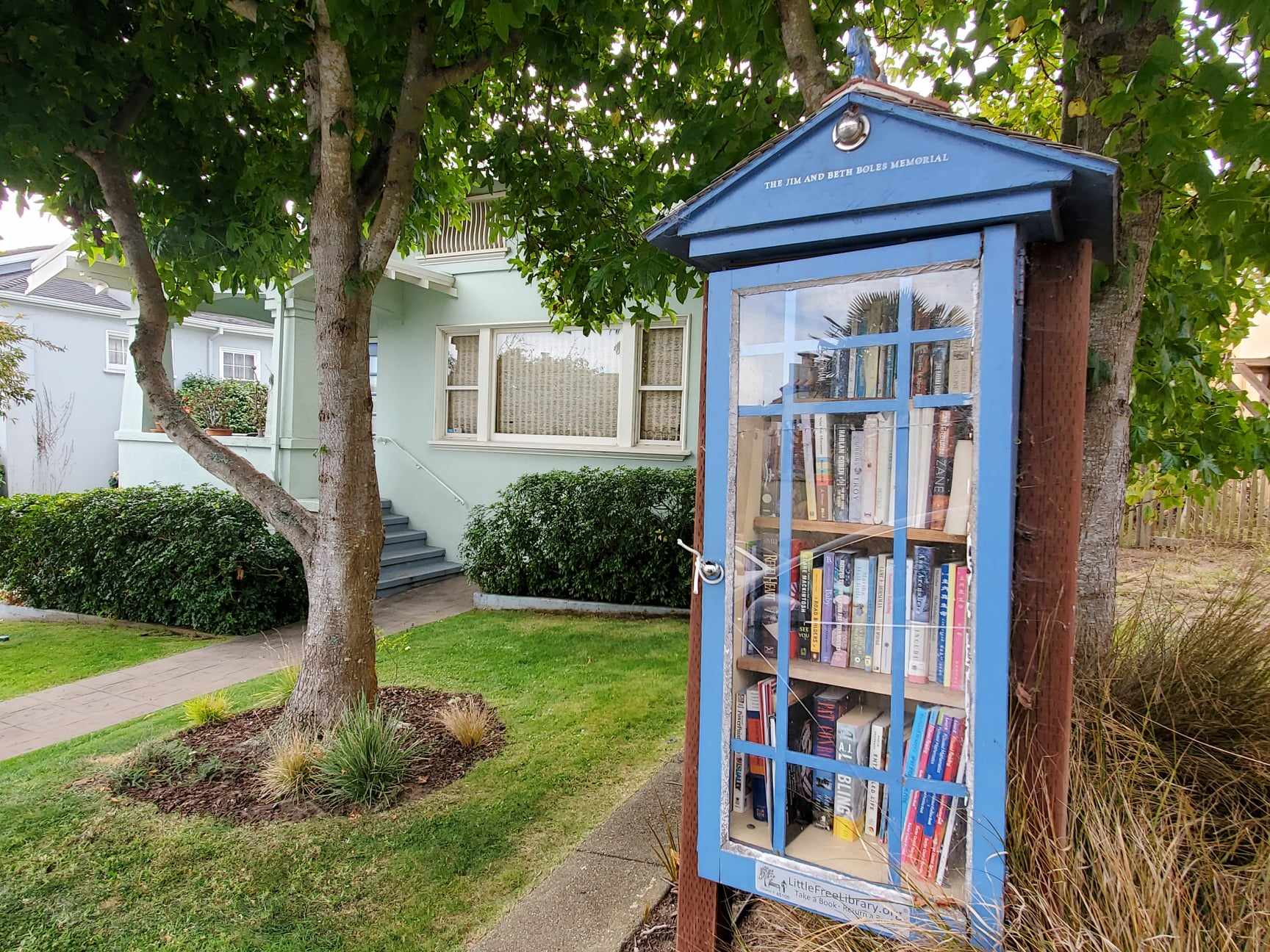 Robert Boles Library
📍745 Faxon Ave.
Just up the street from the Thai restaurant Champa Garden, is the biggest Little Free Library in the neighborhood. With four shelves filled with books, the medium blue stand was created by architect Robert Boles, who dedicated the memorial piece to his parents Doctors Jim and Beth Boles. Each aspect was also created by hand with scrap woodworking parts, some from the local artist's salvage yard called SCRAP. It also has a custom ceramic alphabet-sea inspired piece, by Boles, for the top. The door and rear panels are surplus cabinet doors from Boles and his wife Christine's house. The roof is re-purposed Formica samples to create a shingle design and the ridge board is made up of concrete ridge titles from the couple's time in Australia. Though the Bole's no longer live at the Faxon house, the little library is still being maintained.
Shirley's Library
📍 225 Miramar Ave.
Tucked away along Miramar Avenue is a two-shelf brown and dark green little library. It's accompanied by a storage bin to accommodate the overflow of book donations to this location. The creator dedicated it to their mother, Shirley, who was an avid reader and instilled her love of books and reading into her kids. In order to pay their mother's passion forward, they put up the little library for all their neighbors to share and enjoy.
Troop 485
📍225 Capistrano Ave.
Denise Ruggeri, a former library volunteer from Lawton Alternative School and a longtime fan of the little libraries, was inspired by her neighbor, Martha Arnaud, to have a Little Free Library of her own. Ruggeri's addition, which was also built by Arnaud, was a hub for many families during the pandemic to stop on their nightly strolls, grab a book and have their kids draw on the pavement with chalk found in the library's wood barrel stand. The birdhouse-like style and olive green body to match her house is accented with an open book design on the window of the door. The overfilled library can be found at the top of her house's driveway. It has also been a mixed-use library in the past, with some placing canned goods for others to enjoy.
Alex Rybak Library
📍338 Capistrano Ave.
Several houses down from the Troop 485 little library, the raw wooden single shelf stand is fitted with a flat black roof. Though it cannot hold much, it is filled with an array of books for many passer-byers to stop and rummage through.
Martha Arnaud Library
📍 783 Cayuga Ave.
Trend-setter Martha Arnaud, who has a passion for reading and helped her neighbor Denise Ruggeri build a similar stand, saw the implementation of her Little Free Library as a way to promote community and literacy throughout her neighborhood. The birdhouse-style and taupe-ish brown exterior library, that also matches her house, is fitted with an open book see-through window on its door and a red pitched roof with a hook-style latch making it an easily accessible and a recognizable library.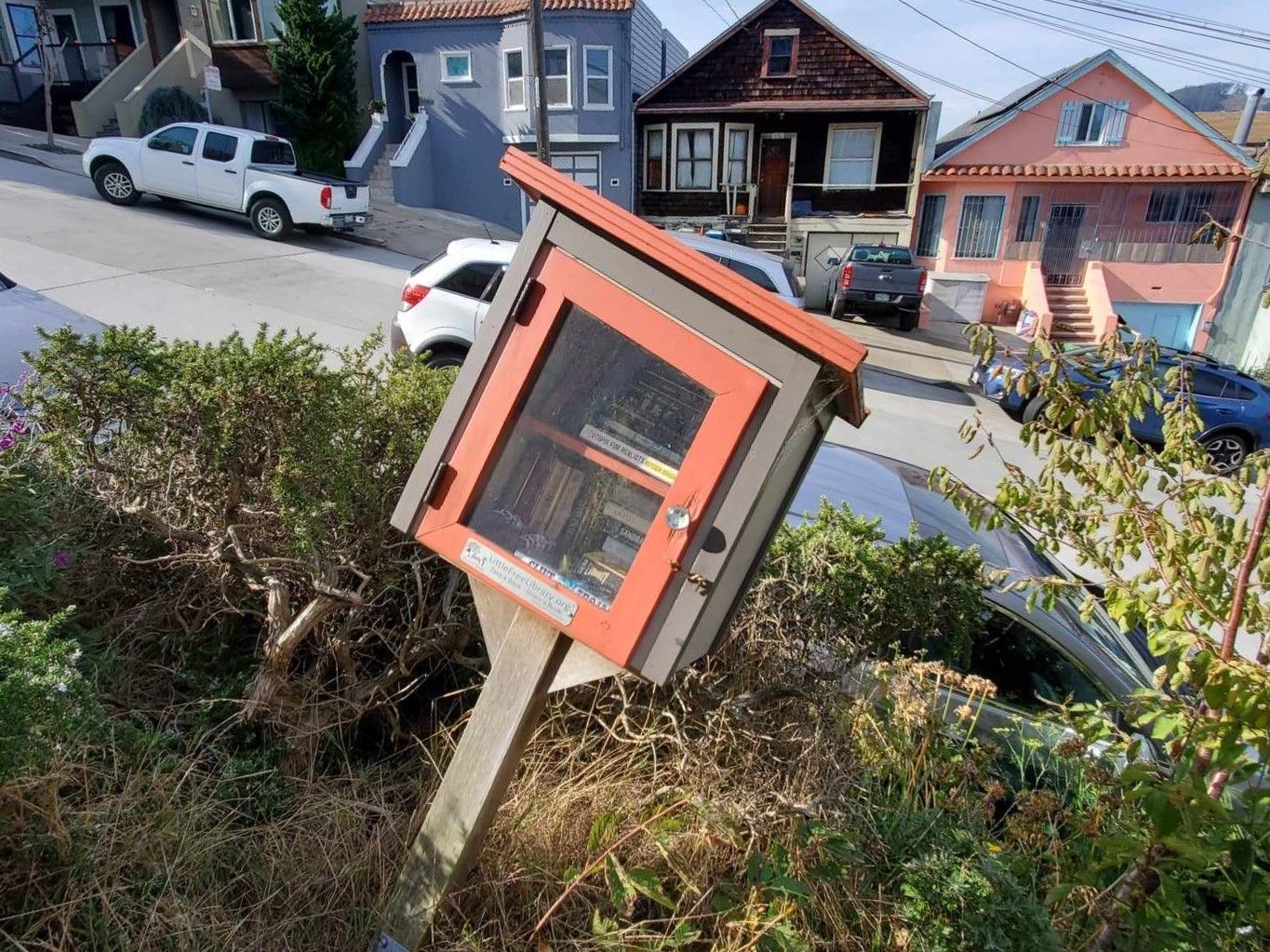 Anne Marie's Library
📍 579 Lisbon St.
This slanted little library can be found just below the cross section of Libson Street and France Avenue in the Excelsior neighborhood. With dark exteriors and a burnt red-orange door and roof, the little library was created as a Christmas present for Anne Marie Theilen. Theilen, who founded the material reuse center and arts education nonprofit SCRAP, is also a promoter of literacy throughout the community.