Business
Little Oceanauts Makes A Big Splash With New Offerings
The under-the-sea themed indoor play center weathered the pandemic and is trying new ideas to build its business back up.

Little Oceanauts, the popular indoor playground and party venue for three to 10 year olds, features more than a three-story obstacle course play structure with slides, tunnels and a ball pit. And after being forced to shut down for more than a year by the pandemic, the small business now offers much more.
"There was a lot of apprehension in the early days of being indoors, so our business really took a dive," co-owner and realtor Kyle Wong said. "Things are starting to pick up during the summer but it's still not the same as before."
To pick up the pace of recovery, Little Oceanauts added an afterschool program, ballet classes, drop-off care and yoga classes for parents.
"As parents, we understand the importance of having a clean, safe and fun environment for you and your children to exercise, socialize, and play in," co-owner Linda Won said.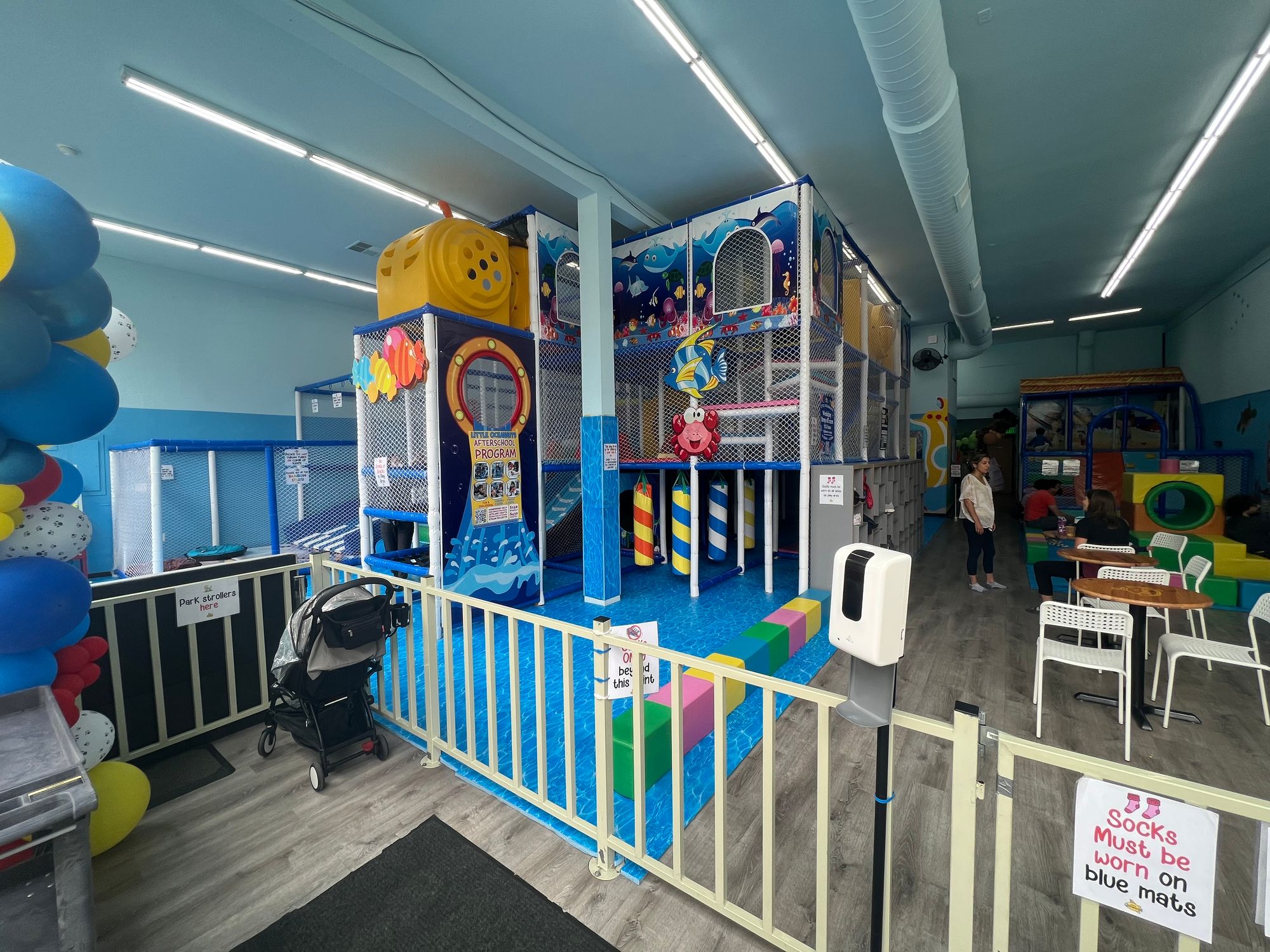 Diving In
The idea for Little Oceanauts was shared by Faye Chan, Kyle Wong and Linda and Jason Won.
"We were inspired to get into this business because of our own kids," Wong said. "We were always searching for a safe, family friendly environment for us to hang out at. We felt other families were also searching for park alternatives so we thought it made a lot of sense to get into this business."
The small business opened in January 2019 after more than a year of searching for a storefront suitable for its operations.
"We happened to stumble upon the storefront at 1917 Ocean Ave. and we thought that the most suitable name would be calling it 'Oceanauts,'" Won said. "'Ocean' for being on Ocean Avenue 'nauts' like 'astronauts.'"
"Oceanauts are brave underwater explorers curious to explore their world of aquatic creatures," Won added. "At Oceanauts, kids can be explorers and have fun while playing here."
During the pandemic, they hired artist Olivia Lam to paint a huge mural of San Francisco that includes the Golden Gate Bridge, Salesforce Tower, Ocean Avenue and San Francisco Bay with dolphins, submarines, sea turtles and more.
"Kids like to come here and do scavenger hunts on our mural to look for different sea animals," Won said.
To pivot after the pandemic, they added an afterschool program with homework help, free snacks, arts and crafts, STEM projects and cooking, among other activities.
"We felt that our business is the best place to provide a clean, safe and fun environment for those who needed after school care," Little Oceanauts co-owner Linda Won said. "Our program features a low teacher-to-student ratio of one to three students per teacher."
Every second Friday of the month they hold a "Kids Night Out" Drop-off and they now offer Weekday Drop-off Care.
Little Oceanauts partners with Frolic Creative Dance to offer ballet classes several days a week. What's more, parents can get in on the fun and do yoga while the kids play.
Understanding the need to have a place for the entire family, the business has a separate area for infants and toddlers where they can enjoy activities that are stimulating and fun.
"This includes their own ball pit, slides, wall activities and soft foam area," Won said. "We continuously aim to provide an ideal environment for parents and caregivers to play with their children."
Safety is a top priority. The business follows the most current COVID-19 protocols, requiring proof of vaccination. Face masks indoors and socks are required to play.
"We remembered when the space was vacant years ago and Little Oceanauts had just moved in," Ingleside resident Peter Tham said. "We had a birthday party there and it's something our neighborhood needed. We know a few of our neighbors, with children, going there for birthday parties on the weekends. I hope more child enrichment businesses open up on our corridor."
Its Yelp review is five-stars. Reviewers wrote that Little Oceanauts is "a memorable place to have a birthday celebration" and a staff-team that is "phenomenal; going above and beyond" to make the visit an enjoyable experience.
"We are a small business and we take pride in our services," Won said. "I hope everyone can come in and enjoy what we have to offer."
Little Oceanauts
Address: 1917 Ocean Ave.
Phone: (415) 988-7919
Hours: Check www.littleoceanauts.com for updates
---
Support independent community news
No media outlet covers our neighborhood like The Ingleside Light. Full stop.
Reader support sustains the expensive reporting our community needs and deserves. Will you join the hundreds of readers and become a member?