When Faxon Garage closes for the day and its three roll-up doors are shut, passersby will find a strikingly colorful nature scene unlike any other on the auto shop's facade. That's because the plants and terrain were invented by neighborhood illustrator Neil Ballard.
"I chose to portray a landscape that depicts an imaginary nature scene because I feel that the Ingleside needs more purely aesthetic murals that don't necessarily carry a message but instead bring color and beauty to plain walls," Ballard told the Ingleside Light.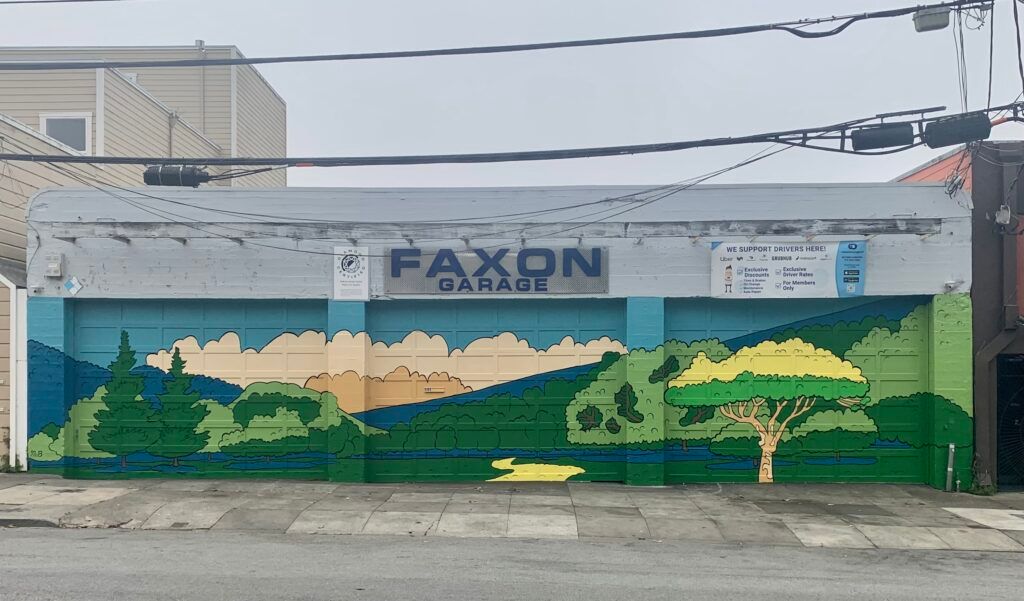 Ballard, who has worked on a number of art projects in the neighborhood, said composition of the piece was inspired by the master comics artist Moëbius.
"This mural, like much of my work, was inspired by the transporting illustrative possibilities of a fixed-width linework style as popularized by European comics artists like Hergé, Tardi and Joost Swarte," Ballard said. "This style is known as 'ligne claire' and it allows for easily legible shapes that may be filled in with carefully chosen colors."
Faxon Garage owner Walee Gon is pleased with the work, and how it ought to make viewers feel.
"I personally think it will bring a sense of serenity to people walking by," Faxon Garage owner Walee Gon told the Ingleside Light. "While the mural was being painted, I had several neighbors who walked by and made a point to let me know how much they loved seeing it. It seems like everyone is happy."
To satisfy grant funding requirements, Gon obtained the approval of the building's owner, and Ballard sought letters of support from a number of community organizations.
After winning approval from the San Francisco Arts Commission, Ballard called in muralist, sign painter and San Francisco native Eli Lippert to realize his vision.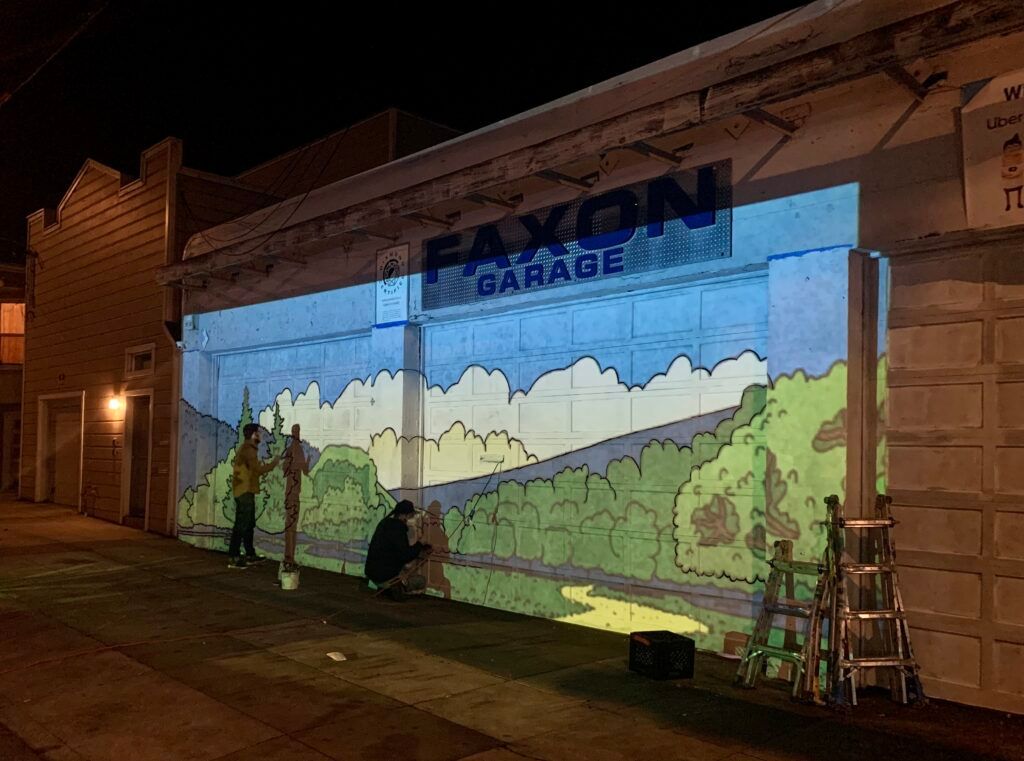 "Eli has plenty of experience working on murals all throughout the city, and I am very grateful to Eli for advising me on some of the basics of mural execution, as this is my first large-scale public mural project," Ballard said.
Lippert, who lives in the neighborhood, painted the mural gracing the interior of Ocean Ale House as well as the "Love Always Wins" mural on the bar and grill's parklet.
Faxon Garage joins Auto 280 in having an expansive mural on its facade. Auto 280's mural, called "Ocean Avenue North and South," was painted by Amos Goldbaum.
The mural at Faxon Garage was completed last weekend after the artists applied an anti-graffiti varnish to the acrylic paint.
It was paid for by a San Francisco Arts Commission grant awarded to the Ocean Avenue Association through the District 7 Participatory Budgeting program.
Ballard recently applied for more art funding for the neighborhood through the new District 7 Community Grants.
"There are plenty more walls that could benefit from similar treatment in the Ingleside," Ballard said.
---
Support independent community news
No media outlet covers our neighborhood like The Ingleside Light. Full stop.
Reader support sustains the expensive reporting our community needs and deserves. Will you join the hundreds of readers and become a member?