The huge mural depicting Ocean View-Merced Heights-Ingleside leaders and landmarks was touched up for its twentieth anniversary.
The Ingleside Light is an independent news outlet. Sign up to receive our latest stories as soon as they're published.
Restoration of the oldest mural on Ingleside's stretch of Ocean Avenue was quietly completed in February 2020 but the pandemic prevented any recognition of its completion.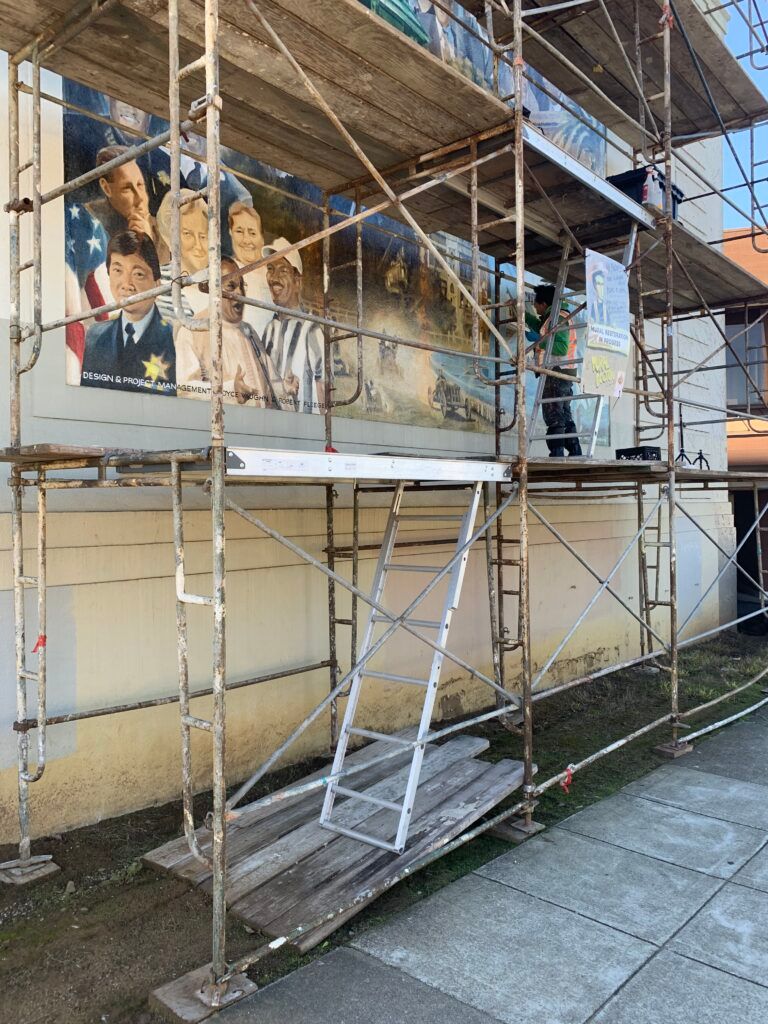 Between November and February, Yano Rivera of Precita Eyes, touched up the Ocean View-Merced Heights-Ingleside leaders and landmarks depicted on the side of the PG&E facility on Ocean Avenue near Junipero Serra Boulevard.
The 22-year-old mural was refreshed for the next 20 years by the OMI Community Action Organization, which won a grant through Supervisor Norman Yee's District 7 Participatory Budgeting program.
According to Precita Eyes, the mural is called The title of the mural is "The Lights of the OMI and its Contributors."
Edna James, executive director of the OMICAO who also appears in the artwork, applied for the grant to refresh the mural.
A large community reception was in the works but the pandemic put it on hold, James told the Ingleside Light.
The mural was commissioned by the now defunct OMI Business League President Royce Vaughn in 1999 and executed by creative director Robert Fleege and painter Michael Manente, according to the organization's treasurer Al Lewis.
Below is a guide to the mural's contents.
Top Row, left to right
Edna James, OMI-CAO; Donneter and John Lane, Housing & Community Development; Staci Huey, Miracle Cleaners; Philip R. Day, Jr., City College of San Francisco Chancellor; Willie L. Brown, Jr., San Francisco Mayor Emeritus; Jerry Werthimer, San Francisco State University; Louis Batmale, Community College District founder; Phil Burton, former congressman; John Burton, former senator; Robert Burton; Lonnie and Lurine Lawson, Ingleside Terraces Homes Association
Middle Row
Willis Kirk, retired City College of San Francisco president; Will Reno, Snig; Royce Vaughn, OMI Business League president; B.J. Waters, Waters Plumbing Co.; Anita Grier, City College of San Francisco Trustee; Rev. Roland Gordon, Ingleside Presbyterian Church; Robert Landis, Aptos Middle School; Ronnie Naiker, Golden Years Medical; Mario Magallon, CCSF Associated Student; Geraldine Earp, OMI CA; Bettye Simon, Ingleside Lions Club; Kathy Wong, Commodore Sloat Elementary Principal; Henry and Gary Christopherson, Christopherson Realty
Lower Left
Assistant Police Chief Earl Sanders; Fire Chief Charles Demmons, Rev. Richard and Marilyn Gazowski, Voice of Pentecost; Lorainne Ungaretti; Supervisor Amos Brown; Burl Toler, CCSF and NFL
Lower Right
Mercy High School Kaleidoscope Club dancer
Landmarks
City College of San Francisco Science Hall, St. Emydius Catholic Church, Westwood Park, El Rey theater, Ingleside Library, Ingleside Terraces sundial, Ocean Avenue palm tree, Ingleside racetrack, whitefront K-Line streetcar
Support Independent News
This story you've just finished was funded by our readers. We want it to inspire you to either sign up to become a member or make a gift to The Ingleside Light so that we can continue publishing stories like this one that matter to our community and city.
The Ingleside Light is a reader-funded news publication that produces independent journalism to benefit the community. We were founded in 2008 to fill a void in San Francisco's press: An outlet dedicated to the people of the greater Ingleside neighborhood. More than a decade later, The Ingleside Light is still here doing the work because it is critical to democracy and our civic life.
Your contribution today will help ensure that our critical work continues. From development to small business, to parks and transportation and much more, we are busier than ever covering stories you won't see anywhere else. Make your gift of any amount today and join the hundreds of readers just like you standing up for the power of independent news. Thank you.
JOIN NOW