The new Asian speciality grocer opened in May and offers a cornucopia of produce and food items.
A trio of entrepreneurs opened WestWood Produce in late May to offer a an ever changing selection of products for neighborhood customers.
Eduard Puchin, Vivian Chen and Nala Chang held a soft opening for their new grocery store on the 1700 block of Ocean Avenue May 20 in the space once occupied by Mahogany House of Styles.
The grocer was mainly Chen's idea, Puchin said. He had originally thought about opening a coffee shop.
Puchin said he chose the name to represent the people in the community and because it had a good ring to it.
"I feel like there's a lot of people that have come through and have been very excited for not only the products that we offer but also for a lot of new things that they haven't seen before," Puchin said. "It's exciting to provide the things that people are looking for before they realize that they want them."
They provide an abundance of items from fresh vegetables and fruits to meats that can be used for hot pots, snacks and more.
Puchin said their checkout system allows debit and credit cards as payment methods along with digital wallets like Apple Pay and cash. He also said that they have plans to get EBT added to that roster of payment methods soon.
When asked about the opening of nearby grocer Fruit Barn Puchin said it was great.
"I feel like the idea is that the community would have more options for food," Puchin said, noting how the community mainly had corporate chains such as Target and Whole Foods. "When those were gone, there were really no other choices so, for me, the more people who are providing, the better."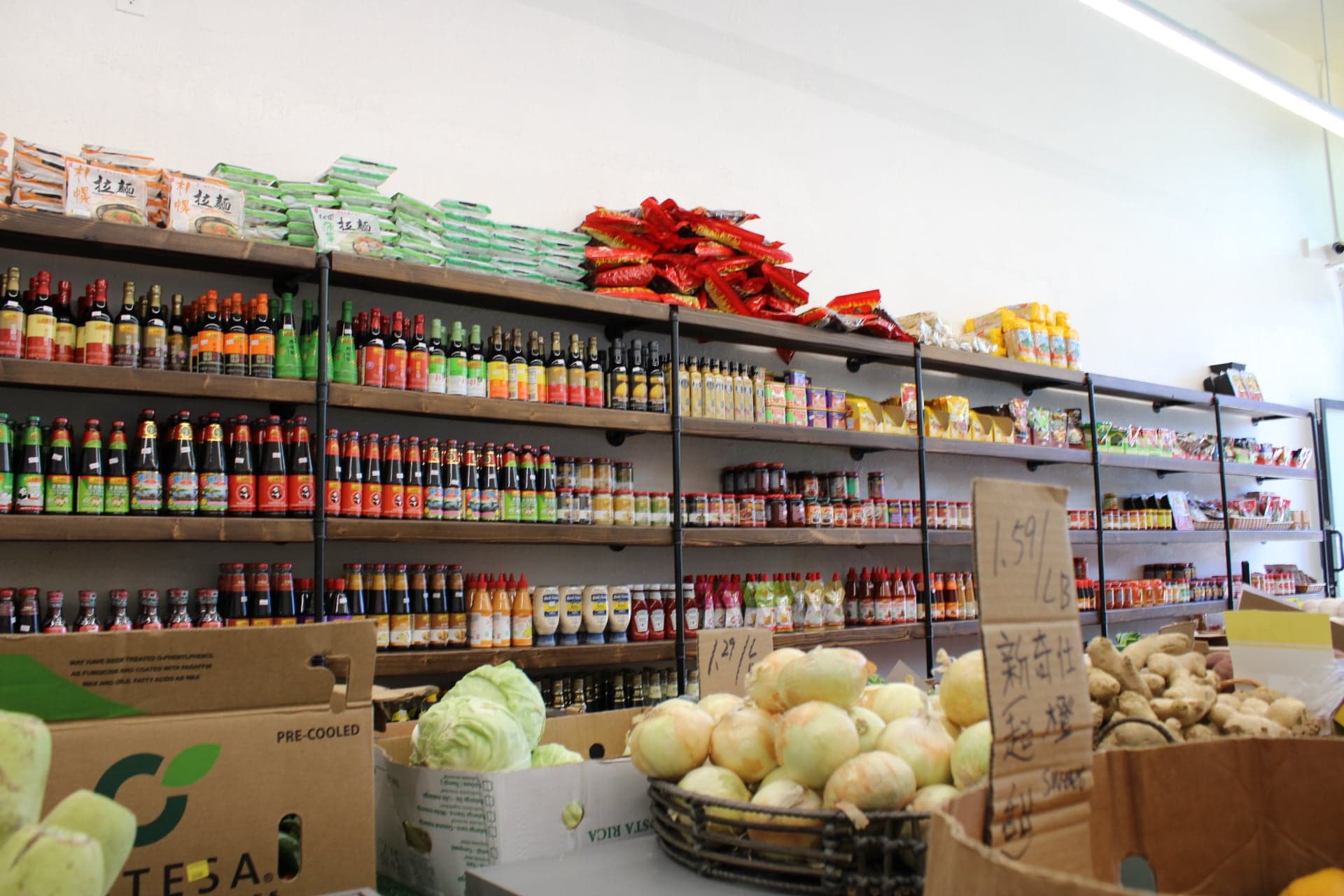 Expanding Tastes
Though Puchin wants people to know that they are not just an Asian grocery store, he also wants them to know that it's okay to dive into the Asian-based products they might be unfamiliar with.
"I feel like that kind of mentality gets a lot of people away from actually seeing the products fully because it's something very foreign they don't understand," Puchin said. "I want people to take away that a lot of these sauces are delicious. It's just getting accustomed to them."
The trio of owners have plans to include little menu-style recipe cards near the sauce bottles that will include the sauces and other key ingredients to create meals at home. His hope is that it will help close the cultural gap that he feels is happening.
He finds that the products they have and the nice shopping experience created through sleek shelving and the painting of their logo on their wall from local artist, Allison Smith, makes their store unique.
"We're going to be constantly changing over the months so keep coming by," Puchin said. "I'm going to keep trying to serve the community as best I can in terms of providing products that everybody wants."
WestWood Produce
Address: 1712 Ocean Ave.
Hours: 9 a.m. to 6 p.m. Open 7 days a week.
Phone: (415) 349-4337
---
Support independent community news
No media outlet covers our neighborhood like The Ingleside Light. Full stop.
Reader support sustains the expensive reporting our community needs and deserves. Will you join the hundreds of readers and become a member?