After 30 years, Sam's Market on San Jose and Lakeview avenues is now the M Stop Market and Deli serving barbecue sandwiches with 70s Muni vibes.
There's a new stop on Muni's M-Ocean View light rail line but you won't need a Clipper Card.
The former Sam's Market on San Jose and Lakeview avenues is now The M Stop Market and Deli as of December 2021.
Neighbor Sal Albowyha bought the corner store and renovated the storefront inside and out with 1970s Muni colors.
"I've known Sam and Jack, the previous owners, for years," Albowyha said. "I've been coming to this corner market since I was three years old. I live on the block just 15 houses away up the hill. I've been wanting to have a business of my own."
The corner store's owners Sam and Jack were relieved and honored that he was willing to take over, Albowyha said.
"It took a lot more work than I expected to refurbish," Albowyha said.
Obstacles and hurdles were there from the get-go, because it needed a total renovation.
"I gutted the entire space from ceiling to floor," Albowyha said. "Getting everything together and done up to code was a challenge. For three months I worked 90 to over 110 hours a week. If anyone talks about what difficulties they had dealing with permits, the Planning Department and banks, they are not exaggerating. It takes a lot of effort and determination."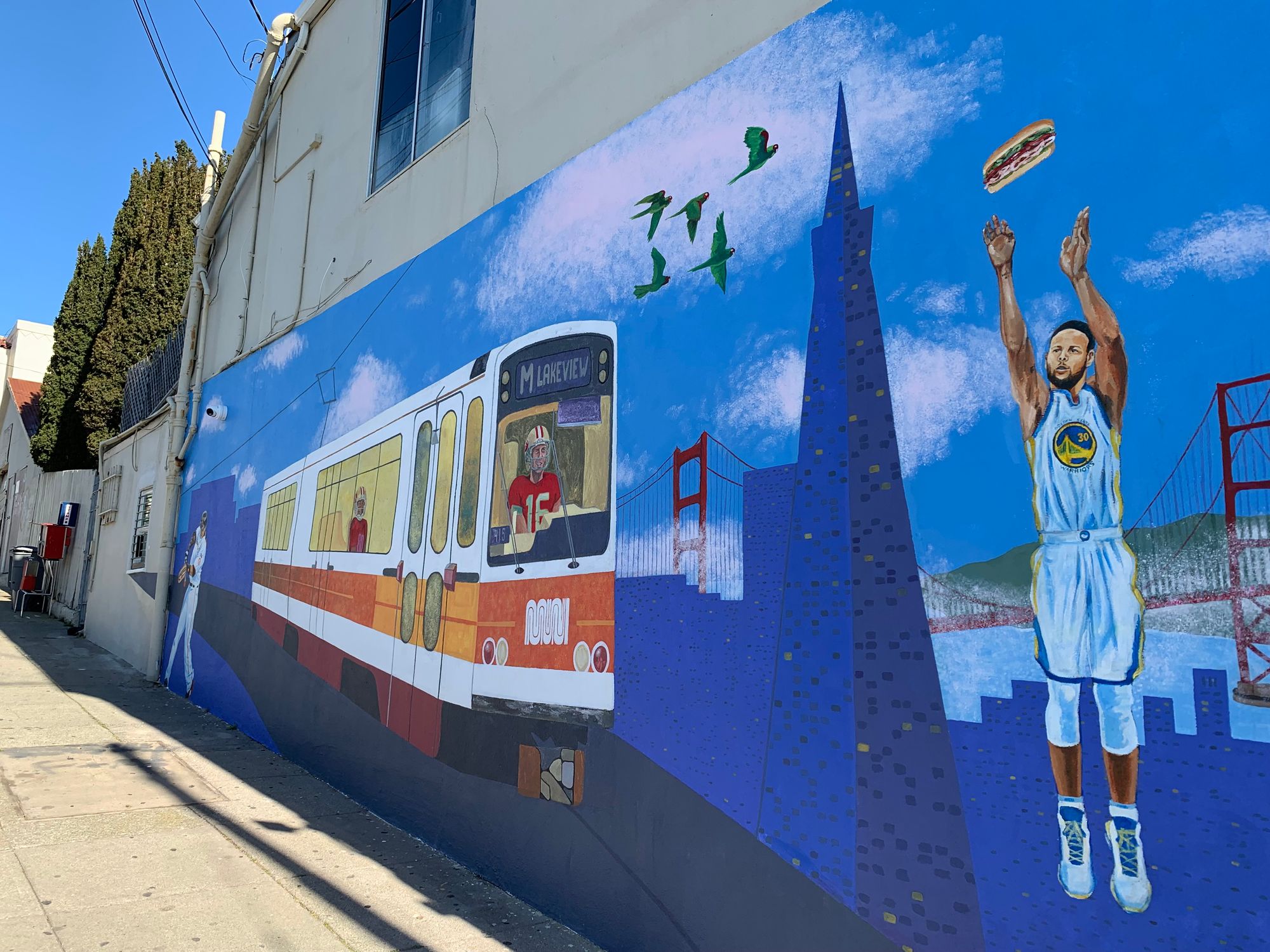 For Family
The one thing that has kept Albowyha on track was his family.
"I'm from a family of eight," Albowyha said. "My brother Mustafa was only one year apart from me. We shared a lot in common and owning the corner store was a dream we had. We would say, 'One day we will own that corner store!' We said in jest at first. But then later on we meant it."
Mustafa died at the age of 24 and a few years later his mother Izdehhar died of cancer.
"Pushing this dream into reality, with my brother and my mom watching over me, I now see it's been for my kids," Albowyha said.
"My dad is still working and has worked all his life, always wanting a better life for us," Albowyha said. "Now it's my turn to build a life and make a future."
The long hours and hard work are starting to pay off. The full-service corner store is now one of the best places to get a sandwich in San Francisco, regulars say.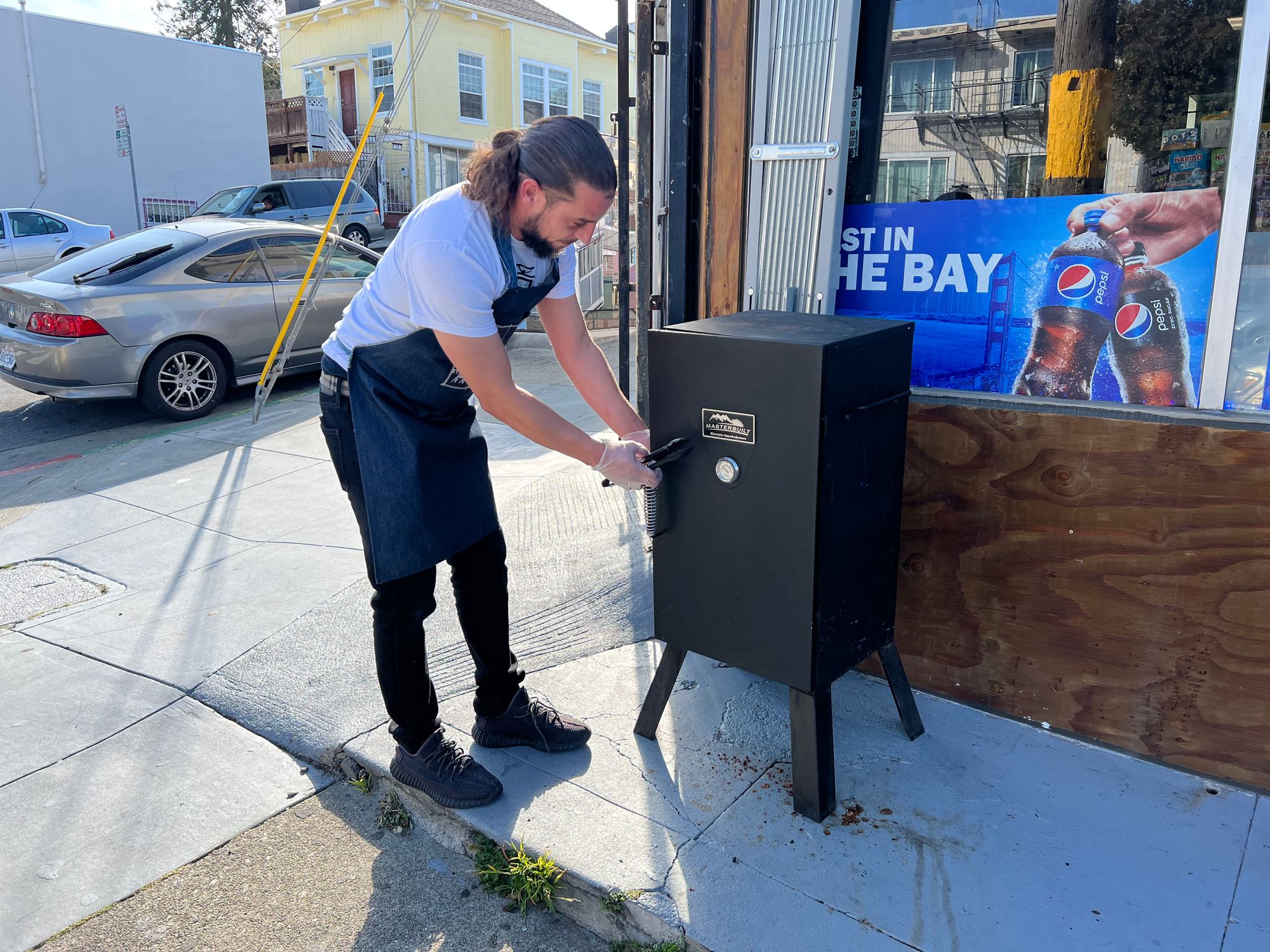 Deli With Barbecue
"Love, love, love this store,"a five-star review on Google states. "Sundays they offer a smoked rib sandwich that is sure to be a favorite! This is more than just a corner store. It's a place that has something for everyone and soon to be a San Francisco institution. Congratulations Sal, the place is amazing!"
Albowyha originally planned to offer specialty coffee but put in a deli counter in March so he could share his love of barbecue.
"I realized this would be an opportunity to share my love of barbecue with the neighborhood," Albowyha said. "Little did I know it would reach out to the whole city. In just one month people have been coming into the store asking for a sandwich because they heard about The M Stop."
Overall Albowyha is pleased and honored with his corner store.
"That has been a comfort to me especially after all the work I've done to fulfill this dream of owning the corner store in the neighborhood where me and my siblings grew up," Albowyha said. "It's now a reality and I'm very grateful! My mom and my brother would be proud."
The M Stop Market and Deli
Location: 2598 San Jose Ave.
Hours: 8 a.m. to 9 p.m. Monday through Friday, 9 a.m. to 10 p.m. Saturday and 9 a.m. to 7 p.m. Sundays
Phone: (415) 347-7102
---
Support independent community news
No media outlet covers our neighborhood like The Ingleside Light. Full stop.
Reader support sustains the expensive reporting our community needs and deserves. Will you join the hundreds of readers and become a member?