Business
New Kickboxing Center Opening Inside Ingleside's 24 Hour Fitness
A kickboxing-themed training center called 9Round is being built inside 24 Hour Fitness.

24 Hour Fitness is punching up its exercise offerings with a new kickboxing-themed fitness center in an underutilized part of the gym.
9Round, a new 30-minute, nine-station kickboxing circuit franchise, is under construction, replacing the Kids' Club childcare center at the front of the gym. While no staff was able to speak to The Light about the addition of 9Round, a map on the company's website shows that an Ocean Avenue location will be "coming soon."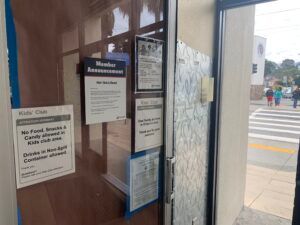 9Round is "for people who want a unique, fun, and proven workout that guarantees results," according to its website. "9Round offers a kickboxing-themed fitness program that incorporates a functional, interval, cardiovascular, and circuit training regimens."
The 9Round franchise was founded in 2008 by Shannon "The Cannon" Hudson, winner of the Middleweight Kickboxing Championship of the World on Oct. 1, 2011. The company is based in South Carolina.
Records show 24 Hour Fitness was issued a building permit in mid-December for the removal of "existing wall/floor finishes and replace with new one," according to city records.
The permit also allows an additional five electrical outlets and a change of room use from "childcare" to "exercise," with no change in occupancy.
"While Kids' Club has historically been offered at this location, overall usage has been low," 24 Hour Fitness management wrote in a message posted to the Kids' Club door. "As a result, and after much consideration, we made the decision to permanently close Kids' Club at this location."
When told about the addition of 9Round at 24 Hour Fitness, Fog Lifter Cafe owner Ahmad Murad said he welcomed the business.
"I think it's good," Murad said. "It's good that this area is becoming more sporty, especially with St. Clair's Taekwondo opening up a few months ago."
---
Support independent community news
No media outlet covers our neighborhood like The Ingleside Light. Full stop.
Reader support sustains the expensive reporting our community needs and deserves. Will you join the hundreds of readers and become a member?