After outcry from the community and supervisor, Public Works is repairing damage it did to the new Invest Black mural on Broad Street.
The Ingleside Light is an independent news outlet. Sign up to receive our latest stories as soon as they're published.
Late Sunday night, a crew from Public Works attempted to pressure wash the new "Invest Black" mural off of Broad Street, immediately inciting anger and frustration in the community.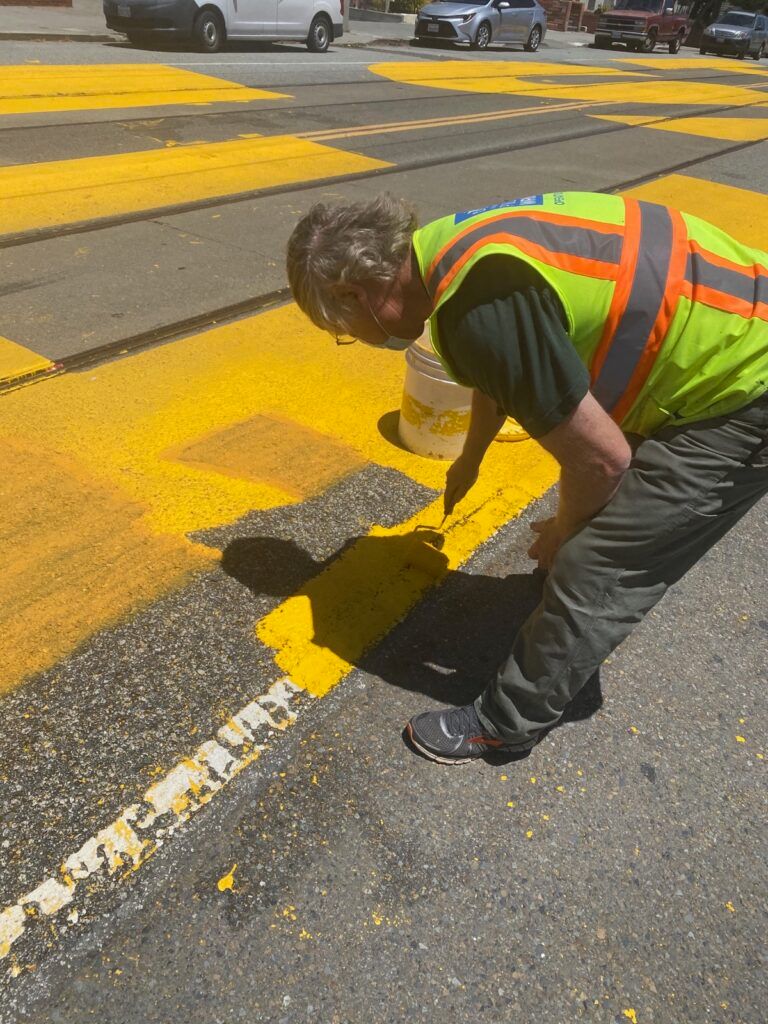 "We're very upset about it," OMI Cultural Participation Project Executive Director Maurice Rivers told The Ingleside Light. "District 11 is not going to tolerate that, and we're not going to be washed away literally or figuratively."
After being told of the pressure washing by neighbors Rute Abraha-Bailey, EJ Jones and Geoffrey Simpson-Morris, District 11 Supervisor Ahsha Safai drove over to the mural and persuaded the Public Works crew to stop.
"[In] response to the Black Lives Matter movement and the death of George Floyd many of the Black leaders from this community came together and came up with the creative expression of INVEST BLACK," Safai told The Light via email. "It was a beautiful community led event that was multicultural and grassroots — meant to say 'Black Lives Matter' but investing in the Black community is a lasting expression. Lasting."
"Then last night at midnight my phone rang to the horror the mural was being removed," Safai added. "We stopped it but damage has been done. It will be fixed by the same department that removed it and know that this community will not be deterred but this event will only make it stronger and I stand ready to help and work to make lasting investments."
The removal was done as part of a service request. This morning, Public Works began repairing the mural.
"A graffiti-abatement crew responded last night to a service request regarding a 'large amount of paint on the public street,'" Public Works Director of Policy and Communication Rachel Gordon said via email. "They began the abatement work, but as soon as it was brought to our attention that this was a mural, we stopped the work — fortunately, very little of the work had occurred at that time — and we sent crews back out this morning to restore the mural."
The city is looking into developing a policy to address on-street murals, according to Gordon.

The idea for the mural was conceived by resident Gale Rosboro, who was inspired by the painting of "Black Lives Matter" in the Fillmore neighborhood, Oakland and elsewhere in the country. She brought the idea to Safai's office, which convened a group of stakeholders to collect feedback.
Artist Malik Seneferu joined the effort and on the afternoon of Wednesday, June 24, dozens of volunteers painted in bright yellow the words "Invest Black" on the asphalt. The phrase is meant to inspire "solidarity, strength, investment in Black businesses, Black families and Black culture in District 11," according to a flyer for the event.
"Someone in the OMI called 311," Rosboro told The Light. "It's really disheartening. The project was done and the whole community came together. Everyone was so encouraged. To know there is a member in the community disheartening."
"It's not just paint on the street, it's a message to invest," Rosboro added. "It's the start of an action in the community."
Safai and constituents will hold a discussion about the mural on the afternoon of July 6.
Support Independent News
This story you've just finished was funded by our readers. We want it to inspire you to either sign up to become a member or make a gift to The Ingleside Light so that we can continue publishing stories like this one that matter to our community and city.
The Ingleside Light is a reader-funded news publication that produces independent journalism to benefit the community. We were founded in 2008 to fill a void in San Francisco's press: An outlet dedicated to the people of the greater Ingleside neighborhood. More than a decade later, The Ingleside Light is still here doing the work because it is critical to democracy and our civic life.
Your contribution today will help ensure that our critical work continues. From development to small business, to parks and transportation and much more, we are busier than ever covering stories you won't see anywhere else. Make your gift of any amount today and join the hundreds of readers just like you standing up for the power of independent news. Thank you.
JOIN NOW