Business
Ocean Ale House's Daniel Silberman Dishes Up Seasonal Hits
The chef is deeply committed to using locally grown food stuffs to support independent farms as the community supports his bar and grill.

Daniel Silberman cut his teeth making barbecue for Magnolia Brewing Co. In 2016, he partnered with barman Miles Escobedo to open Ocean Ale House in the former Caffe D'Melanio location on Ocean Avenue.
Silberman's expertise in full-animal, wood-fire cooking has been in full effect at his bar and grill for six years this upcoming May.
The Ingleside Light caught up with Silberman to talk about the prodigious number of special dishes he puts on the menu every week.
This interview has been lightly edited for clarity and brevity.
What's the origin story for Ocean Ale House?
I grew up with Miles. We went to the esteemed School of the Arts High School. We played music together. After college, we brewed beer and got into the scene, grew  beards and decided to open a bar and restaurant. It's been a steep learning curve. But we are students of the game. We have never stopped learning. And yeah, it was trial by fire.
You've been cooking for this community for six years next month. What have you learned about its taste?
It's just about keeping things fresh. Staying connected to the farms. And getting out of the way of the farmers ingredients and letting them shine.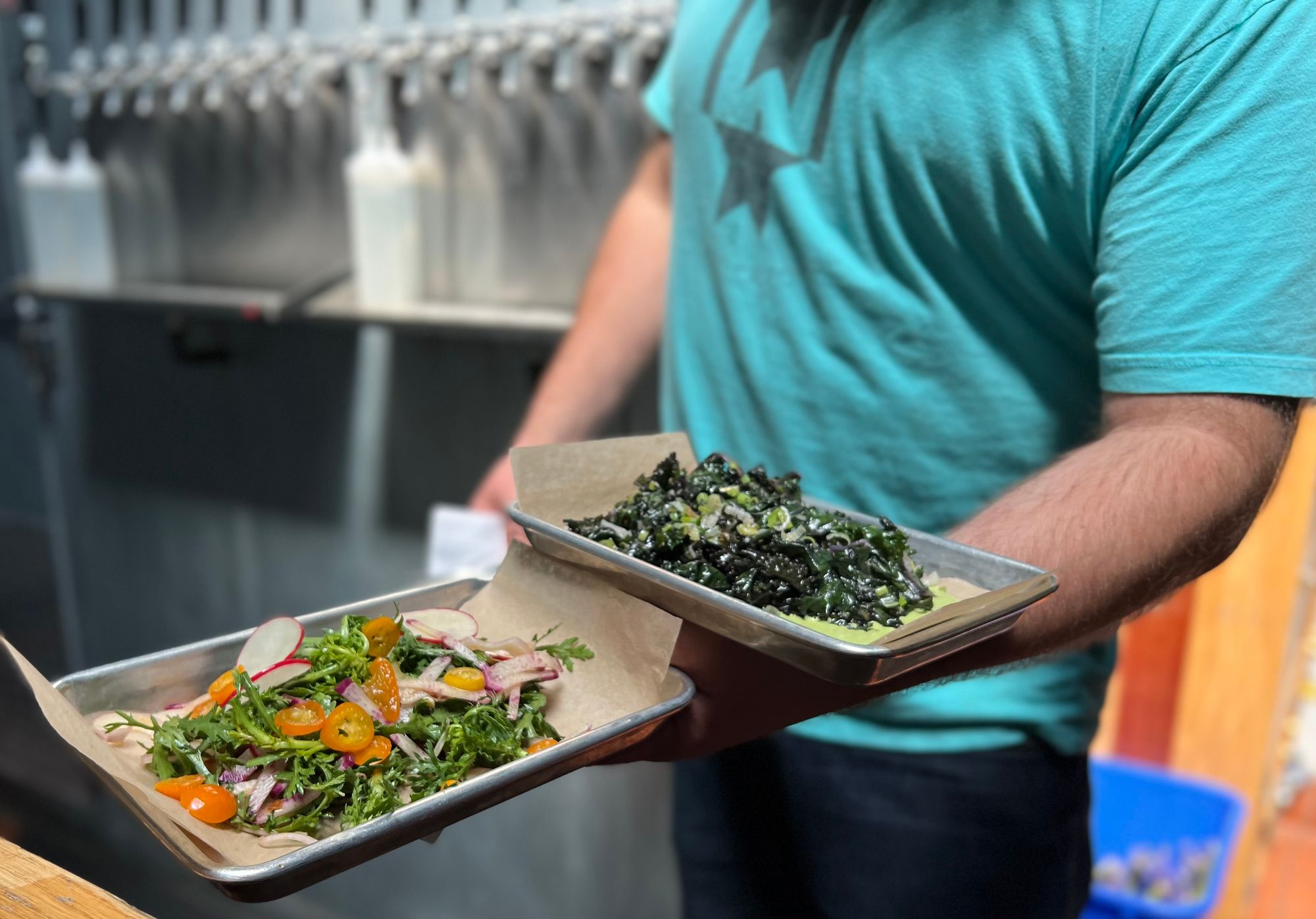 Elaborate on that. How often do you go to the farmers market?
I go three times a week and I just try to find things that are seasonally appropriate and the rest will follow. Most people have a conception of what they want, whether it's ketchup or tomatoes year round, and it's just not feasible. So we try to stay connected to the seasons and to our agriculture base.
You put a new special on a couple times per week. What's your menu strategy?
It's purely like improvisational jazz. It's just finding ingredients and then letting the ingredients tell you what to do. Deductive reasoning most of the time. When the seasons shift, something will come into play and you just have to be ready and just stay on the beat.
What can patrons look forward to?
The best market ingredients we can find done in a bar-food style served by the beautiful personality of our esteemed leader Miles. We're going to be expanding our bar program and keeping it as connected as possible. We get the best citrus that we can find. Juice it fresh.
What special dishes consistently do well?
Usually when we smoke meats they're a hit. We dress them up with whatever we can find whether that's peppers and onions or in a fajita plate or beans from the coastside down to Halfmoon Bay or kale from further down in San Joaquin Valley. It doesn't matter what it is. It's just gonna be green and alive and you can taste that.
What were your top three specials?
Our brisket is always a hit. We did a corndog recently that had a fresh milled blue corn polenta that was amazing. Our asparagus with Green Goddess dressing and fresh beautiful spring flowers and a salsa matcha with pistachio and garlic.
Anything I forget to ask you?
I think it's important to shop at farmers markets and to support your local economies because if you don't, they won't last very long. And we wouldn't have lasted here through the pandemic without everybody's support. And we stand on the shoulders of the community. We are lifted up by the community.
Ocean Ale House
Address: 1314 Ocean Ave.
Hours: 4:00 to 9:00 p.m.Wednesday – Thursday, 12:00 to 10:00 p.m. Friday – Sunday
Phone: (415) 988-7521
Website: oceanalehouse.com
---
Support independent community news
No media outlet covers our neighborhood like The Ingleside Light. Full stop.
Reader support sustains the expensive reporting our community needs and deserves. Will you join the hundreds of readers and become a member?