Transportation
Ocean Avenue Mobility Action Task Force Holds Public Meeting
Members of the community voiced concerns and offered proposals for transportation safety projects at the task force's virtual town hall.

A task force of community stakeholders empaneled to prioritize transportation safety improvements in the neighborhood held its first public meeting June 15 to provide an overview of the projects it may prioritize in an action plan to be completed in the next six months.
District Seven Supervisor Myrna Melgar allocated $300,000 last year for the San Francisco County Transportation Authority to organize the Ocean Avenue Mobility Action Plan Task Force, a group of a dozen community members who have been meeting about monthly in private to prioritize five transportation improvement projects.
"I am grateful that we have had such tremendous participation…from the community in this process and that people have been so engaged in not just foreseeing the needs and pointing out the challenges that we've had with being really proactive in proposing solutions and being able to consider the points of view of others in the community," Melgar said to the 40 participants.
The action plan aims to prioritize the community's most needed transportation, pedestrian safety, bike safety and traffic circulation improvements for the Ocean Avenue corridor between Junipero Serra Boulevard and San Jose Avenue.
"Ocean Avenue is such a bustling corridor and really the spine of the communities in District Seven and 11," Melgar added. "It also presents the problems that we all know about, not just at the efficiency of people getting around but the very legitimate safety issues we all worry about."
SFCTA Planner Camille Guiriba and Communication Coordinator Brittany Chan along with San Francisco Municipal Transportation Agency representative Michael Rhodes presented an overview of past, present and future projects to put the action plan into context.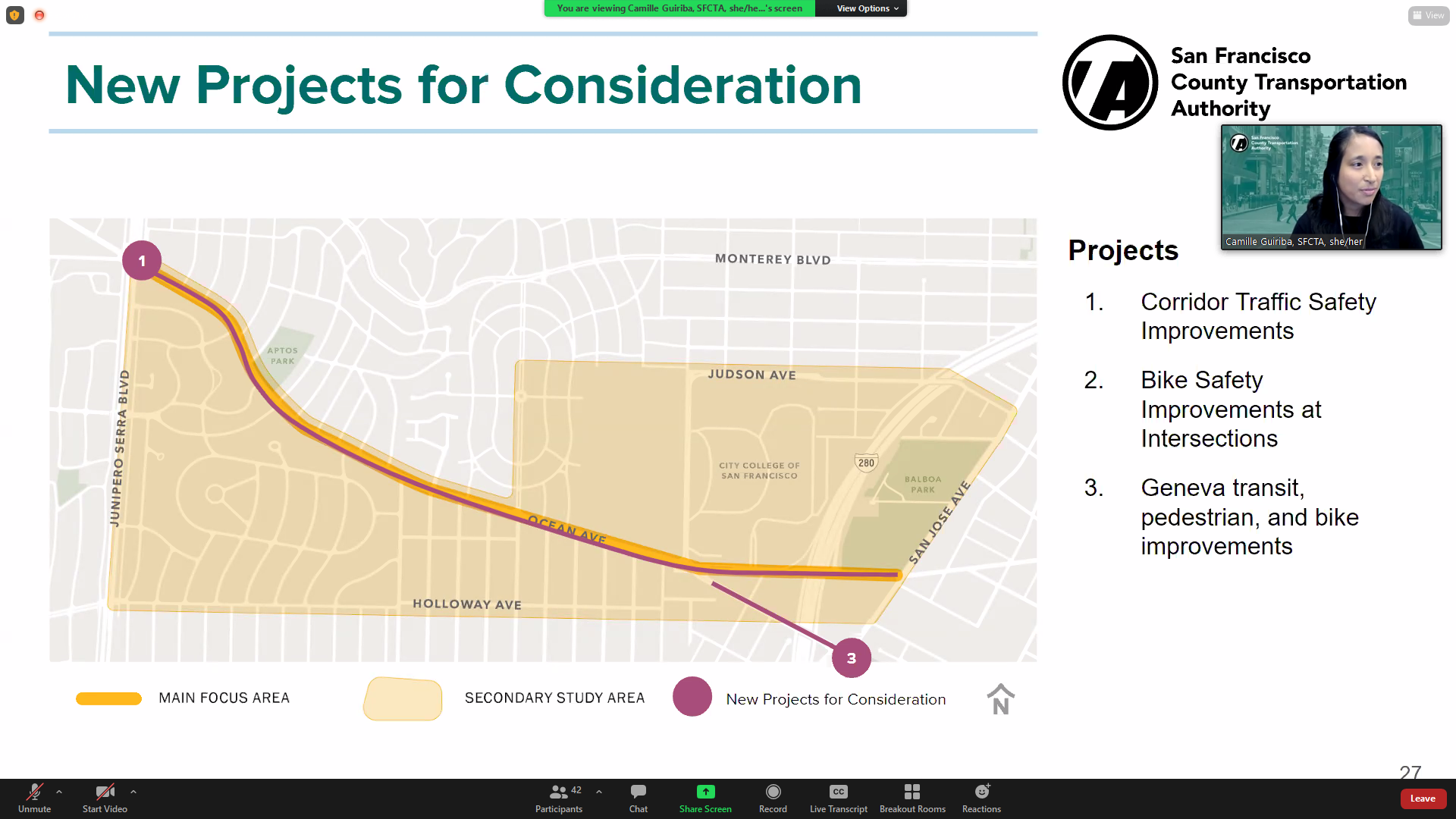 Many Plans
City agencies have created a number of plans for the area over the past 15 years with all sorts of improvement projects ranging from a dignified Ocean Avenue entrance to Balboa Park to decking over the I-280 to create more usable space next to Balboa Park BART station. Most of them have been shelved due to a variety of funding issues.
In 2014, Public Works and SFMTA created the Ocean and Geneva Avenue Corridor Design Project to help aid in bicycle and pedestrian safety, improve transit areas and better develop the street environment to be more comfortable and visually pleasing. The short-term projects concluded in July 2016 but the long-term projects remain incomplete.
Completed projects included Ocean Avenue accessibility and signal upgrades, safety improvements for the Ocean Avenue and I-280 southbound off-ramp, pedestrian-scale lighting and wayfinding signs and reconfiguring of the City College Terminal.
Not all plans are gathering dust on the shelf. Some are on the drawing boards:
The SFMTA's Frida-Ocean-Geneva Quick-build project aims to improve safety and access for pedestrian, bike and transit users alike at the Frida Kahlo Way and the Geneva Avenue intersections on Ocean Avenue and safety measures for north of Frida Kahlo Way.

Balboa Park BART Plaza Improvements project will upgrade access to BART with ADA compliant paths and passenger drop-off area that's only accessible via San Jose Avenue, increase to public open spaces and an enhanced transit experience by adding real time train arrival displays, lighting and security camera and landscaping.
The task force has a number of proposals to prioritize that have been around for years.
Large Proposals
K Ingleside Muni Forward Improvements: Improvement in transit reliability, capacity, safety and accessibility through dedicated Muni spaces, upgrades to boarding islands and stop spacing, pedestrian safety improvements and new and upgraded singles with transit priority.
City College of San Francisco Retaining Wall: Requires the re-movement of the pedestrian bridge over Ocean Avenue and moving the retaining wall to create more street space for a westbond shared bike and pedestrian path and eastbound bike lane.
Many participants voiced their concerns about the removal of this bridge. William Walker, who said he was in a bike accident near San Jose Avenue and tore his ACL, was against it.
"I have a hard time walking up the hills that I live near now and this bridge is how I access Ingleside and Lakeview," Walker said. "I think it's really important that if we're going to remove this bridge, that people understand that's going to impact people that have problems traversing hills."
The bridge has been contentious for many years. It is not compliant with the Americans with Disabilities Act, records show. At least two city plans call for it to be removed or replaced.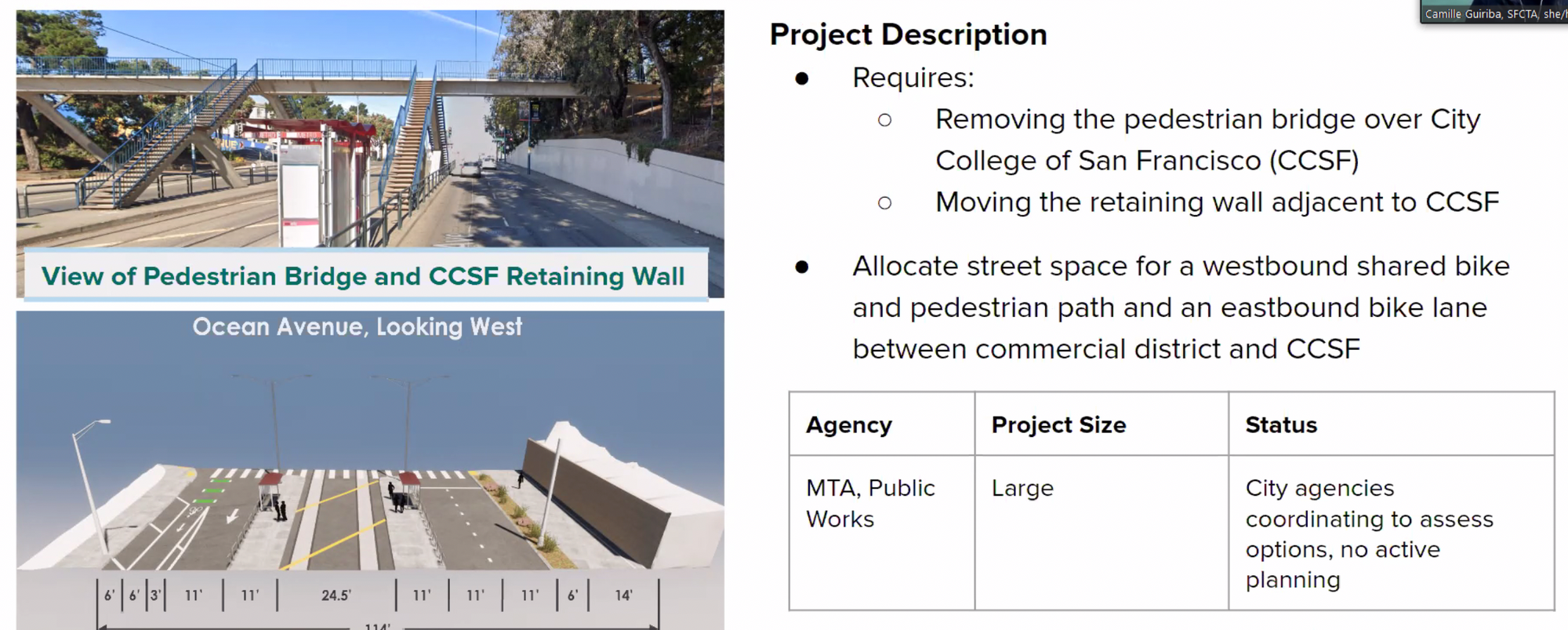 Small And Medium Proposals
Pedestrian Safety Improvements: General safety improvements like decorative crosswalks, pedestrian-scale lighting and bulb-outs at intersections. Several proposed locations are Ocean Avenue and Granada Avenue, Frida Kahlo Way and Judson Avenue and more.
Bike Lanes on Geneva Avenue: Improvement of bike connectivity between BART, commercial areas with potential improvements on east and westbound bike lanes on Geneva Avenue between I-280 and Howth Street.
Accessibility Improvements: Interesting new ADA compliant entrances at Balboa Park entrance at the corner of Ocean Avenue and I-280 on ramp along with new bus shelters, landscaping, specialty paving and seating and lighting.
David Hooper and Lisa Dunseth voiced concern over the proposed ADA entrance stating how the elevation near the proposed entrance is so drastic, that it may be inaccessible.
Hooper proposed moving it toward the already existing opening several feet away at Balboa Park.
"It's a freeway ramp, why would you have an entrance to a park adjacent to a freeway ramp," Dunseth said. "I feel like people are drawing these things on paper or on their computer screens and they've never actually come out of their offices to walk the spaces to see what it's really like  if you did, you would think, 'Oh man that is a really bad idea.'"
Streetscape Improvements: General improvements to streetscape along Ocean Avenue and toward Balboa Park through lighting, bulbouts, greenery and more.
New Proposals
Corridor Traffic Safety Improvements: Improvements intended to slow traffic speeds and reduce conflicts through crosswalk improvements, left-turn restrictions, engineering measures to reduce vehicle speed and improved transit islands.
Bike Safety Improvements at Intersections: General improvements to aid in bike-riding safety and could be implemented on left turns from Balboa Park BART to Ocean Avenue, Frida Kahlo Way and Holloway Avenue.
Geneva Transit, Pedestrian and Bike Improvements: General improvements for Geneva Avenue travelers between Frida Kahlo Way and BART through possibilities like shared bike and bus lanes, separated bike lanes, advance yield lines and more.
Simon Timony, a lifelong resident and public safety advocate, shared his view on making improvements.
"I just have to say, no one cares," Timony said. "You get it done, you know because it's very dangerous and I'm just wondering does the right person have to get hit? Because there have been accidents there and, you know, decorative is one thing but lit protective crosswalks is something that everybody has been asking about and even as recently as today."
Several participants shared ideas, including making Ocean Avenue part or totally car free and improving accessibility to Muni line linkages and other transit systems.
"We'll continue to flush out any new ideas, home in on or update any ideas that are stale," Guiriba said. "I think there are a number of issues that have been identified with certain ideas from past plans so we're definitely taking note of those and that is our plan moving forward."
The task force will continue refining its priorities over the summer and collect feedback on a draft action plan in the fall. The action plan will be finalized in late 2022 or early 2023.
Community members can take a survey on the Ocean Avenue Mobility Plan and be entered to win a $25 Visa gift card from the SFCTA. The survey closes on June 22.