Arts & Entertainment
'Ocean Avenue North & South' Mural Balances Clarity With Intricacy
Amos Goldbaum's mural on the facade of repair shop Auto 280 depicts Ingleside's hills and interesting architecture.

Line after intricate line, "Ocean Avenue North & South," the mural adorning Auto 280 on the 1300 block of Ocean Avenue, clearly depicts Ingleside's architectural landmarks and hills.
Commissioned and funded by SF Shines, a facade improvement program of the Office of Economic and Workforce Development, with additional funding from the Ocean Avenue Association, the mural replaced one that had deteriorated to the point it could not be saved in 2018. The previous mural featured a street scene with Auto 280 owner Gary Ng and Rev. Roland Gordon of Ingleside Presbyterian Church.
OEWD hired Little Feet Renovation to restore the building's facade in preparation for the mural and hired artist Amos Goldbaum to create an original work.
Goldbaum, a fixture in the city's art scene for 15 years, employs a simple line drawing style, which balances clarity with intricacy, that has been popular with retailers and property owners across the city.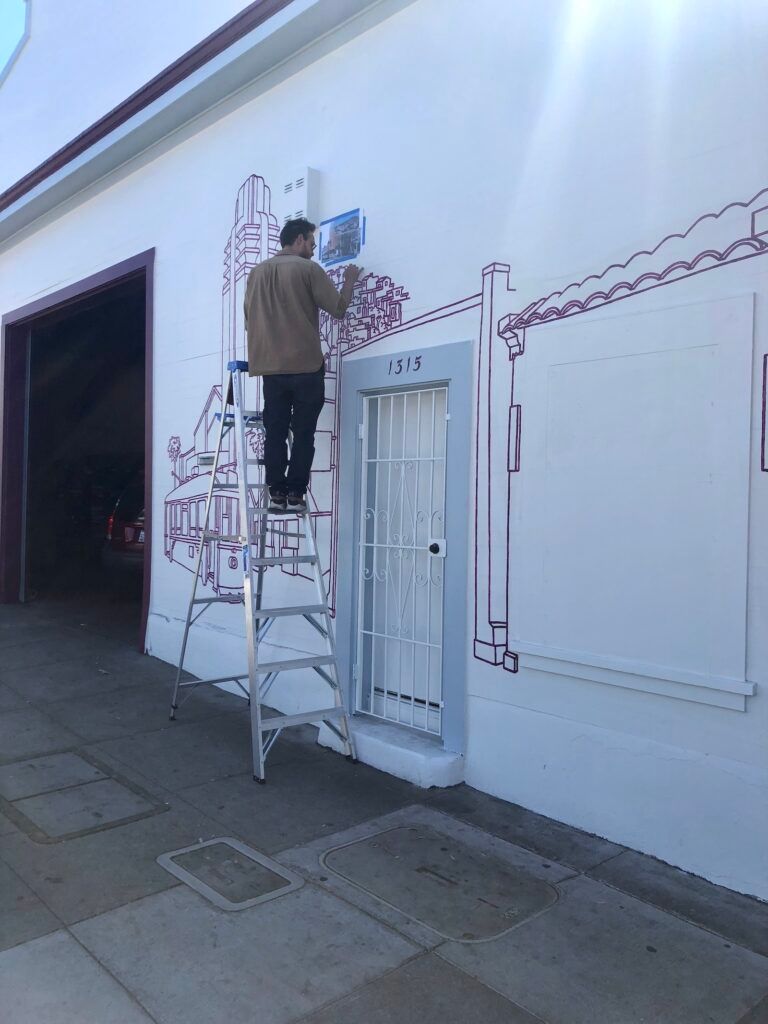 To plan the mural for Ingleside, Goldbaum did a lot of walking around the neighborhood taking photos along the way.
"There are some great hills with cool views and interesting architecture to draw," Goldbaum told the Ingleside Light.
The design stands apart from Goldbaum's other works.
"This mural has a few interesting aspects," Goldbaum said. "It's a diptych, with one wall on each side of the garage door. On one side I painted the South side of Ocean Avenue including Auto 280."
Goldbaum paid homage to the previous mural that used to be here by including a simplified version of it on the repair shop.
"On the other side of the door, I painted the North side of Ocean Avenue including the historic El Rey theater," Goldbaum said.
He added that Ingleside was a great neighborhood to paint a mural in.
"Lots of folks were interested in the project and offered conversation and some pointers," Goldbaum said. "There are also a bunch of great lunch options nearby."
While Auto 280 closed in 2020 so owner-operator Gary Ng could retire and be with his family, the Ng family is committed to keeping the mural.
"The mural by Amos Goldbaum is a unique artistic contribution to the avenue," Daniel Weaver, the former Ocean Avenue Association executive director, told the Ingleside Light.
---
Support independent community news
No media outlet covers our neighborhood like The Ingleside Light. Full stop.
Reader support sustains the expensive reporting our community needs and deserves. Will you join the hundreds of readers and become a member?