Business
Ocean Seafood Market a One-Stop Shop for Live Seafood
The new market on Ocean Avenue offers a variety of fresh seafood and harbors plans to expand into groceries.

Foodies delight.
Ocean Seafood Market, the neighborhood's newest business, carries a wide assortment of live seafood, including oysters, scallops, tuna sashimi, rockfish, Dungeness crab and Florida spiny lobster.
The market, located at the corner of Ocean and Miramar avenues, held its grand opening on Aug. 31.
Complete with several aquatic tanks and a scaling station, the market sources items from local fishermen as well as imports others as far away as Canada. Aside from live fare, the market sells frozen seafood such as shrimp and snow crab.
The market also carries Chinese produce and poultry with plans to offer a wider selection of groceries in the future, according to the market's owner Sam Chan.
Chan told The Ingleside Light he opened the market to satisfy his own cravings for the freshest possible seafood.
"I didn't want to run around town looking for seafood," Chan said. "Because this area had little seafood markets, I decided to open up the Ocean Seafood Market in the neighborhood."
Chan, who immigrated from Hong Kong in 2001, previously worked in construction and real estate trades.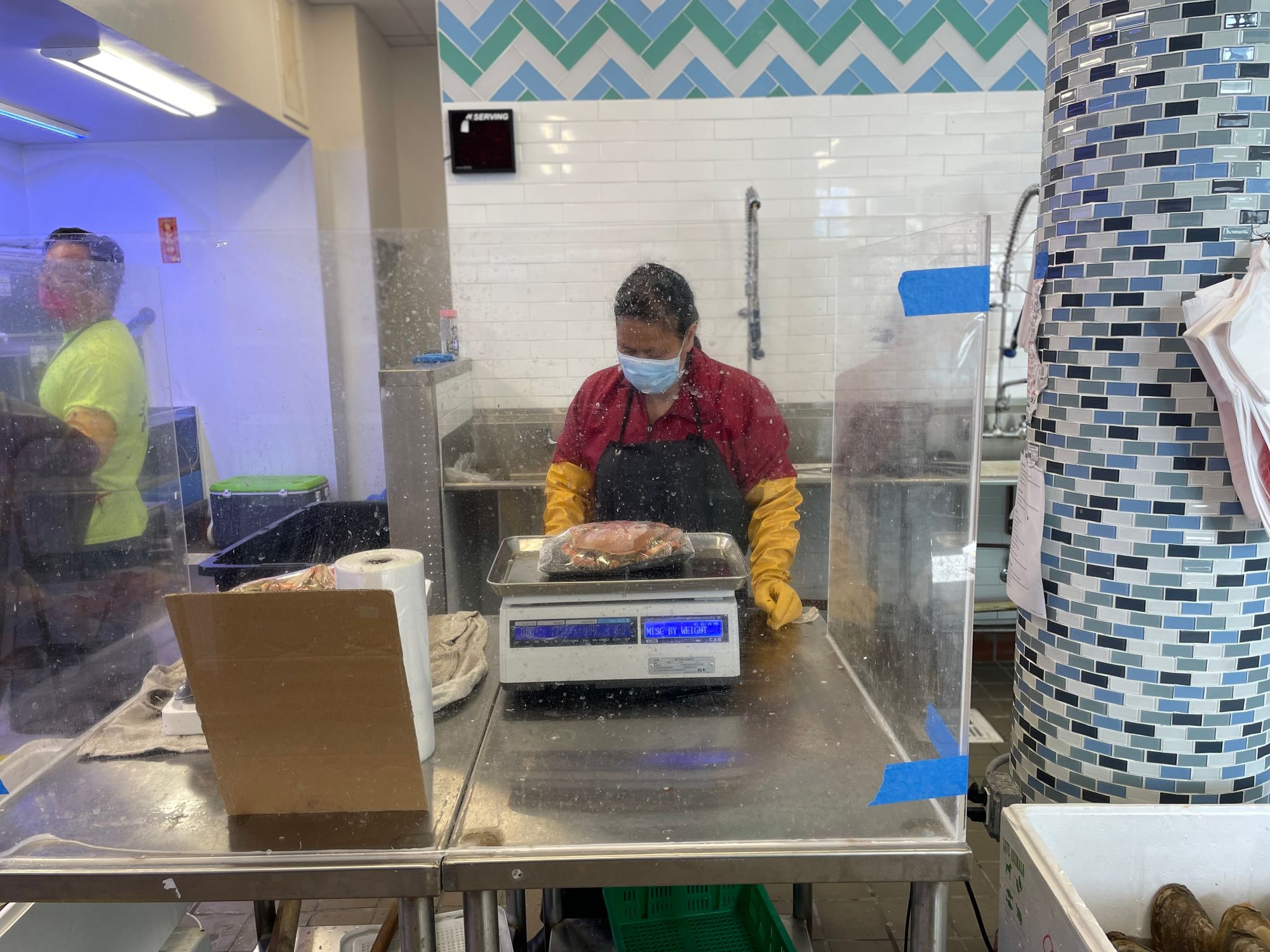 Chan starts his day at the crack of dawn, leaving before 5 a.m. to pick up live fish from wholesalers in Half Moon Bay or the airport to pick up frozen shipments.
"The best part has to be picking up the fish and seeing what I'll get each day," Chan said.
"I like seeing new types of fish," he added. "I'll even dream in my sleep that I'll be picking up new ones too!"
One of Chan's aspirations for the business is to become well known for its seafood offerings. He plans to set up a grocery delivery system like Weee! to deliver fresh seafood to people in their homes and even shabu restaurants.
Bing, a neighborhood resident who was shopping for tilapia, told The Ingleside Light she appreciated the convenience of having a seafood market in the neighborhood.
Leung, who also lives in the neighborhood, purchased Chinese pea sprouts.
"Now I can just come here to buy them since Chinatown is too far," she said.
To keep customers informed, the market operates a WeChat group to share for daily promotions.
"This is a one-stop shop to come and buy Chinese produce, poultry and lots of live seafood — you don't have to go all the way to Chinatown for that," Chan said.
Ocean Seafood Market
Address: 1500 Ocean Ave.
Phone: (415) 305-9279
Hours: Daily, 10 a.m. – 6 p.m.