Perspective
Opinion: Why Redistricting Matters To You And Why We Need To Get It Right
Advocates 11's Simon Timony: District 7 and District 11 can join at Ocean Avenue again, and two great supervisors can work for us.

By Simon Timony
If you're like me, you grew up watching news about outrageously gerrymandered districts in Congress that look like milkshake spills. We know they're bad, and the reasons why can be seen in the discussions about redistricting happening across San Francisco right now.
Every decade, after the Census counts everyone living in the United States, city, county and state electoral boundaries are redrawn.
If done unscrupulously, your vote can be adversely impacted.
In a League of Women Voters forum last year, district uniformity for respective interests was made clear. Jonathan Mehta Stein, executive director of California Common Cause, said districts need to be drawn with "common social or economic interest at heart."
"Common social or economic interests" means places where people live, work, play, shop and gather. Where communities exist to involve themselves in the human experience and pursue happiness.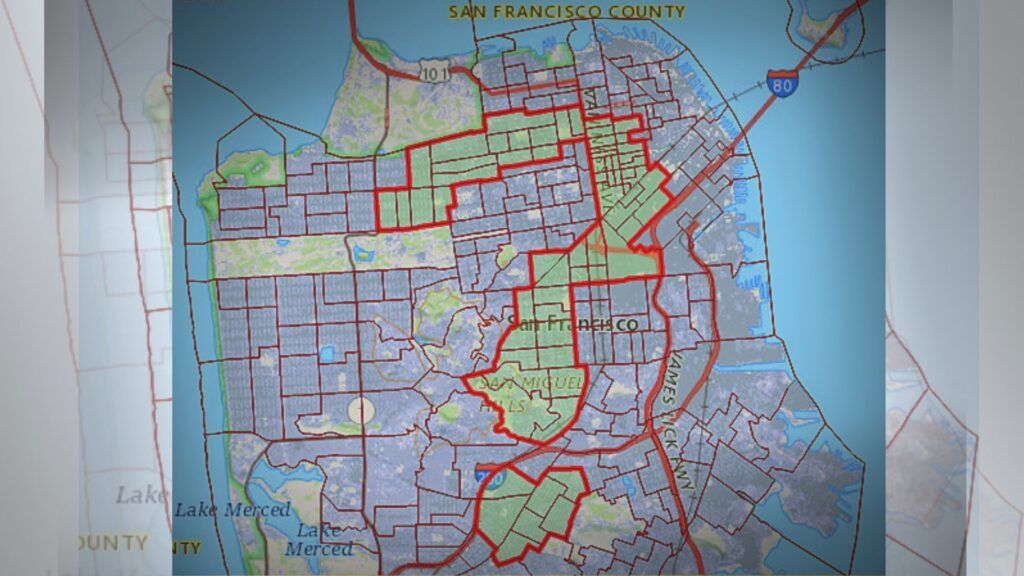 San Francisco Redistricting
A lot has changed, and a lot is wrong with the city's districts.
Populations in some districts are over their allotted capacity. Each district needs an even number of residents with a deviation of +/-1%. +/- 5% can be allowed to keep communities of interest intact.
Between 2010-20, District 6 saw exponential growth of +30.35% over deviation.
Some politicians and political interests have manipulated districts for their own purposes.
The previous redistricting saw Sea Cliff severed from District 1, a move contrary to long-standing recognition of neighborhood cohesion. The area is now in District 2 to create an affluent voter bloc.
Whether we like the people elected or not, districts should reflect their neighborhoods in a way that enfranchises voters, not for politicians to pad their electoral count.
Reunite Ingleside
Before 2010, Ocean Avenue and north thereof was part of District 7, while Ocean Avenue and south thereof was part of District 11. In a move that left a large portion of residents cut off from the aforementioned "like" communities, the area of District 7 was moved south down to Holloway Avenue.
What commonality do neighborhoods have socially and spiritually? Does Ingleside — married to Ocean View-Merced Heights-Ingleside — belong in the same district as West Portal and St. Francis Wood? Do the rented apartments and homes of Ingleside up-to Holloway share the spirit of Westwood Park?
Also, why have one supervisor fight for us when we can have two? This is a once-in-a-decade chance for two members of the Board of Supervisors to help make Ocean Avenue the corridor of the future.
Ocean Avenue is about to change; new housing, businesses and people. District 7 will see a net increase of at least 1.3% before 2030.
In a few years at least 1,000 new residents will live on the Balboa Reservoir, similar to the growth the Redistricting Board predicted for District 6 in 2010.
Developments in the Excelsior and Upper Yard will come online, but the total units is miniscule in comparison, and district lines should adjust to areas where their effect will take place.
Most corridors in San Francisco don't have this opportunity for supervisorial cooperation. Aside from keeping communities together, residents in all surrounding areas of District 7 and District 11 — from the OMI to Sunnyside, Excelsior to Ingleside Terraces — will benefit when Ocean Avenue has as much help in City Hall as possible.
Many say Ocean Avenue will be the new up-and-coming area in San Francisco. I agree. I'm also from here and hate to see my quaint little neighborhood potentially lose its charm, but as 3-time NBA champion B.J. Armstrong said, "Either you change with the times, or you get rolled over."
District 7 and District 11 can join at Ocean Avenue, and we could have two great supervisors working for us.
Can I have a say?
Recently, the Chinatown community blocked the state's redistricting proposal, which would have congressionally bisected the neighborhood. We can make a difference too.
This Redistricting Task Force is engaged and listening. The meetings have been productive, and now is the time for all citizens to have a say in our future. Let's not get rolled over.
Advocates 11, my organization, will be at the meetings. So should you. The next District 11 meeting is planned for Feb. 7.
For more information, visit the Redistricting Task Force website.
Simon Timony is a youth mentor and meditation teacher at Youth 1st. He and his fiancé run Advocates 11, a safety advocacy organization from their home in the Ingleside.
---
Support independent community news
No media outlet covers our neighborhood like The Ingleside Light. Full stop.
Reader support sustains the expensive reporting our community needs and deserves. Will you join the hundreds of readers and become a member?