News
Patrons Embrace Ingleside Library's Restored Operating Hours
Now open seven days a week, the library will meet a host of community needs.

It's a few minutes after 10 a.m. at the San Francisco Public Library's Ingleside Branch. It's quiet — not busy just yet. But activity has already begun. Two women walk in, and a staffer helps them use the printer. A patron browses the front shelf and heads to the checkout monitor. Another sits at a table by a window to work on her laptop.
By the afternoon, most seats are filled.
It's a Saturday, and to passersby, it may seem like a typical weekend morning — but for the Ingleside Library, it's the first month since the pandemic that the doors are open for the weekend.
One to two hours pass, and a woman named Hellen walks in with her child and her neighbor's, both dressed in Taekwondo dobok for lessons at the nearby Korean Martial Arts Center. They grab a stack of children's books and head to the patio, where the kids zigzag between the play area and the book pile.
As a working mother, Hellen said, it's very helpful to have the extended library hours. Once classes end and they're home, she and her daughter can often squeeze in another activity at the library before they get ready for bed.
"The weekends are amazing too because sometimes we just don't have activities, or it's a cloudy day and overcast, so it gives us a nice activity to come or a not crowded playground," Hellen said.
On Sept. 3, the branch returned to its pre-pandemic hours. The Ingleside Light spoke to more than a dozen patrons across the week, and each expressed appreciation for the branch — with the overwhelming majority adding that they were hoping or planning to make use of the return to pre-Covid hours. Several expressed anticipation for the programs or services that the library could offer with the return to normalcy.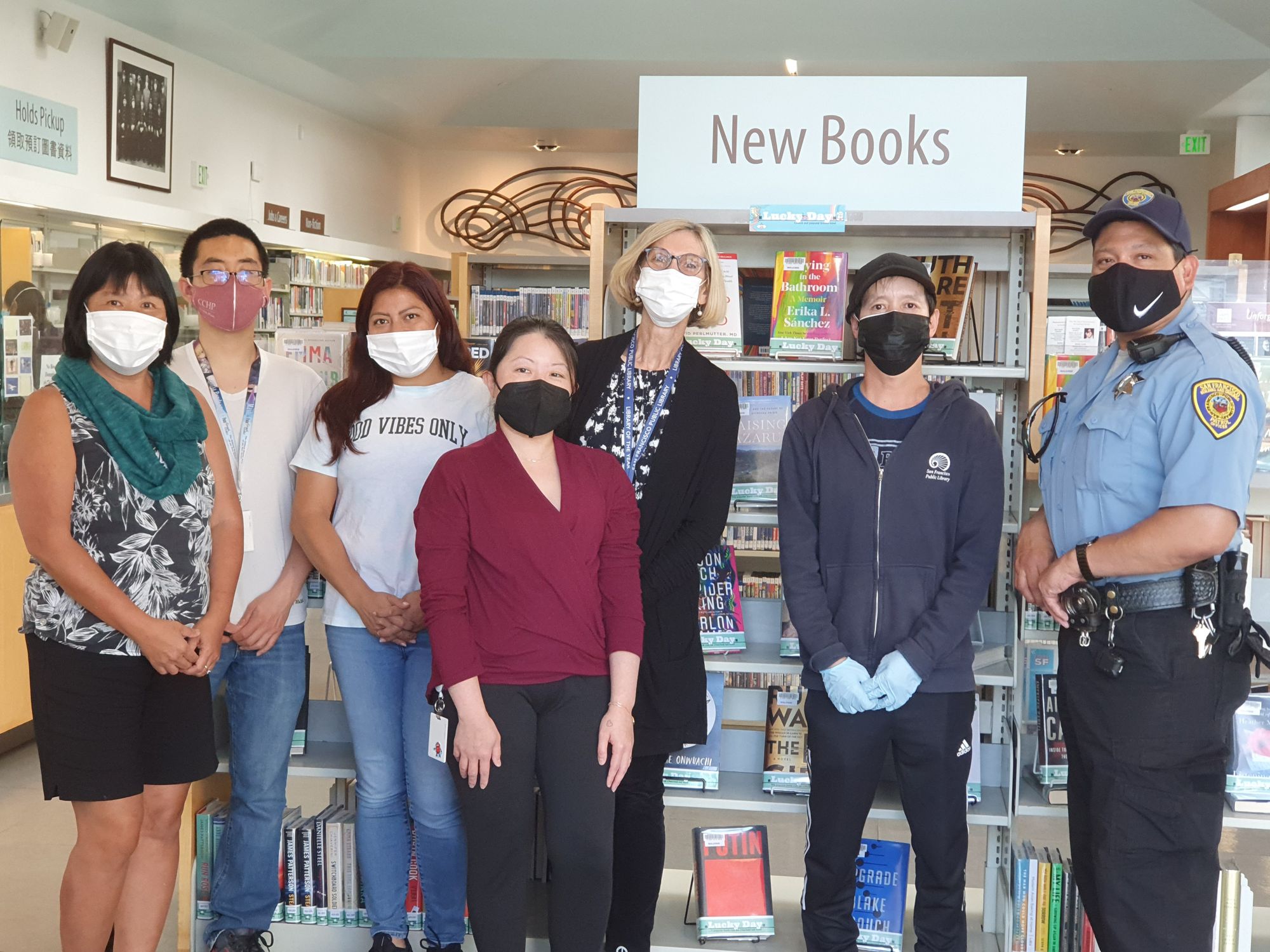 Fran Smith, a journalism student at City College of San Francisco who has photographed for The Ingleside Light, said she was planning to visit on Sundays. She often comes to do homework, rent DVDs, use the library's free printing and access the library's Wi-Fi.
City College's Rosenberg Library is closed on weekends; plus, the Ingleside Library stays open one to several hours longer on weekdays. Smith often walks from Rosenberg Library to the Ingleside branch to continue working.
A Place For Families
Cady, an Ingleside resident spending time on the patio with her child, called the library's weekend hours a relief because the weekends are when children are off from school.
"It's better than they're staying at home, lonely," she said.
Being at the library with her son, Cady said, allows her to relax. Cady added that she does miss storytime at the branch, where attendees in early childhood socialize with books, songs, games and other activities.
Though storytime has returned to some branches, it hasn't returned to the Ingleside Library yet.
Asha Woodall, a nanny and North Beach resident, was watching over a child on the patio playground for a family in Ingleside Terraces. Woodall said that they'll go to the Merced Branch for storytime but visit the Ingleside branch at least once a week — and hopes that the extended hours will allow them to bring the program back.
"It's really, really nice to have a safe place for the kids, even if it's not a full playground," she said.  
Ashley Ante, an Ingleside resident of nine years, said she plans to visit on the weekend with her husband and two kids. She sat on a miniature wooden chair in the children's section on a Friday afternoon accompanied by her children, who smiled as they carried two stacks of books.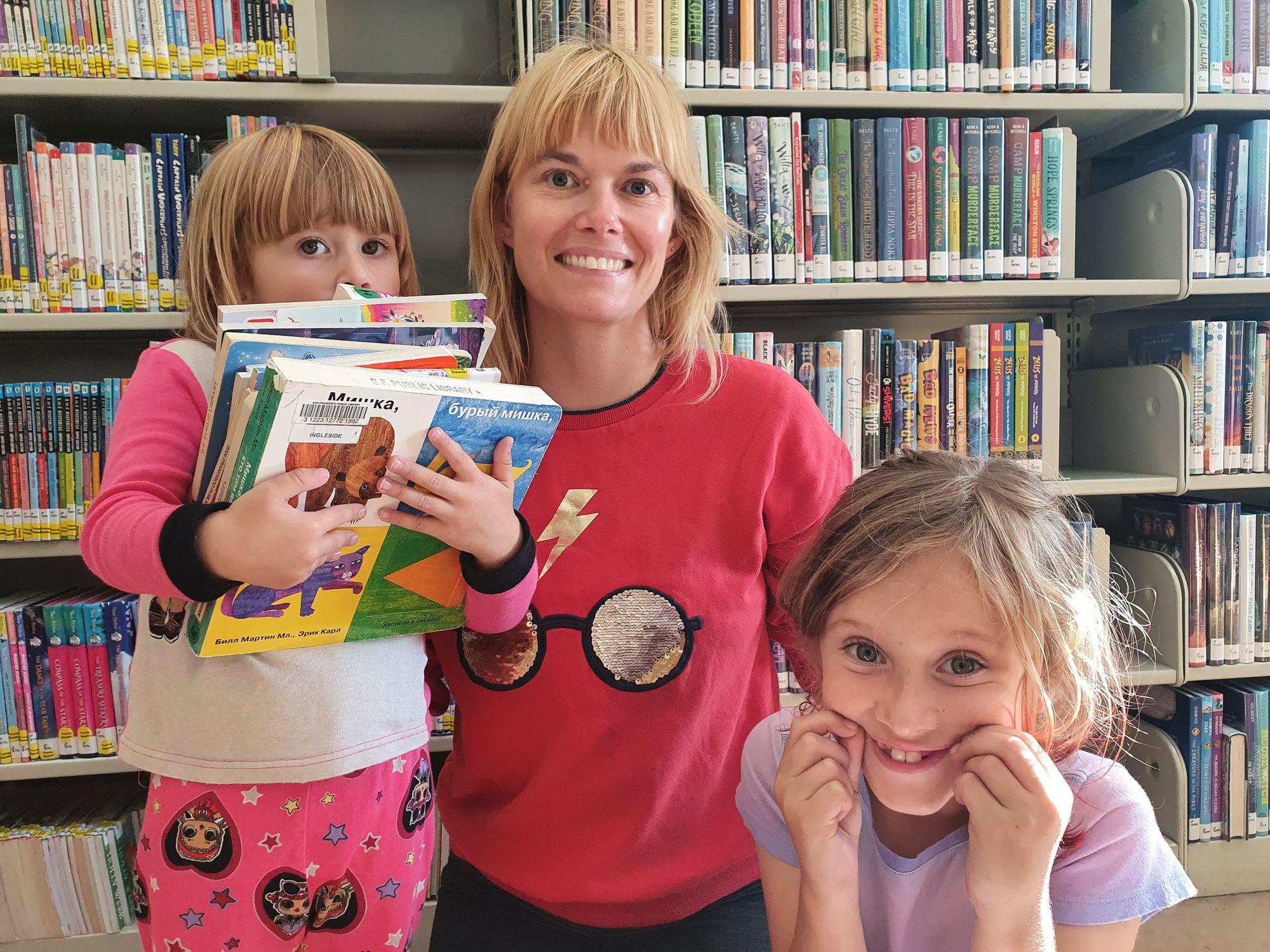 "I'm just really thankful to have this library in our neighborhood," Ante said.
She reminisced about their visits to the library prior to the pandemic. Her older child used to attend storytime, and the family used to enjoy movie day.
Maricela Hernandez was among a group of patrons who waited for the library to open on a  Friday morning. She said in Spanish that she expects the weekend hours will better serve parents who need to pick up books for their children for school.
A Public Workspace
As she had lunch on the patio and prepared to job search, Brianna said the library provided a free public space for people to work without having to buy a coffee. She often comes to have lunch and get work done.
"I know a lot of kids come here to work, and a lot of people from CCSF come here to work, so it's just good for the community and good for students — lower income students, specifically, who may not have Wi-Fi or a place to work," she said.
Ingleside resident Ray Basaulto said he drops by several a month when away from the house and in need of Wi-Fi or other services. He was using the internet access to troubleshoot a fan issue on his laptop.
"If I were to wait until I got home, it would have been a couple hours later," Basaulto said. "But I've got to take care of this because I was writing an email. I'm fixing it right now, but I need Wi-Fi to see what the hell is going on."
He added that more people have frequented the library over the past month or so — even before the fall semester began at City College.
Flexibility
Jess, a patron on a late Friday afternoon, said she visits every two to three weeks to browse and check out books. But she's usually unable to stick around because she works office hours.
Now that the branch is open on weekends, Jess said, she hopes to stay longer and explore the library's offerings.
Sunnyside resident Chris said she comes three or four times a month also to primarily browse and to check out several books. The weekend hours, she said, will grant her more flexibility to drop by to pick up books she has on hold.
She added that the staff — which will increase from the one during the pandemic — have been very helpful, once helping her access electronic books through her Nook, a Barnes & Noble ebook reader. And, in general, staffers have always helped her find what she needs.
"San Francisco has one of the best library systems," she said. "You can get books on hold, of course, throughout the state — but [here] they come prompter, ready for you, there're no late fees for you — that's a really big plus."
Ingleside Library
Address: 1298 Ocean Ave.
Phone: (415) 355-2898
Website: Ingleside Branch Library
---
Support independent community news
No media outlet covers our neighborhood like The Ingleside Light. Full stop.
Reader support sustains the expensive reporting our community needs and deserves. Will you join the hundreds of readers and become a member?