The Ingleside Light is an independent news outlet. Sign up to receive our latest stories as soon as they're published.
Pilates has made its way to Ocean Avenue.
Seven-year pilates instructor Isabel Rosenstock quietly opened Pilates on Ocean in June inside a storybook storefront on the 1900 block of Ocean Avenue.
Pilates is a full-body workout involving a set of exercises that uses thick mats and equipment to focus on alignment and precision within the body. Rosenstock focuses her teachings on achieving goals of better flexibility and strength over outside appearances.
When Rosenstock transitioned to remote teaching on Zoom during the pandemic. She realized she wanted to go into business for herself.
"I was feeling, for my own growth, that it wouldn't make sense to go back working for someone else," Rosenstock said. "I wanted to create a space that really centered all the things that are important to me."
With clientele in their 20s to 80s, her goal is not to get someone to their fittest and thinnest, but to find and center functionality in the body.
Rosenstock offers in-person one-on-one private sessions that start at $110 at her Ocean Avenue storefront. She also offers semi-private small group sessions for couples or friends that are $70 per person or $140 for the whole session. Zoom sessions are still available for $85.
"It just felt like there wasn't a studio like this in the area," Rosenstock said.
Encouraging people to do pilates is more than just about getting fit for Rosenstock. She teaches clients how to access and condition their whole bodies, from how parts work together to  retaining the skills they've learned into the future.
"Isabel is a very talented instructor, who really understands body dynamics," Taly Jolish, an attorney and five-year client, said. "Working with her, I have become stronger and better understand my own physical strengths and weaknesses."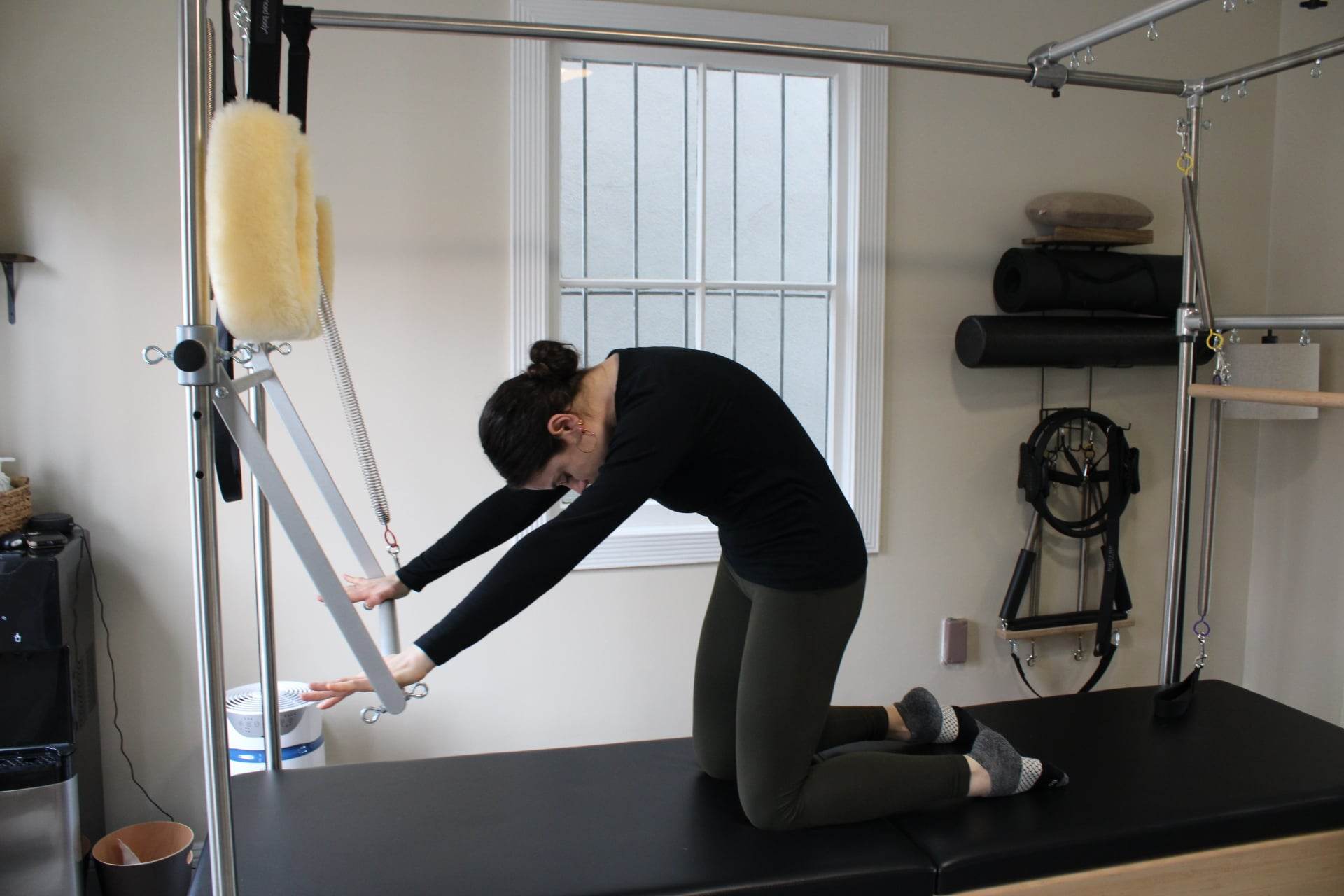 A Space For Everybody
The new studio isn't just for her clients. Rosenstock plans to bring on other instructors to share the space. She said they will find it's a quiet spot perfect for deep focus.
"We're here building a network of practitioners that support the wellness and the work," Rosenstock said. "I'm not dictating how other people do their job. I'm providing a space and hopefully some equipment so that people can do their best work."
The small studio is equipped with three pilates-specific machines like one cadillac reformer and two studio reformers that are placed along the beige colored walls, leaving floor space for other activities. There are also several windows that let in natural light and one water dispenser.
Along with providing a welcoming environment, Rosenstock also intends to leave her mask-on policy in place while working in-person to ensure that every client has an equal opportunity to use her services.
Alison Melville, a fashion industry executive, is another one of Rosenstock's clients.
"When I moved to San Francisco from New York, I struggled to find a teacher with deep knowledge of the practice and anatomy, an exacting eye for form and the ability to articulate and demonstrate nuanced corrections," Melville said. "When I found Isabel, I knew I'd hit the jackpot."
That existing clients leave better understanding the fundamentals of pilates and with an awareness of their bodies is what Rosenstock counts on to bring new clients through her doors.
Rosenstock is excited to operate along Ocean Avenue and wants to be around for many years.
"Pilates is really for everyone," Rosenstock said.
Pilates on Ocean
📍 1967 Ocean Ave.
🕒 Hours: Appointment only, Monday to Friday, 7 a.m. to 6 p.m.
🌐 Visit Website
Support Independent News
This story you've just finished was funded by our readers. We want it to inspire you to either sign up to become a member or make a gift to The Ingleside Light so that we can continue publishing stories like this one that matter to our community and city.
The Ingleside Light is a reader-funded news publication that produces independent journalism to benefit the community. We were founded in 2008 to fill a void in San Francisco's press: An outlet dedicated to the people of the greater Ingleside neighborhood. More than a decade later, The Ingleside Light is still here doing the work because it is critical to democracy and our civic life.
Your contribution today will help ensure that our critical work continues. From development to small business, to parks and transportation and much more, we are busier than ever covering stories you won't see anywhere else. Make your gift of any amount today and join the hundreds of readers just like you standing up for the power of independent news. Thank you.
JOIN NOW