Part high-end sushi restaurant and part karaoke bar, Sakesan Sushi & Robata brings a lot of fun and food to Ingleside's stretch of Ocean Avenue.
At Sakesan Sushi & Robata, Japanese cuisine meets fun in an elevated environment on Ingleside's stretch of Ocean Avenue.
Co-owner Barry Yeung has been incredibly busy since the May soft opening. The new location is an extension of the original Sakesan Sushi & Bistro on Clement Street.
UC Berkeley architecture lecturer Alan Tse designed the interior. Customers are visually greeted by Tse's warm linear arrangements of wood.
The wood is strategically hollowed to do three things: add ambient lighting via light boxes, hold sake bottles behind the sushi bar and evoke the careful cuts made in freshly prepared fish.
"We're big fans of Japanese food," Yeung says of himself and co-owners Ray Fong and chef Jeffrey Poon. "We've traveled all over Japan — cities like Tokyo, Kyoto, Osaka and Hokkaido — to try different foods. Whenever a new Japanese restaurant opens in the Bay, we go there to check it out."
Both sushi and robatayaki, or charcoal barbeque skewers, hold equal weight to Yeung. From what he's observed, customers share his enthusiasm for fish and robata's robust offerings such as yakitori (skewered chicken), butabara (pork belly) and ramu yaki (lamb rack).
Yeung considers the white tuna and salmon Gambler Roll as Sakesan's most popular sushi roll, which is served with spice and a flame in the center of the plate. One piece out of eight tastes much spicier than the rest.
"Customers think it's fun, so they bring their friends and try it again," Yeung says with a laugh.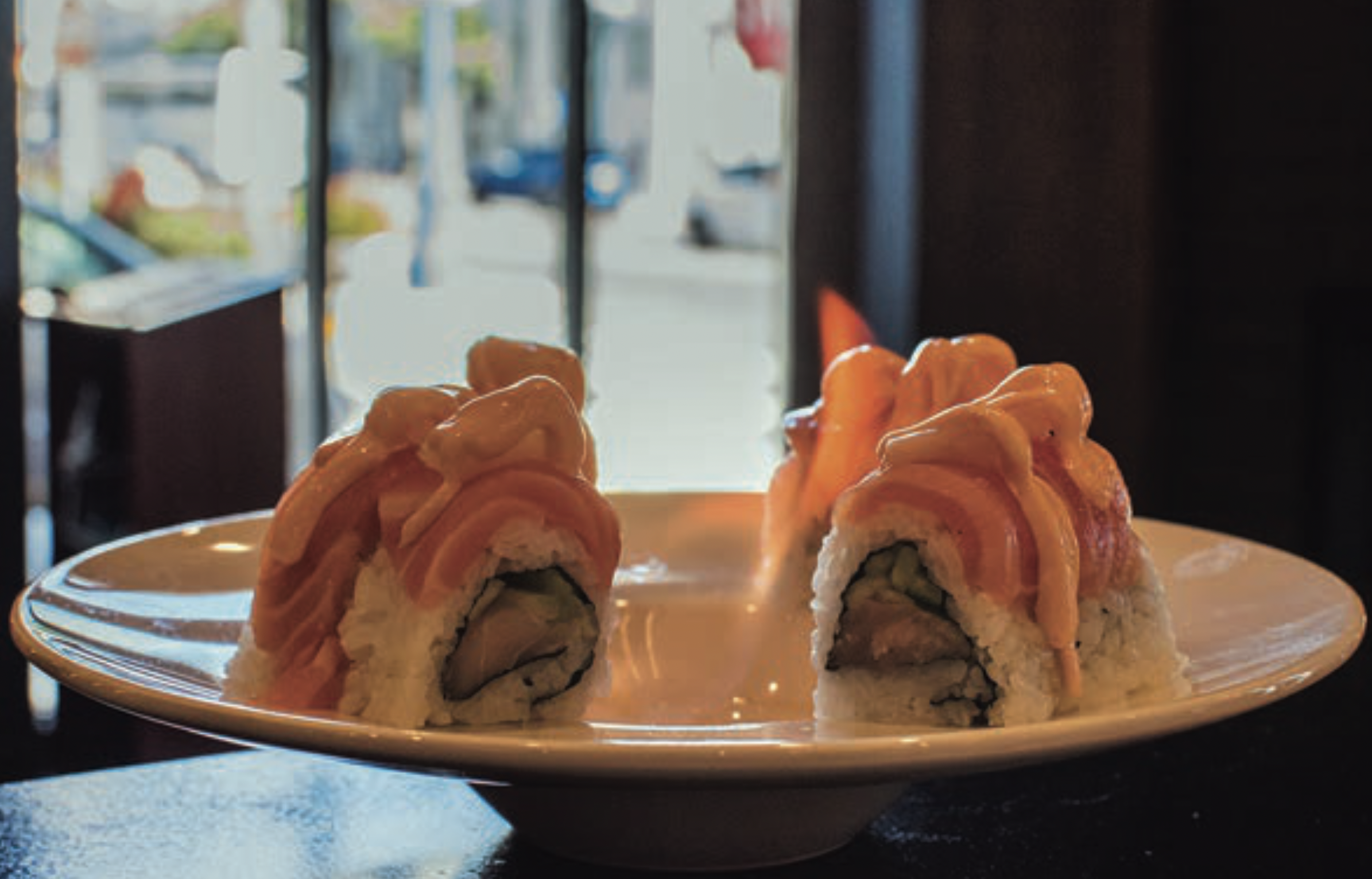 The Gambler Roll. Nancy Chan/Ingleside Light
Fun is a crucial element to Sakesan, and part of the reason why it has a happy hour menu every day. Yeung's goal for the restaurant aside from providing fresh food is "to create a place where people can relax and hang out at night."
For newcomers, server Ashley Yoshida recommends the Raiders roll (baked scallop and garlic cream sauce atop a standard California roll), beef sukiyaki ( Japanese style hot pot) and Hamachi Carpaccio (yellowtail fish with jalapeno, tobiko, scallions and ponzu). For alcohol, she recommends her favorite: Kikusui, a lighter and fruitier filtered sake.
"Sakesan is modern. We try to attract all types of people — young, old, families, regulars, tourists — and bring an intimate setting for late nights," Yoshida says.
Large groups spending a minimum of $250 on food and drinks are seated in Sakesan's private back rooms with English or Asian-language karaoke included.
Modern tatami seating located at the front of the restaurant is another seating option. In keeping with Japanese tradition, customers eating meals there sit on the floor, and anyone who enters must take off their shoes.
First-time customers Carrie and Jeff Herbst opted for the tatami area, finding the arrangement "surprisingly comfortable and relaxing."
From where Carrie sat, she had a view with one of Sakesan's televisions.
"It's affordable since it's on their happy hour menu," Carrie says.
On the Salmon Trio, Carrie comments, "The salmon belly is like a stick of butter," and Jeff finishes her sentence by saying "it's really rich but in a good way." They decided on the Salmon Trio as a nod to the start of California's salmon season.
"I find Sakesan novel. There's a lot of fish I haven't tried before, and the fish is high-quality," Jeff says. "I noticed the high chairs too. Not all restaurants have high chairs; I appreciate it."
When Jeff's uncle recommended Sakesan, Jeff almost couldn't believe his ears.
"He's an Italian who likes heartier foods. Hearing him recommend sushi at a Japanese restaurant was surprising, so Carrie and I said we'll check it out," Jeff says.
Based on their visit, they would "definitely" stop by again if they could as a special night out with their son or as a date night.
Sakesan Sushi & Robata
Address: 1400 Ocean Ave.
Hours: 4 – 10:30 p.m.
Phone: (415) 347-7898
Website: sakesansushirobata.com
---
Support independent community news
No media outlet covers our neighborhood like The Ingleside Light. Full stop.
Reader support sustains the expensive reporting our community needs and deserves. Will you join the hundreds of readers and become a member?