News
SFMTA To Remove 26 Stops on 29 Sunset Bus Route
San Francisco's transportation agency will eliminate more than two dozen stops to decrease wait times.

One of San Francisco's longest crosstown bus routes relied upon by many K-12 schools and two colleges that is often overcrowded and unreliable will be improved.
The San Francisco Municipal Transportation Agency's Board of Directors Tuesday approved major changes to the western segment of the 29 Sunset as part of the first phase of the 29 Sunset Improvement Project. The modifications include eliminating transit stops along Sunset Boulevard while also installing transit signal priority to traffic lights.
Transit officials said the plan will reduce travel times anywhere from 15-20% along the segment between Baker Beach and Junipero Serra Boulevard.
Over a dozen schools are within a quarter mile of the route, including Archbishop Riordan High School, James Denman Middle School and Lick-Wilmerding High School along with City College of San Francisco and San Francisco State University.
The route serves about 14,000 passengers on weekdays, making it critical to the high percentage of people of color and low-income residents who live in the Ocean View-Merced Heights-Ingleside, the Excelsior-Outer Mission, Visitacion Valley and Bayview neighborhoods.
Students told the board about overcrowding being a daily problem before school starts and after school ends. Lowell High School students advocated for better service on the 29 Sunset in 2019.
"We believe that more frequent buses especially during the commute to and from schools significantly help solve this overcrowding problem," said Griffin Santa, a Lowell High School student who serves as the president of the school's transit club.
Based on survey data and field observations collected by the club last fall, the buses were overcrowded and infrequent, Santa said.
"Partly because it is so long, it has historically had huge issues with overcrowding, with delays [and] with reliability—and that is what this project is all about," said Steve Boland, the SFMTA project manager.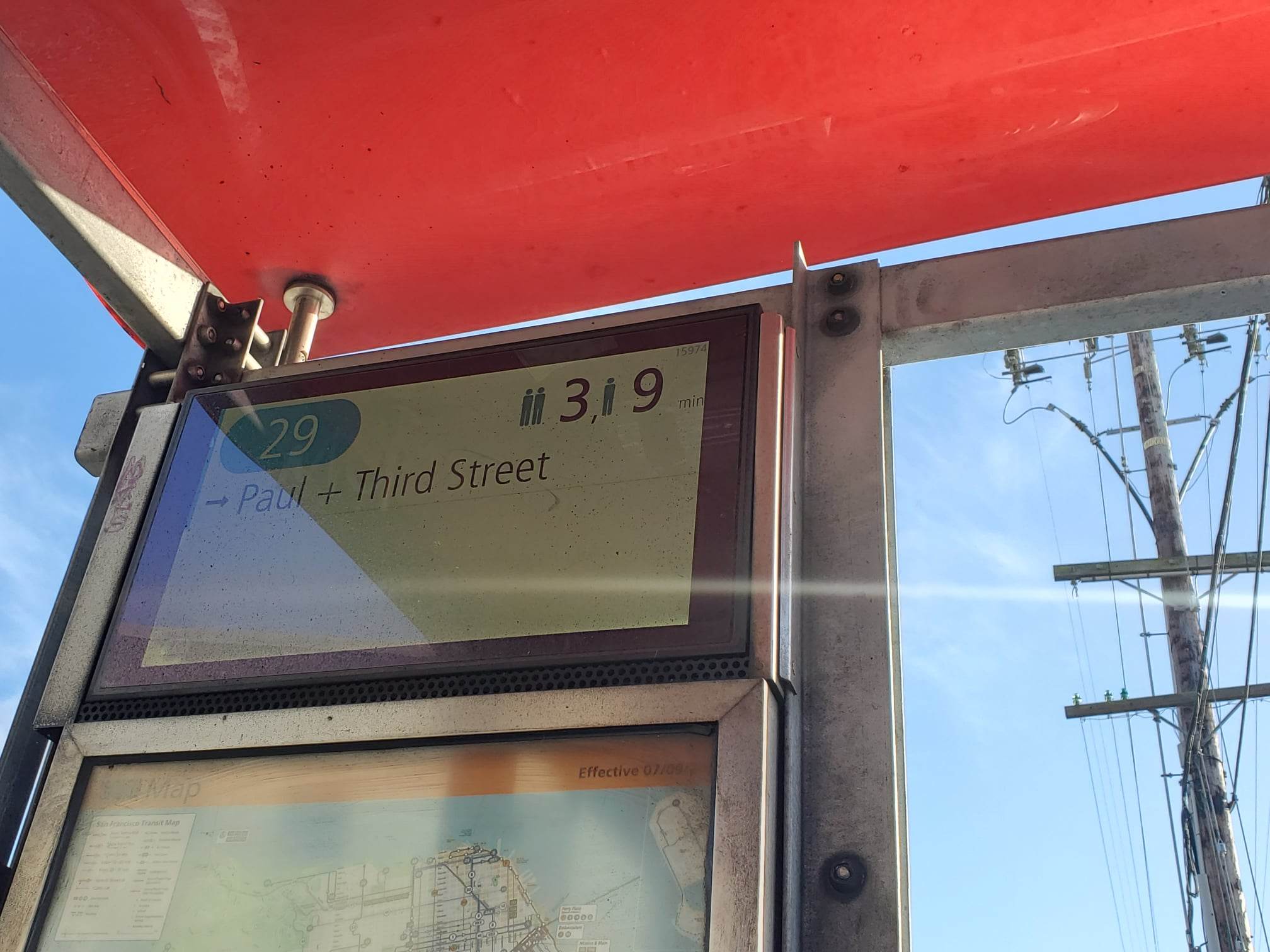 Stop Removal
At 13.5 miles long in either direction, the 29 Sunset is the longest non-Owl route in the system. A bus is scheduled to arrive at any given stop every nine minutes.
Frequency issues — aka bunching and gaps — are common, SFMTA data shows. About 20-30% of bus arrivals are either less than two minutes after a preceding bus or five minutes or more late.
To improve reliability, the transportation agency will cut 26 stops, 14 of which are along Sunset Boulevard where stops are located on every block about 680 feet apart. The SFMTA's minimum standard for stop spacing is 800 feet apart.
The SFMTA said they did not hear concerns about any one specific stop being removed, but did hear overall from seniors and persons with disabilities about the removal of stops in general and having to travel further to another available stop.
Boland said stops near transfer points for other routes the N Judah and L Taraval light rail lines and schools like St. Ignatius College Preparatory School and A.P. Giannini Middle School will remain in place.
Transportation officials said the project paves the way for a future rapid route should operating funds become available. Advocates have called for a rapid route.
With the SFMTA board approval, Boland said staff can start implementing parts of the first phase of the project later this year. Construction on the more heavy-duty changes will begin in 2025.
The second phase of the project focusing on the southern portion of the route will enter the planning and outreach phase following the board's adoption of the first phase of the project, Boland said.
A proposal for the second phase of the 29 Sunset Improvement Project will be presented to the board for approval next year with construction anticipated to start in 2027, he added.