Education
SFSU Student Teaches Soccer With Help From an App
Kayli Cokley's side hustle is coaching young soccer players with help from Instacoach.

The Ingleside Light is an independent news outlet. Sign up to receive our latest stories as soon as they're published.
Kayli Cokley's side hustle is changing the way young athletes get coached in the neighborhood.
San Francisco State University Women's Soccer goalkeeper, who is majoring in business finance, uses Instacoach to bring a personalized and fun experience to coaching.
Instacoach, a marketplace for professional athletes to offer training services, strives to empower people to reach their athletic goals.
"One of my teammates, who was graduating that semester, was like, 'If you're interested, there's a new foundation that started with NCAA that connects to the younger athletes" and I was like 'Oh my God! That sounds amazing. I would love to be a part of that,'" Cokley said.
Cokley's coaches seven to 15 years olds. She offers one hour long in-person private sessions for $35, 30-minute virtual one-on-one sessions for $30 and group sessions for $25 per player. Skills that she will practice with clients are footwork, handling, technical work, field awareness and accuracy.
"I'm a super hard working person and I feel like I'm always motivated," Cokley said. "I've been told this before that I carry an energy around me that's always happy. If you want a happy coach, that's me. That's your girl."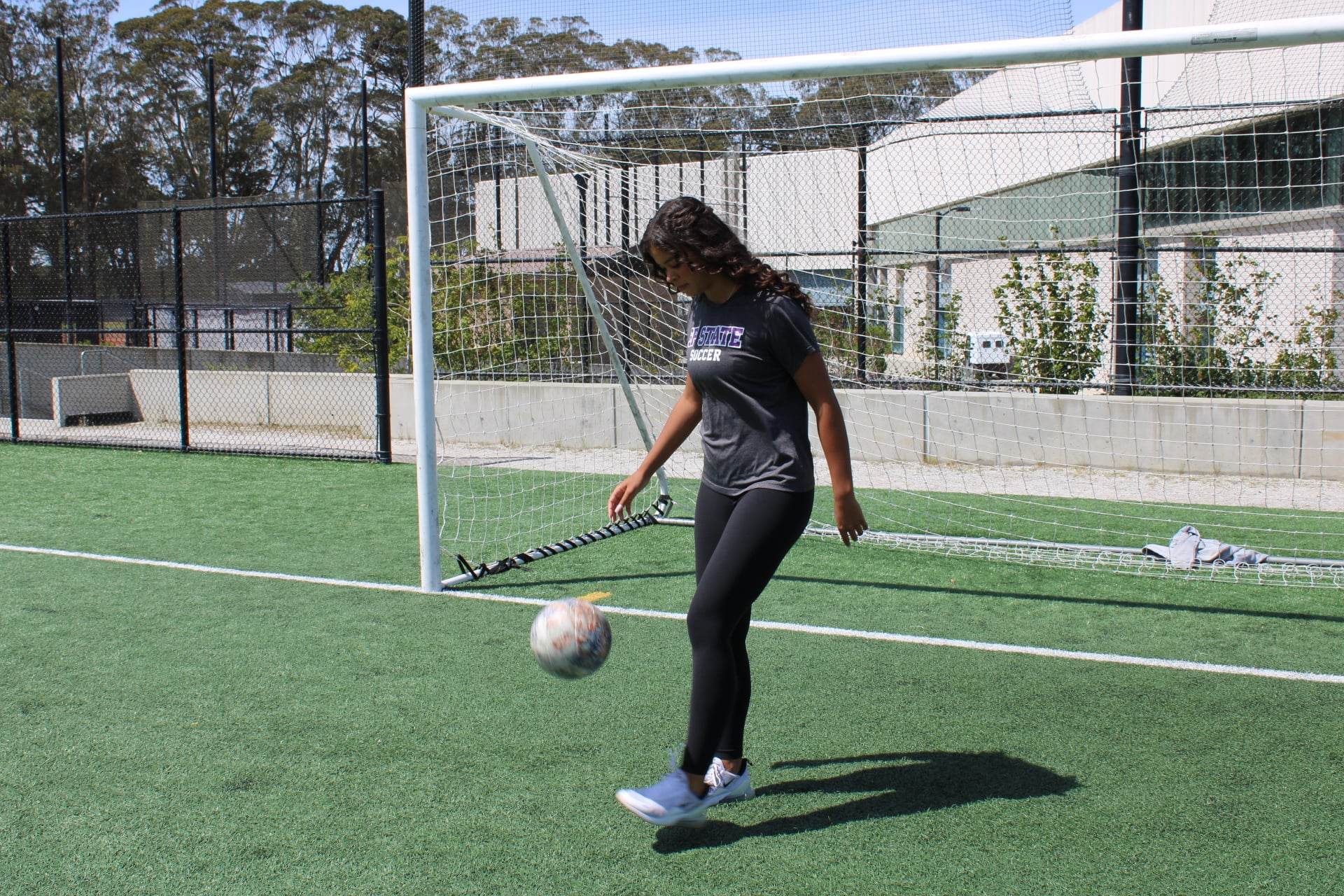 Cokley, who is from the Sacramento area and a soon-to-be Ingleside resident, has been playing soccer competitively for 15 years. She has also tried other sports like softball and basketball but soccer has remained a constant in her life.
She has played in positions like midfielder, forward and goalkeeper. She has also gone on to win two tournaments and has been ranked at the national level.
When it comes to her coaching style, Cokley draws inspiration from her previous coaches including a coach she had when she was eight or nine years old.
"She incorporated these quotes that stuck with me to this day of keeping me mentally strong in the game, keeping me motivated with my passions," Cokley said. "She would always tell us you get out of it what you put into it."
Cokley wants to ensure her clients are having fun.
"At a young age you're new to the sport and you're trying to have fun," she said. "You're not there to be competitive."
Though being a soccer coach or trainer isn't her primary goal, she would love to have her own team one day.
"It's more like one of my passions because I love the sport and I love teaching others about it," Cokley said.
Support Independent News
This story you've just finished was funded by our readers. We want it to inspire you to either sign up to become a member or make a gift to The Ingleside Light so that we can continue publishing stories like this one that matter to our community and city.
The Ingleside Light is a reader-funded news publication that produces independent journalism to benefit the community. We were founded in 2008 to fill a void in San Francisco's press: An outlet dedicated to the people of the greater Ingleside neighborhood. More than a decade later, The Ingleside Light is still here doing the work because it is critical to democracy and our civic life.
Your contribution today will help ensure that our critical work continues. From development to small business, to parks and transportation and much more, we are busier than ever covering stories you won't see anywhere else. Make your gift of any amount today and join the hundreds of readers just like you standing up for the power of independent news. Thank you.
JOIN NOW