Business
Shared Spaces Program Extended Six Months As Ingleside Merchants Embrace It
The city has extended the Shared Spaces outdoor dining program six months just as Ingleside merchants have begun to participate in it.

Small business owners along Ingleside's stretch of Ocean Avenue will be able to continue taking advantage of the city's Shared Spaces program through next summer.
The San Francisco Municipal Transportation Agency announced last Thursday that the program will be extended through the end of June 2021. It had been scheduled to end Dec. 31, 2020.
San Francisco's program allows businesses, such as restaurants, to apply for a permit to partially use sidewalks and parking spaces for outdoor use by businesses. Restaurants citywide have used these spaces to arrange for outdoor dining.
Several neighborhood restaurants applied for permits with the SFMTA. To date, Jo Jo's Cafe, Go Go 7 and Ocean Ale House took over parking spaces for outdoor cafe seating. Go Go and Ocean Ale House also use sidewalk space.
Ahmad Murad, proprietor of Fog Lifter Cafe, plans to apply for the program later this year.
Joanne Lei, owner of Jo Jo's Cafe, said she lost 90 percent of business due to the pandemic and said she actually plans not only reapply to extend the permit, but to request for more parking spaces.
"We're thinking of extending our spots because it's only four tables right now," Lei said. "It's very limited."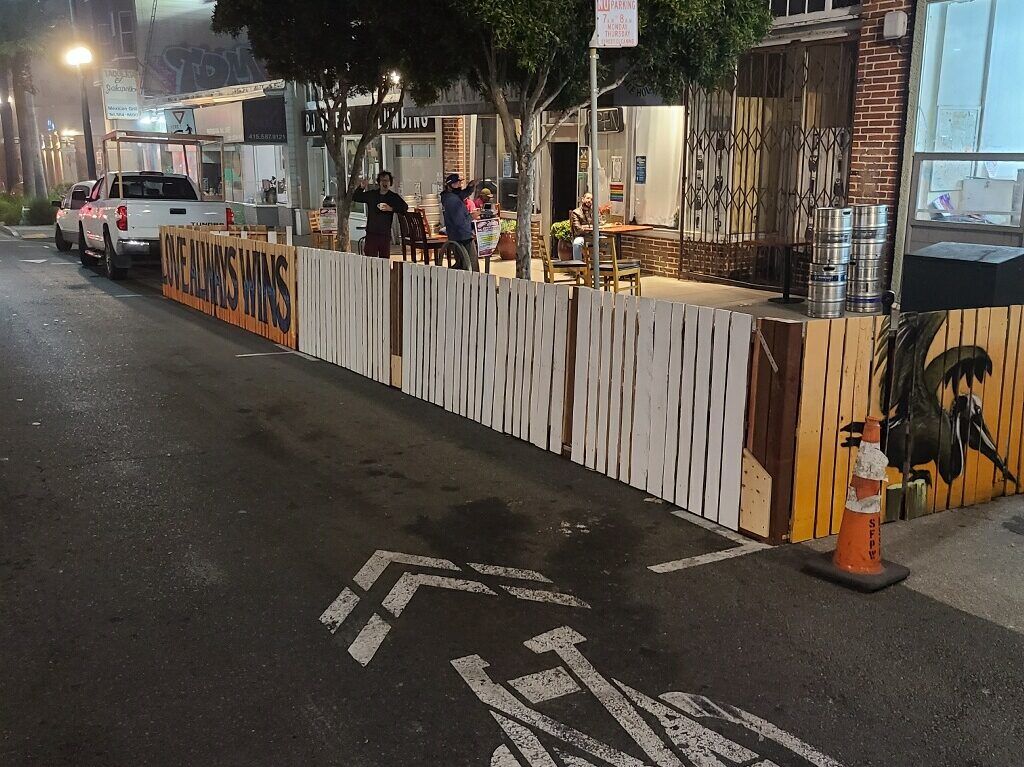 Lei's cafe uses two parking spaces for four tables and uses boxes to keep customers socially distanced from each other. She said takeout has not helped the cafe as customers of the restaurant prefer to dine-in.
The North East Medical Services and Sakesan Sushi & Robata are using for curbside pick-up.
The recommendation to extend the program comes out of the city's Economic Recovery Task Force — a group formed by Mayor London Breed with city officials, businesses leaders and leaders from other sectors. The task force earlier this month released its 41 policy recommendations on how the city should proceed in its effort to revitalize the economy and recovery from the COVID-19 pandemic.
It recommended the city should extend the program so that it incentivizes businesses owners to make the spaces more appealing and offers them some certainty that the investment in the space will be worthwhile.
Small businesses can visit the SFMTA website on how they can reapply for the program.
---
Support independent community news
No media outlet covers our neighborhood like The Ingleside Light. Full stop.
Reader support sustains the expensive reporting our community needs and deserves. Will you join the hundreds of readers and become a member?