Food & Drink
Sushi Spot Kaisen Don Leaves Ingleside For San Leandro
After five years on Ingleside's stretch of Ocean Avenue, the affordable sushi spot moved to a new location in San Leandro.

The popular Japanese restaurant Kaisen Don vacated its location on the 1900 block of Ocean Avenue after five years serving sushi for a location in the East Bay.
"Thank you so much for the support and memories throughout the years!" a note posted on the door reads.
Kaisen Don closed on July 3 and opened at 1042 Marina Blvd. in San Leandro on July 8.
Opened in the fall 2017, the restaurant did brisk delivery business since the outset of the pandemic. It was known for its fair prices for quality dishes.
Below is an article that appeared in The Ingleside Light in November 2017.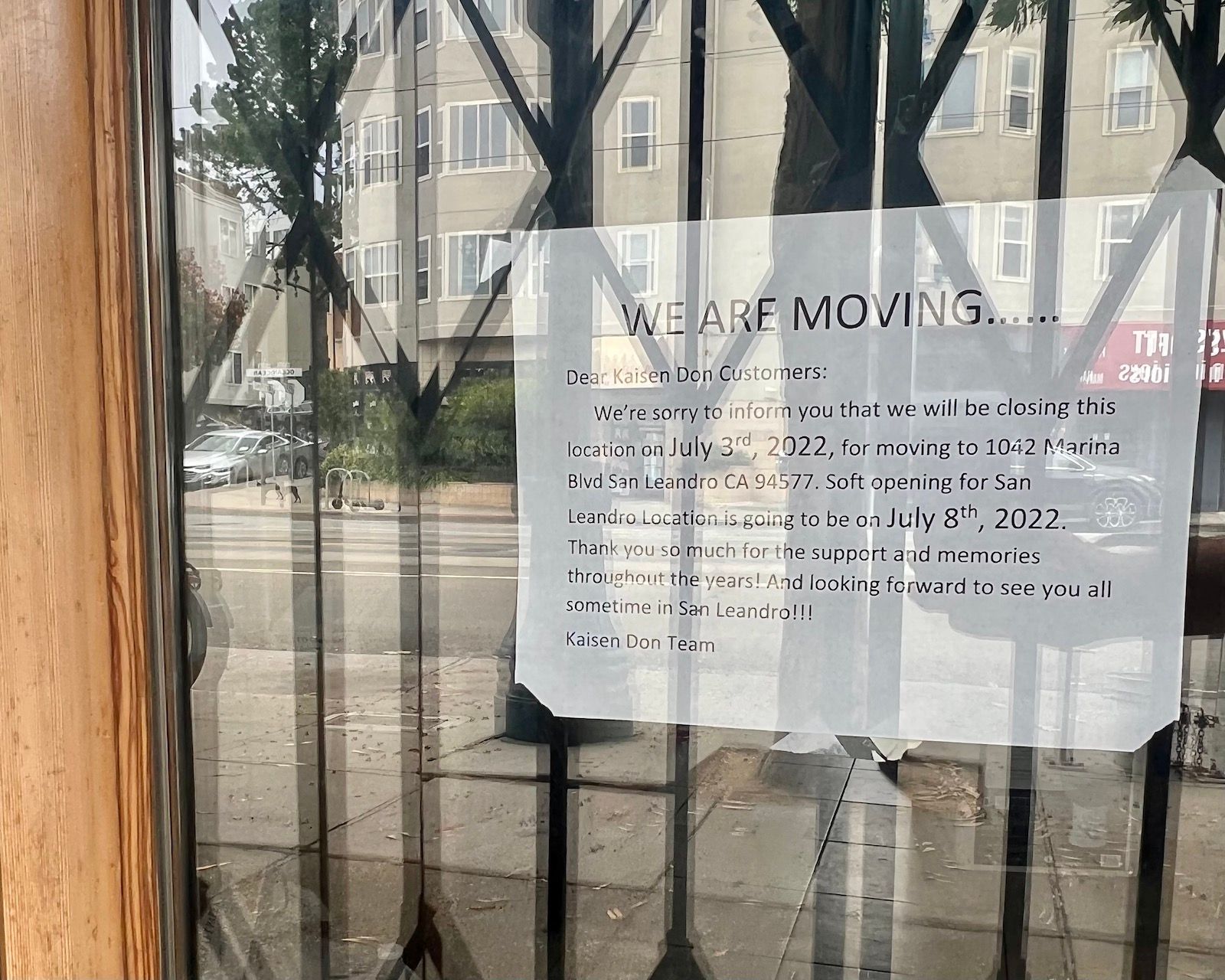 Ocean Fresh: New Ingleside Restaurant 'Kaisen Don' Inspired by Tokyo Fish Market
Ocean Avenue's latest restaurant is inspired by the restaurants surrounding Tokyo's Tsukiji fish market, the largest wholesale fish market in the world.
Larry Leung opened Kaisen Don, his first restaurant, after visiting the fresh seafood restaurants on trips to Japan with his wife, Pei Yu.
"In Japan, they build a lot of restaurants around the fish markets to feed the fishermen," Leung said. "Everything's fresh. We're trying to recreate that."
After working at his father's auto repair store for many years, Leung trained for six months at a sushi restaurant in Hayes Valley.
Kaisen Don is located at 1939 Ocean Ave. The space, which seats 20, was "just the right size" in a neighborhood where Leung once lived. It was formerly the home of Rainbow Desserts.
A bouquet of flowers from Ocean Cyclery, the restaurant's neighbor, sits on the checkout counter.
The restaurant will primarily serve Chirashi Don, informally known as "sushi in a bowl." Salmon rolls are a specialty.
Leung did a soft opening on Saturday, Nov. 11, and is tweaking his service based on customer feedback this week.
Early reviews on Yelp are largely positive.
"Ingredients are so fresh and yummy that will definitely bring us back," one reviewer wrote after the soft opening.
---
Support independent community news
No media outlet covers our neighborhood like The Ingleside Light. Full stop.
Reader support sustains the expensive reporting our community needs and deserves. Will you join the hundreds of readers and become a member?