In April 2020, with business slowed to a stand still by the COVID-19 pandemic, it became clear to Fog Lifter Cafe owner Ahmad Murad that it was time to pivot to the pizza business.
The 32-year-old Ingleside small business owner had long dreamt of converting his popular coffee shop at the intersection of Ocean and Ashton avenues into a wood-fired pizzeria called That's Amore, and the pandemic provided a window.
There was some resistance from customers, along with Murad's family, who thought he should wait. But Murad was committed to realizing his vision.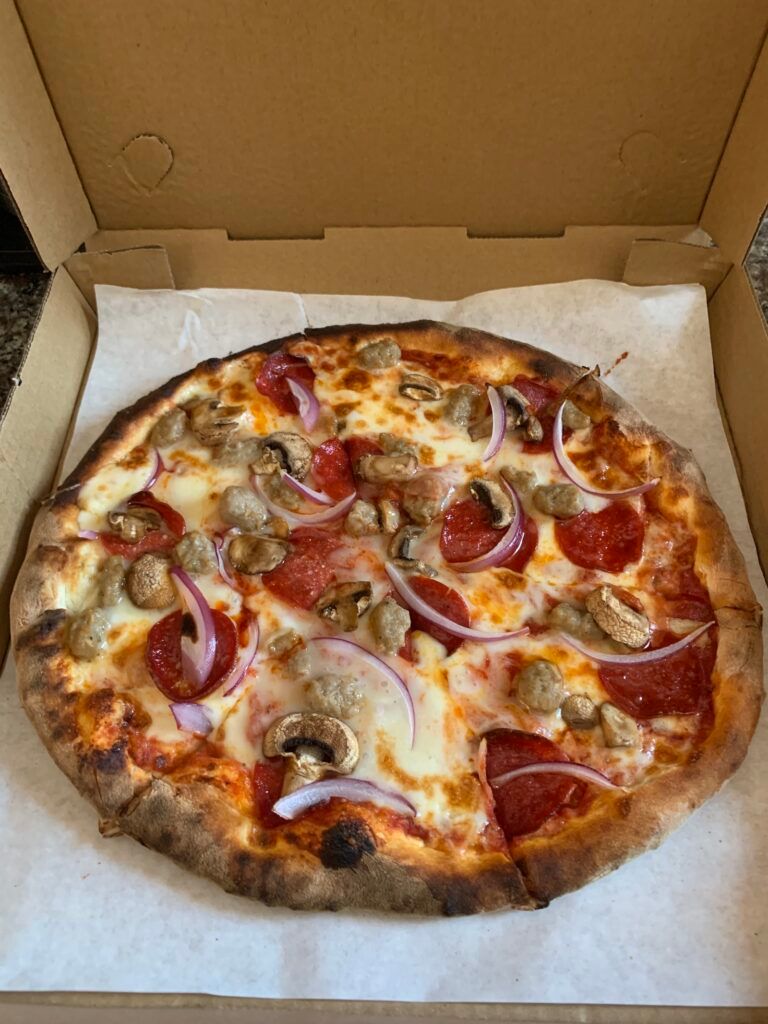 "I worked with my family and they owned pizza places in the city, but it was New York-style pizza. When I [said I would do] firewood pizza, they were all against me," Murad said. "I wanted to try something new. I had to do it."
Murad completed months' worth of multiple permits with both the San Francisco Department of Public Health and the San Francisco Department of Building Inspection, fitting the former cafe with a wood-fired oven, new electrical plumbing and lighting, parklets and handicap accommodations.
Opening Shop
Murad opened That's Amore in January, where he applies his 12 years of pizza-making experience to bring the neighborhood high-end pizza. As the city reopens, business has only been getting better.
By providing firewood-prepared pizza during the pandemic, his hope is to make things easier for Ingleside residents by getting home-cooked style food. The pizzeria currently has 10 pizzas with easy-to-pronounce names like Garden Pizza or Meat Lover's Pizza, along with the option for customization. One pie is named after the neighboring martial arts studio St. Clair's Tae Kwon Do.
Murad explained that wood-fired ovens can bake pizzas in 90 seconds compared to a conventional oven's cook time of six or seven minutes, reaching up to 900 F. The appliances were a common sight in his native Israel, where his mother cooked breads and small personal pizzas using firewood.
"A lot of people don't want to cook right now or be involved with others because of the coronavirus. We're trying to do everything safely by wearing gloves and having sanitizers," Murad said.
Another point of focus for That's Amore is developing a system of reliable local delivery. Although online orders have become the norm, they aren't as accessible for older residents.
"I noticed a lot of older people live in Ingleside, so they don't know how to use Uber Eats or DoorDash," Murad said. "It's easier for them to use the phone. That's why I'll be doing deliveries."
As necessary as third-party services have been for restaurants everywhere, Murad's aim is to eventually make all deliveries in-house using Vespa bikes. He described it as something that must be done just like maintaining high quality.
At present, the pizza dough is made without milk and with double zero flour, which is the most refined and expensive flour on the market, originating from Italy, according to Murad.
Happy Customers
The business is participating in the Shared Spaces program which allows them to use a street parking stall for dining service.
"We're trying to make everyone happy, and want customers to come back or give us a chance," Murad said.
In addition, Murad intends to offer coffee and breakfast once the pandemic settles down. He spoke fondly of meeting a lot of great people throughout Fog Lifter Cafe's morning hours.
Fog Lifter Cafe's final Yelp review was a 5-star one.
"Great place, good local vibe, Ahmad is so connected with customers, it's my home away from home," Yelper Rob L. wrote.
Now, a few months after opening, the positive Yelp reviews are flying in for That's Amore. Abed M. wrote, "Amore is literally what this place is about!"
That's Amore Woodfired Pizza
Address: 1901 Ocean Ave. San Francisco, CA 94127
Phone: (415) 347-7331
Hours: Friday through Sunday, 11 a.m. to 10 p.m. Monday through Thursday, 4 to 10 p.m.
Instagram
Website
---
Support independent community news
No media outlet covers our neighborhood like The Ingleside Light. Full stop.
Reader support sustains the expensive reporting our community needs and deserves. Will you join the hundreds of readers and become a member?