A brief history on how a U.S. Navy ship anchor landed at one of Ingleside's neighborhood schools.
The Ingleside Light is an independent news outlet. Sign up to receive our latest stories as soon as they're published.
Sitting on the sloped lawn facing one of the neighborhood's bustling intersections, the large and angular blue ship anchor is displayed as if to raise the curiosity of passersby.
Why it's there may not be surprising. It's located on the property of Commodore Sloat Elementary School, the busy institution at the corner of Junipero Serra Boulevard and Ocean Avenue. After all, every commodore needs an anchor.
But how did it get there? Through the will of a Parent-Teacher Association member with help from the U.S. Navy and National Guard, The Ingleside Light found after digging up old news clips and conducting interviews.
'With A Powerful Force'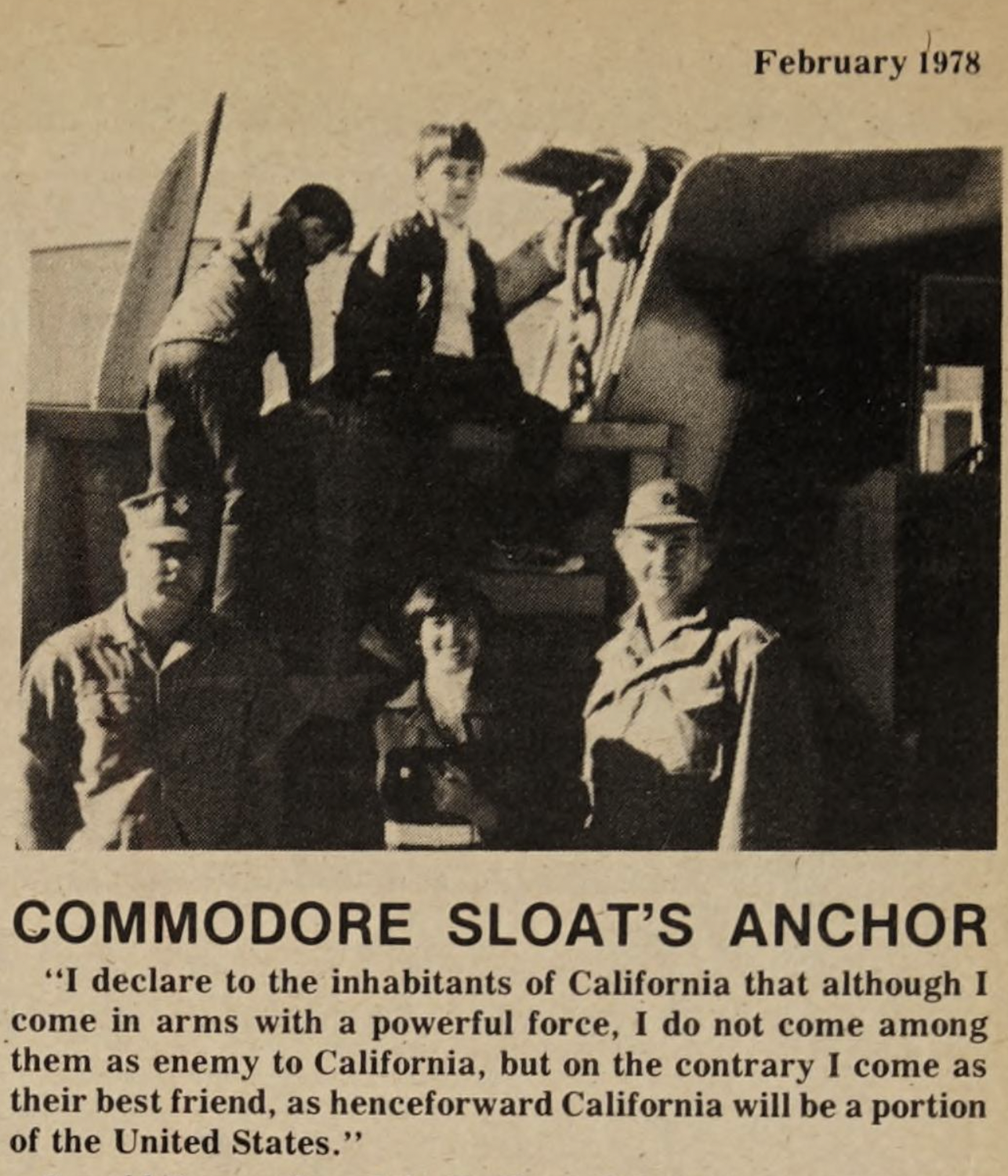 "I declare to the inhabitants of California that although I come in arms with a powerful force, I do not come among them as enemy to California, but on the contrary I come as their best friend, as henceforward California will be a portion of the United States," U.S. Navy Commodore John Drake Sloat stated when he arrived in California.
Sloat and the U.S. Navy Pacific Squadron anchored in Monterey Bay in 1846 in an event known in American history as "Sloat's Landing." Then Mexico's territory, Sloat claimed it for the United States of America during the Mexican-American War.
Cities across California from Sacramento to Los Angeles have named streets, schools and neighborhoods after Sloat. San Francisco renamed Ocean House School, which had also been called Paul Revere School for a spell, after the military figure in 1922. The east-west boulevard, not far from the school, is also named after him, too.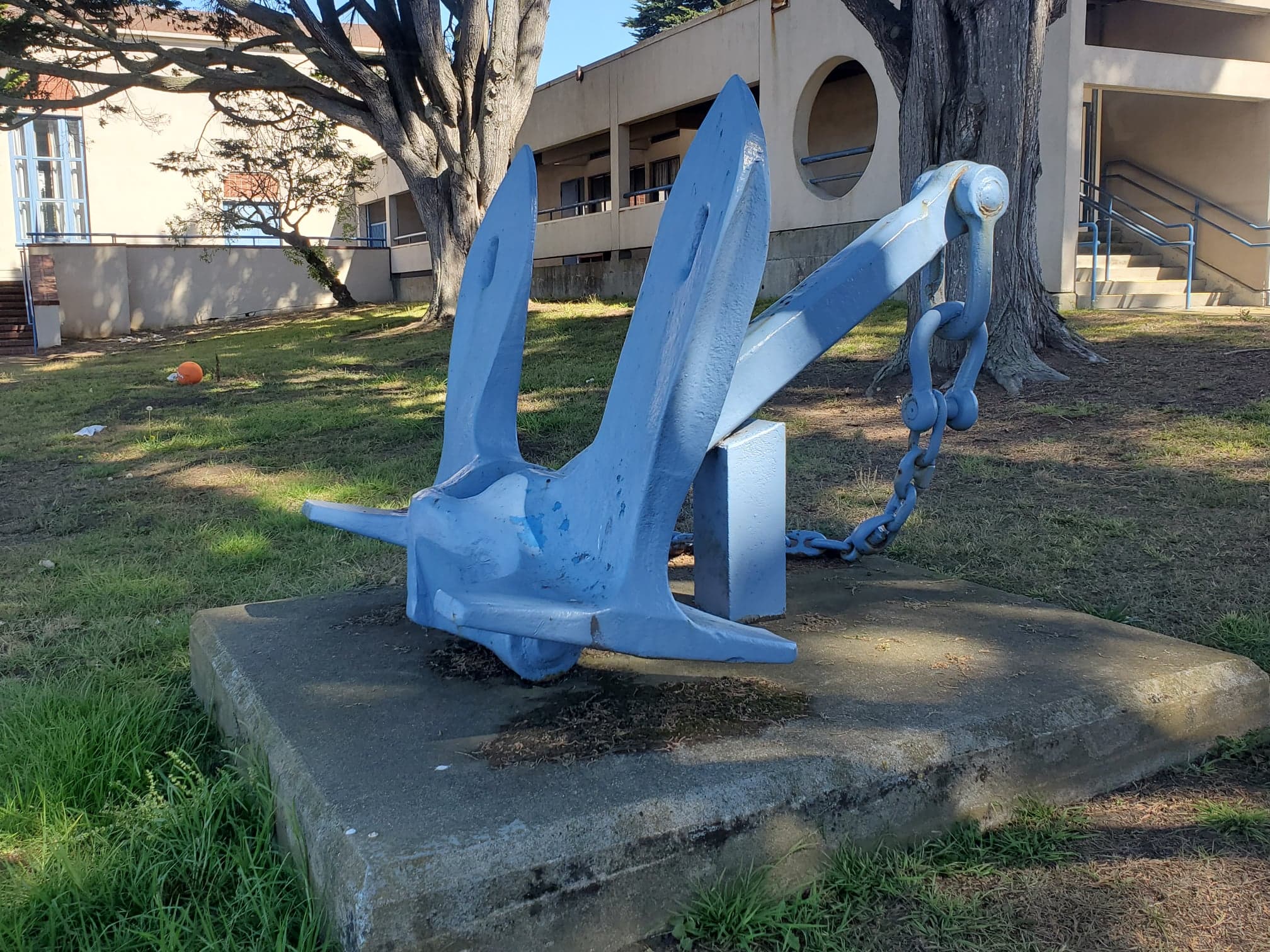 Completing Sloat Elementary
In the 1970s, under the steady leadership of PTA member Sandra Goldberg, the school got a huge decoration matching a theme appropriate for its namesake. Especially for a school that had been renovated just two years before.
News clips show Goldberg acquired the 5,000 lb. anchor with help from the Navy and the 579th Engineer Battalion of the California Army National Guard.
"She wanted an anchor to complete the Commodore Sloat theme," Ken Goldberg, Goldberg's son and an optical physicist at Lawrence Berkeley National Laboratory, told The Ingleside Light. (Goldberg has put a trove of photographs from the time online.)
The Navy formally donated the anchor to the school in November 1977. It was then trucked to a maintenance facility at Fort Funston in April 1978 where it was restored and painted. The National Guard transported it to the school in June 1979 where it was mounted on a base built by Sgt. Norman Barratt with assistance from the National Guard.
Goldberg's photographs show that Cub Scouts painted the anchor blue.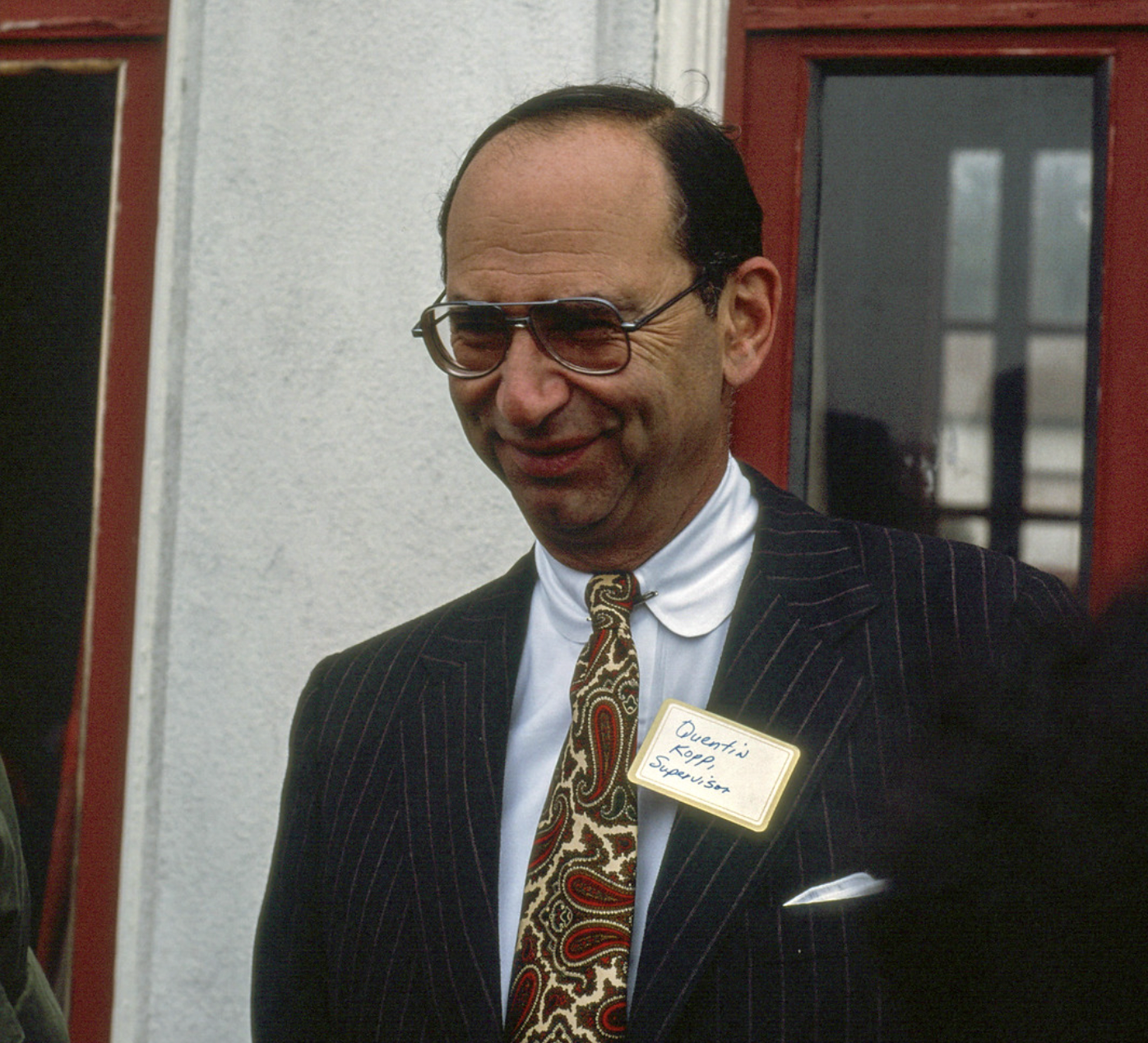 At its dedication ceremony in June 1979, there was live music from the Aptos Middle School Band conducted by Jerome Anker and speeches from Goldberg, Sloat Principal Maureen Petiti, San Francisco Supervisor Quentin Kopp, San Francisco Supervisor Lee Dolson Jr. and Sgt. Barratt.
"That anchor exemplifies the physical attractiveness of Commodore Sloat," Kopp told The Ingleside Light. "It has had an exciting effect on Commodore's students."
Goldberg said he hopes the school remains unchanged.
"Sloat himself seems to be an interesting person in our state's history, and it's nice to recognize him with the street name and the school's name," Goldberg said.
Support Independent News
This story you've just finished was funded by our readers. We want it to inspire you to either sign up to become a member or make a gift to The Ingleside Light so that we can continue publishing stories like this one that matter to our community and city.
The Ingleside Light is a reader-funded news publication that produces independent journalism to benefit the community. We were founded in 2008 to fill a void in San Francisco's press: An outlet dedicated to the people of the greater Ingleside neighborhood. More than a decade later, The Ingleside Light is still here doing the work because it is critical to democracy and our civic life.
Your contribution today will help ensure that our critical work continues. From development to small business, to parks and transportation and much more, we are busier than ever covering stories you won't see anywhere else. Make your gift of any amount today and join the hundreds of readers just like you standing up for the power of independent news. Thank you.
JOIN NOW