Where to get a classic cup of joe or a unique coffee drink in the neighborhood.
The Ingleside Light is an independent news outlet. Sign up to receive our latest stories as soon as they're published.
Whether you're thirsty for an iced macchiato or a shot of espresso, you can satisfy your coffee needs just about anywhere in the greater Ingleside.
A variety of shops across the neighborhood serving premium coffee or coffee-based beverages. And many sell croissants, asian-style buns and teas to round out your visit.
Next time you're on a stroll with friends or meeting up with colleagues to co-work, here are the six coffee shops to consider and where to find them.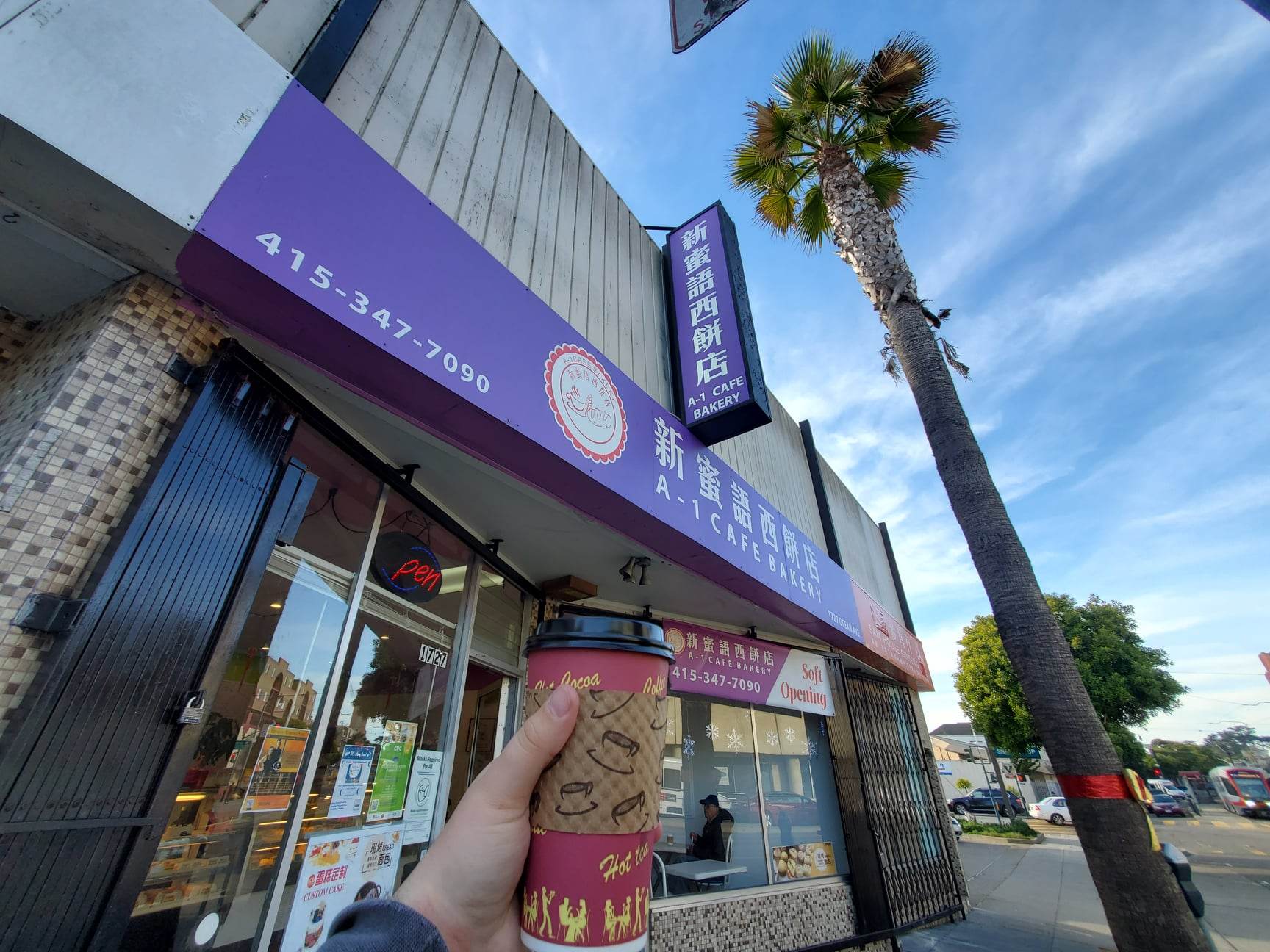 A-1 Bakery
📍 1727 Ocean Ave. 📞 (415) 347-7000
This small-scale cafe and bakery is mainly known for their asian-style baked goods like their pork buns, cream buns, coconut tarts, swiss rolls, specialty cakes and more. Though most people come in seeking sweet and savory treats, many leave with quality hot coffee or bottled and canned cold drinks.
Much like their pastries, their drinks are low cost with their coffee starting at $2.75. With all of their hot drinks being self-serve, they offer two pourable coffees and a french vanilla and a mocha flavored coffee through a premade cappuccino dispenser.
When it comes to seating, there are two small tables and for payment options they accept cash with no minimum and credit or debit cards with a minimum of a $10 purchase.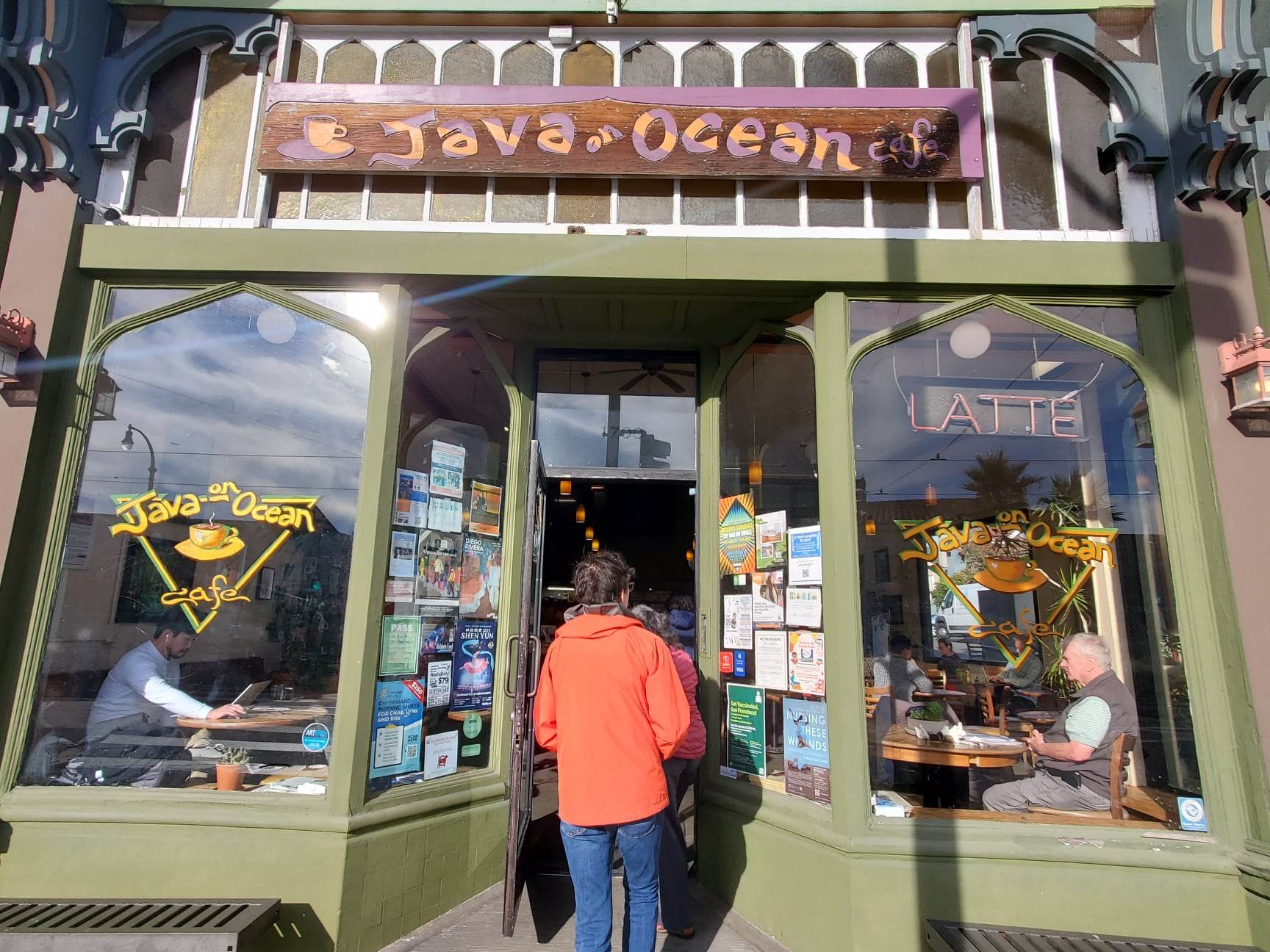 Java on Ocean
📍 1700 Ocean Ave. 📞 (415) 333-6075 🌐 Instagram
This coffee shop has been a neighborhood staple with a wide variety of coffee, smoothies and canned soft drinks. They also sell packaged baked goods, specialty bagels, sandwiches and wraps.
For their coffee selection they offer espresso, mochas, blended coffees and more. Their prices range from  under $3, like a cup of their house coffee for $2.50, to a little over $6 depending on size, drink and milk choice.
This establishment is located on a corner with colorful window displays of their logo and a rounded pitched roof making it a stand out meeting point along Ocean Avenue. With an ample amount of seating options, it's also an ideal spot to catch up with friends or get work done.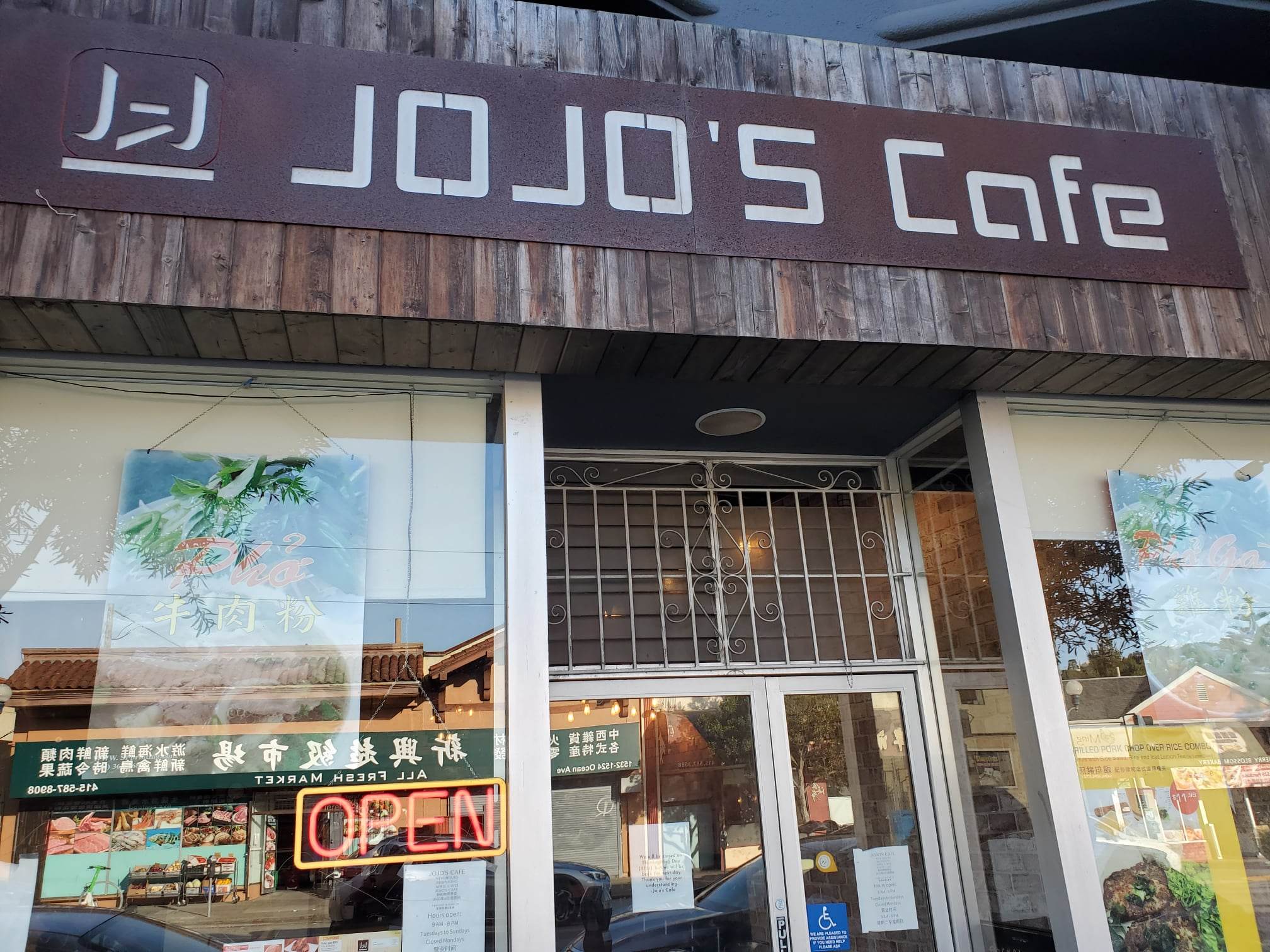 Jo Jo's Cafe
📍 1537 Ocean Ave. 📞 (415) 452-9618 🌐 Visit Website
Commonly known for their flavorful Chinese and Vietnamese cuisine and breakfast options, Jo Jo's Cafe also offers the perfect drink pairing to complete your meal. They have options like Hong Kong-style boba milk tea, juice, soda and more. Though their beverage menu isn't big, they still have two choices for coffee lovers. They offer lattes and Vietnamese coffee priced at $5 each for that quick coffee based pick-me-up.
The restaurant is spacious for it's medium sized lobby and offers most of it's seating against the left wall in a bench and chair combo. To the right, several tables and chairs fill the area leaving space down the middle to move around freely. It's ideal for those seeking a soft drink and a sit down style meal.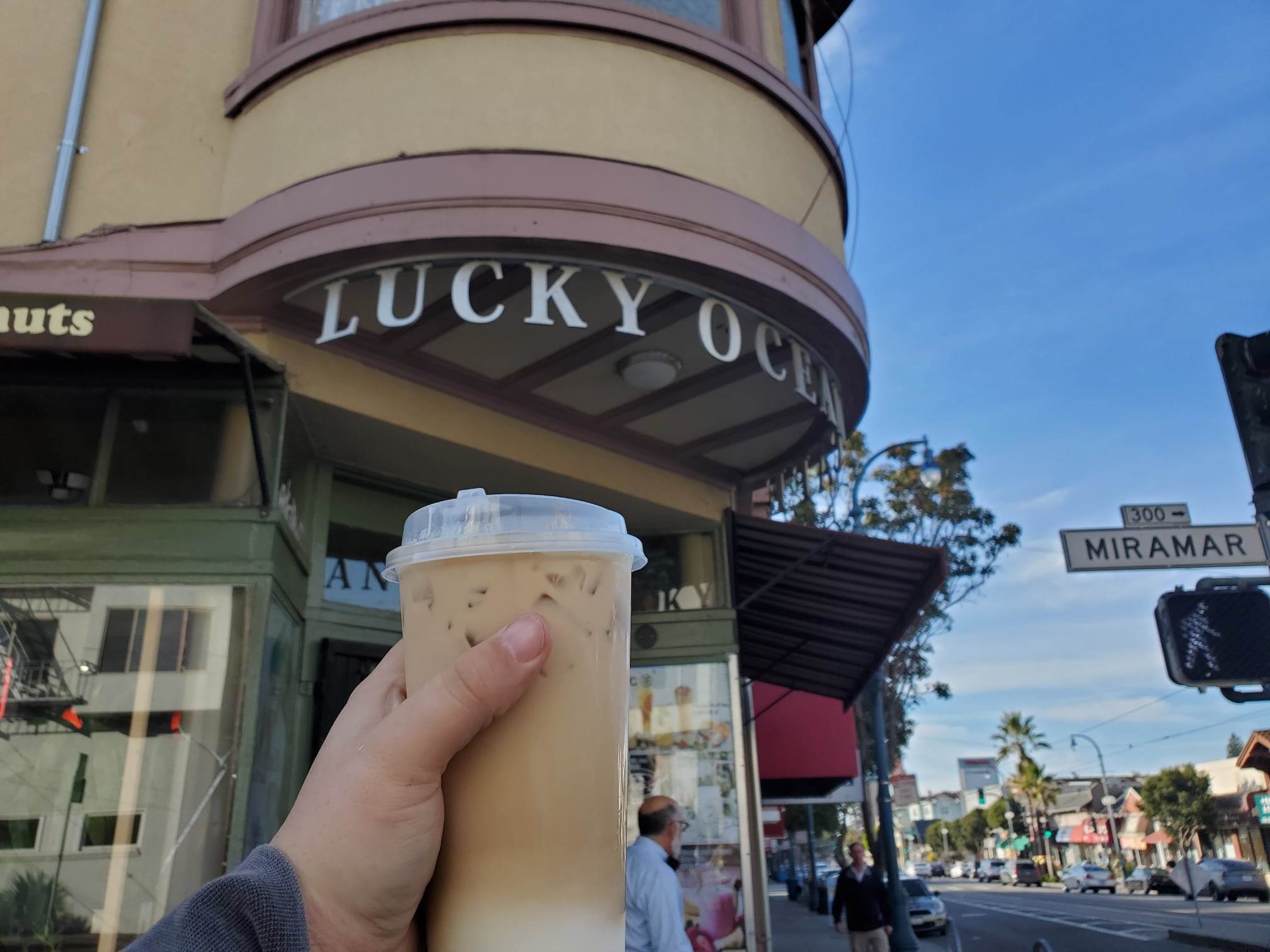 Lucky Ocean Cafe
📍 1501 Ocean Ave. 📞 (415) 337-8686
Much like Jo Jo's Cafe, this large corner shop is known for something other than their coffee drinks. Their selection of boba and fruit teas are the star of their menu along with bagels, sandwiches and other tasty items. They also have indoor seating and other items for sale like gum, instant noodles and lottery scratch off tickets.
Though it isn't their main menu item, they offer several coffee-based options such as have americanos, cappuccinos, flavored lattes, hot Vietnamese dripped coffee and more. Their prices range from $2.95 to just over $5 depending on if you get a single, double or cold coffee drink. They also have soy as their milk alternative, size upgrades and syrup add-ons for an additional $.50 to $.75.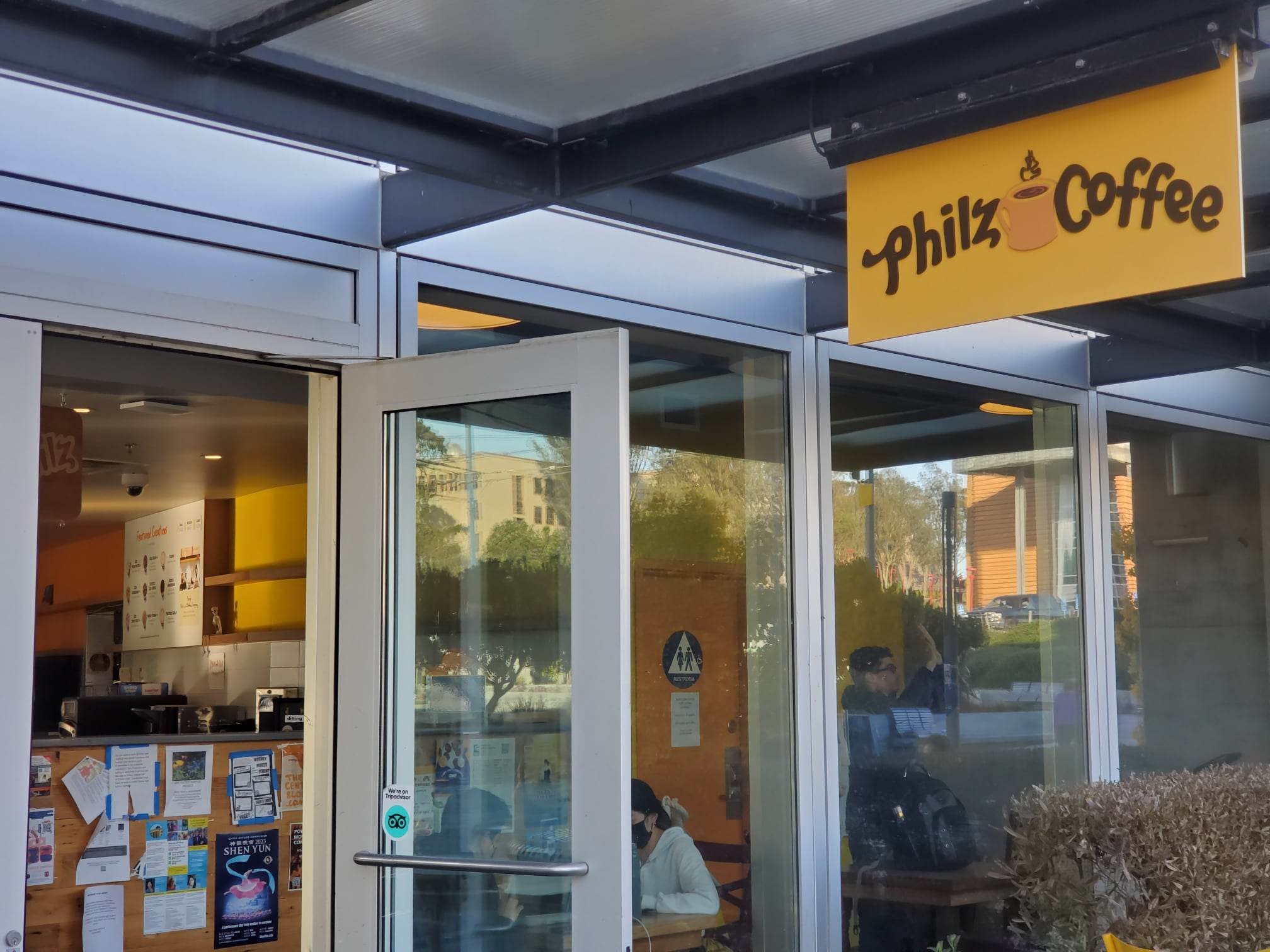 Philz Coffee
📍 1110 Ocean Ave 📞 (415) 841-1178 🌐 Visit Website
Founded in 2003 in the Mission, this home-grown coffeehouse chain provides an original coffee experience. Instead of adding syrups or whipped cream, their flavor boosters are dependent on what roast you choose. From fun names like Philharmonic and Tesora, each cup is made to order and ranges between $4.10 to $5.50.
Another thing that sets them apart is their plant-based milk options for no additional charge and how to order your sweetness and cream level. Their signature methods to order are house way (sweet and creamy,) Philz way (medium sweet and medium cream) and straight up (without any sweetener or cream.)
This location also offers an abundance of seating and is the hub for many students and patrons to get work done.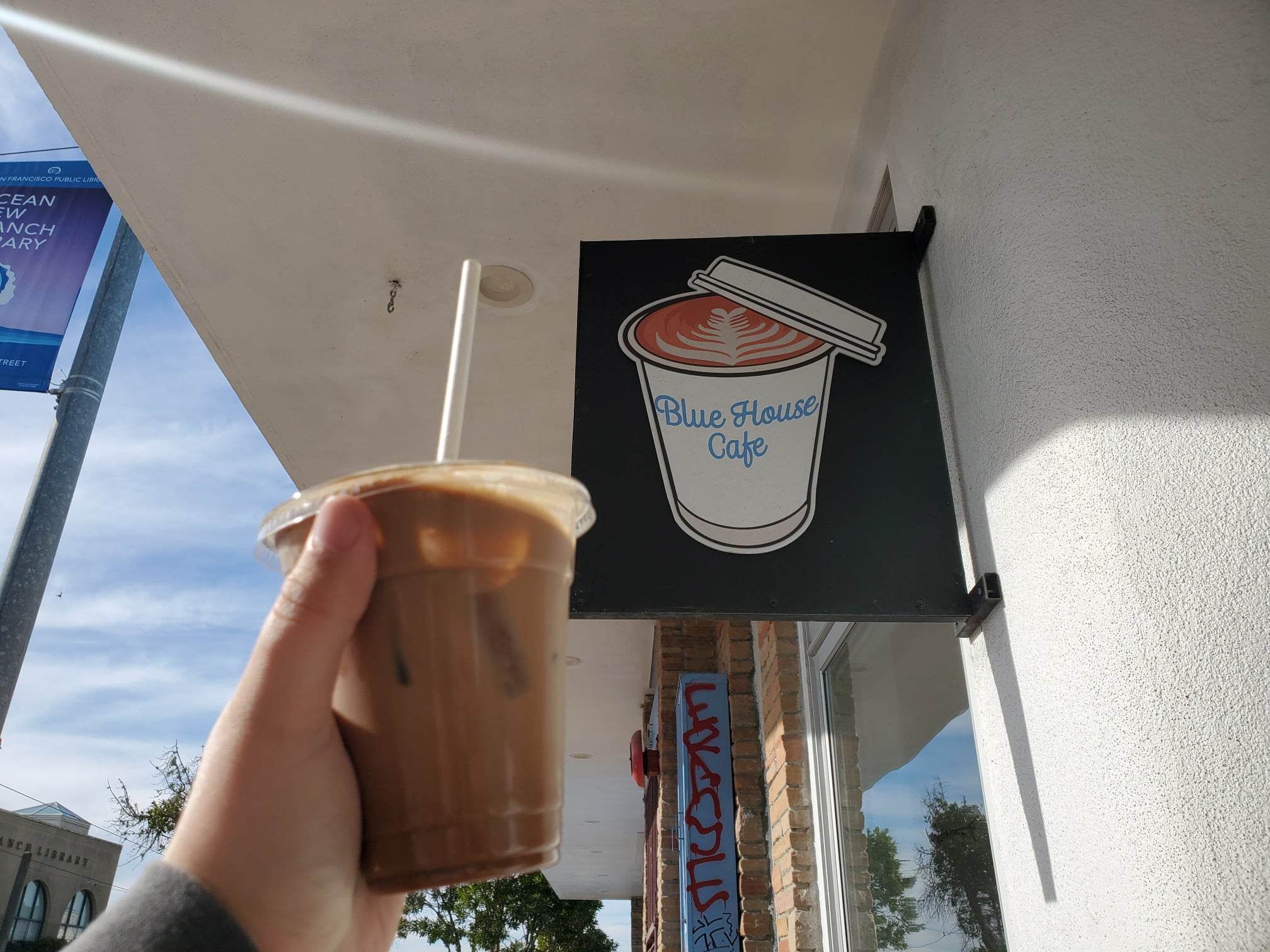 Blue House Café
📍 302 Randolph St. 📞 (415) 619-4858 🌐 Visit Website
Blue House Café offers what any coffee shop might serve like hot or iced macchiatos, lattes, mochas and americanos but what makes the sho a standout is its handcrafted flavored syrups.
They have year-round flavors such as brown sugar toffee nut, madagascar vanilla bean, ube or pandan, lavender vanilla and simple syrup. Their specialty drinks are an ube lavender matcha latte and a nutella. They also have milk alternatives soy, almond and oat.
Opened in 2019, the cafe has been providing the neighborhood with their signature coffee, baked goods like must-try snowy bites and other soft drinks. Their prices for drinks range from $3.25 to just over $6 depending on size and drink type.
Support Independent News
This story you've just finished was funded by our readers. We want it to inspire you to either sign up to become a member or make a gift to The Ingleside Light so that we can continue publishing stories like this one that matter to our community and city.
The Ingleside Light is a reader-funded news publication that produces independent journalism to benefit the community. We were founded in 2008 to fill a void in San Francisco's press: An outlet dedicated to the people of the greater Ingleside neighborhood. More than a decade later, The Ingleside Light is still here doing the work because it is critical to democracy and our civic life.
Your contribution today will help ensure that our critical work continues. From development to small business, to parks and transportation and much more, we are busier than ever covering stories you won't see anywhere else. Make your gift of any amount today and join the hundreds of readers just like you standing up for the power of independent news. Thank you.
JOIN NOW