Health
Cigarette Butt Receptacles Installed Along Ocean Avenue
In two months, Ocean Avenue went from a zero to thirteen cigarette butt receptacles.

In an effort to alleviate litter, a nonprofit organization and two city agencies have installed cigarette butt receptacles, also known as "buttcans," on the street light poles and a garbage bin along Ocean Avenue.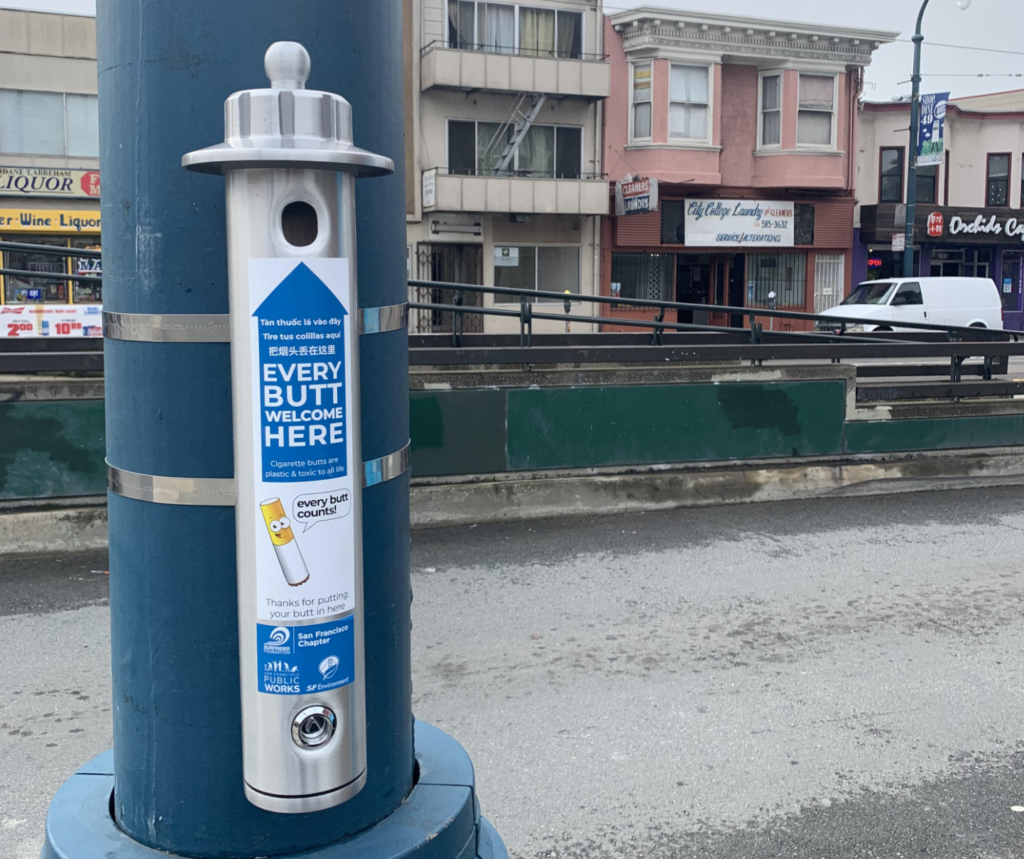 The nonprofit Ocean Avenue Association obtained six cigarette buttcans in December from the San Francisco chapter of the Surfrider Foundation, a coastal environmental protection organization, as part of its cheekily named "Hold on to Your Butt" campaign. [Disclosure: This reporter requested and installed six of the cans with the help of Neil Ballard.]
"Surfrider San Francisco's Hold on to Your Butt campaign educates people about the environmental impacts of cigarette butt litter, and helps install receptacles in cigarette litter hotspots to make safely disposing of butts easier," Program Lead Shelly Ericksen.
"Most people don't know that cigarette filters are made of a plastic called cellulose acetate," Ericksen added. "The filters break down in the environment, leaching toxic chemicals and sending thousands of tiny plastic fibers into our ocean and bay."
Also in December, the Department of Public Works installed a solar-powered, auto-compacting garbage receptacle called a Solar Street Bin outfitted with a buttcan.
City Hall's Real Estate Division, which manages Unity Plaza installed six buttcans to curb the littering of cigarette butts there in January.
The Surfrider Foundation will recycle all of the butts they collect with TerraCycle, a company that turns the plastic filters into industrial grade plastic products like shipping pallets and railroad ties.
Ocean Avenue's buttcans are installed on street poles at Ocean and Ashton, Faxon and Ocean, Granada and Ocean, Capitol and Ocean, Lee and Ocean and Unity Plaza.
---
Support independent community news
No media outlet covers our neighborhood like The Ingleside Light. Full stop.
Reader support sustains the expensive reporting our community needs and deserves. Will you join the hundreds of readers and become a member?