The neighborhood church leader was celebrated with a Jefferson Award in early February.
The Ingleside Light is an independent news outlet. Sign up to receive our latest stories as soon as they're published.
Ingleside Presbyterian Church's Rev. Roland Gordon, or Rev. G, from was awarded a silver medal at the 2023 Jefferson Award ceremony.
Gordon, among 59 Bay Area community people and programs honored on Feb. 8, was celebrated supporting the community through his work at the church and for inspiring people with his landmark Black history mural and collage The Great Cloud of Witnesses.
The ceremony was presented by Multiplying Good, a nonprofit organization that focuses on community service initiatives for youth and organizations and was hosted by newscaster Sharon Chin.
"The first person I thought about was my mom who inspired me by example," Gordon said during his acceptance speech, "[The] only race I learned is just the human race but I watched her example. She loved people. The bottom line, I saw my heart be molded by her example and I learned  it's all about love. It's all about respect, lifting up other people."
Gordon and the church have provided countless acts of community service over the years, including opening the Ingleside Community Center in 1986, organizing local clean-ups, holding food banks and hosting youth and senior programs.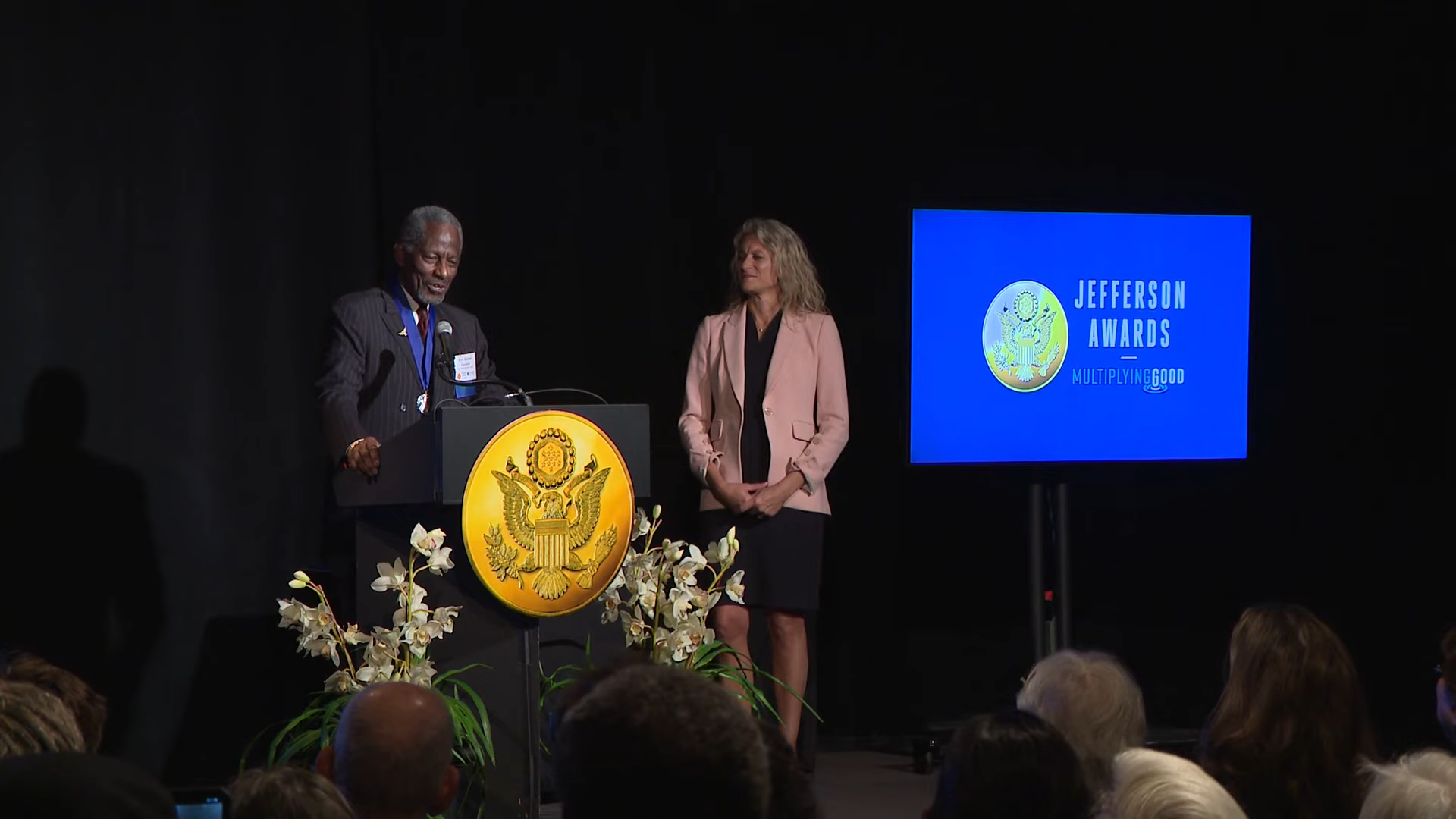 He also founded the Thad Brown Boys Academy in 1998, which he acknowledged in his speech, during a time where African American males were considered "an endangered species" by the 202nd Presbyterian General Assembly.
"I came to Ingleside at the age of 34 so I've been there almost 45 years—and again I'll be 79 shortly—and because of our structure proclaiming African-American boys an endangered species, I knew I had to step up to the plate," Gordon said.
From that point on, he devoted his church to being filled with images of African American icons and role models to inspire his students and patrons. During his speech he said that it all started with a photo of one of his heroes, Muhammad Ali.
"I knew my focus had to be these young African American boys who've been fed into their minds that they can't achieve," Gordon said. "I noticed that whatever I put up they would look and a thought came to mind that they won't read their African American books, perhaps, to understand that all people can achieve but they'll read the wall."
The mural has since been a key in Gordon's work.
"Willie Brown says that my collage is my legacy to the City and County of San Francisco," Gordon. said. "I say, no. It's the young people that have gone onto college and they come back with their families and tell me what that gymnasium has meant to them and many of them say their survival was aided by the fact of just all those images, they saw what they could be and that's enough."
Support Independent News
This story you've just finished was funded by our readers. We want it to inspire you to either sign up to become a member or make a gift to The Ingleside Light so that we can continue publishing stories like this one that matter to our community and city.
The Ingleside Light is a reader-funded news publication that produces independent journalism to benefit the community. We were founded in 2008 to fill a void in San Francisco's press: An outlet dedicated to the people of the greater Ingleside neighborhood. More than a decade later, The Ingleside Light is still here doing the work because it is critical to democracy and our civic life.
Your contribution today will help ensure that our critical work continues. From development to small business, to parks and transportation and much more, we are busier than ever covering stories you won't see anywhere else. Make your gift of any amount today and join the hundreds of readers just like you standing up for the power of independent news. Thank you.
JOIN NOW