News
Ingleside's Stretch of Ocean Avenue Deemed Dangerous Again
A major neighborhood traffic artery was restored to the list of streets in San Francisco's Vision Zero High Injury Network.

Ingleside's stretch of Ocean Avenue was returned to the city's list of dangerous streets in need of safety improvements.
The four-lane corridor, the center of the neighborhood's retail district and transit, previously had been included in the Vision Zero High Injury Corridor Network for many years until it was removed when parameters determining dangerousness were changed in 2017.
Vision Zero, a program run across several city departments, periodically updates the network of dangerous streets to target streets where crashes lead to severe injuries and deaths in an ambitious bid to end all traffic-related deaths.
Thirty-seven people were killed on San Francisco streets last year.
The streets in the 2022 version of the network represent 12% of city street miles and capture where 68% of severe and fatal injuries occur. Just more than 70% of severe and fatal injuries that occurred on the most dangerous streets were inflicted on pedestrians.
Ocean Avenue between Frida Kahlo Way (Geneva Avenue) and San Benito Way was identified in the first edition of the high-injury network report in 2011. That report focused on pedestrian safety, using data from the Statewide Integrated Traffic Records System from 2005-2012.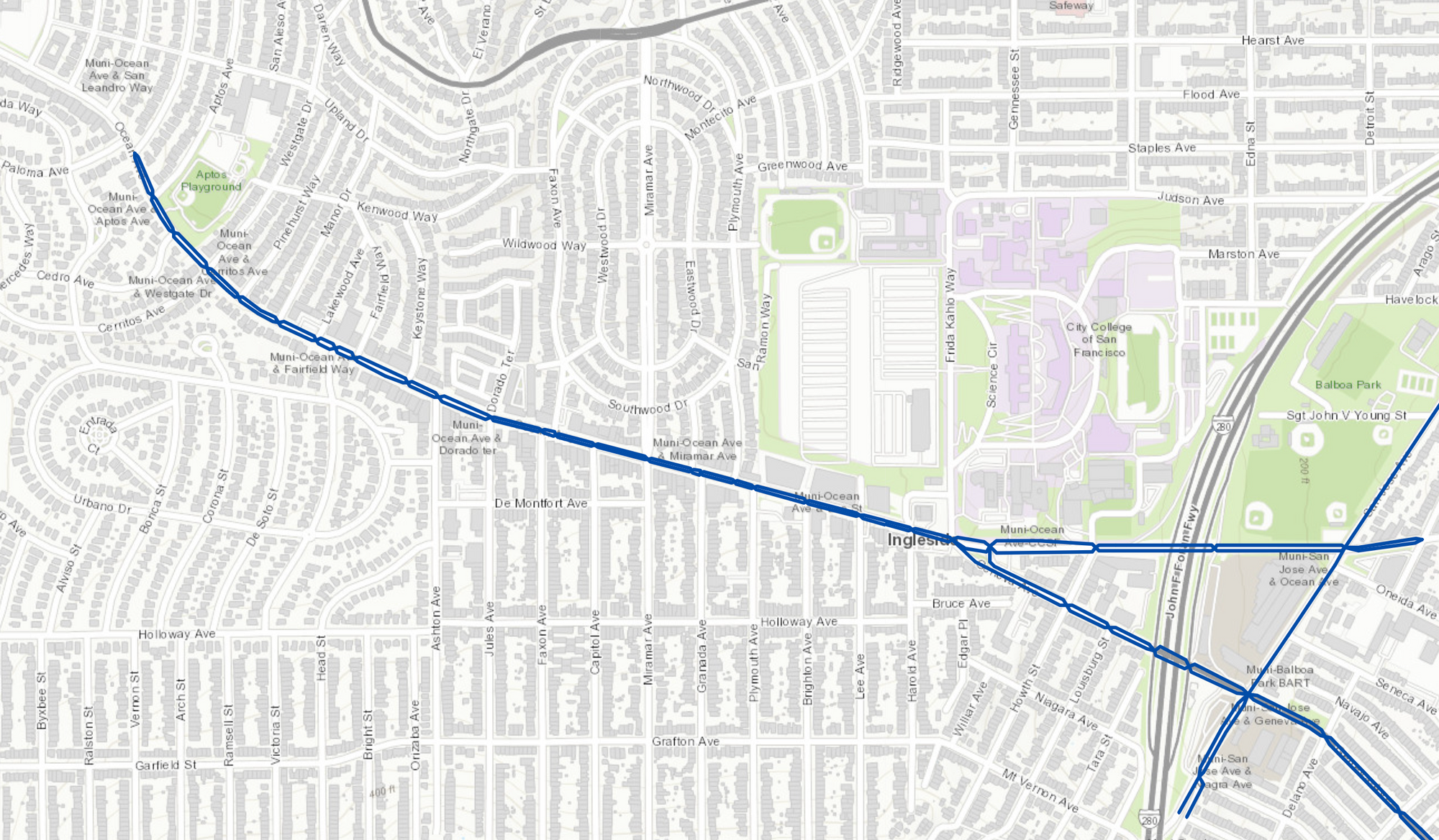 Ocean Avenue remained in the network when it was updated in 2015 to take into account the safety of cyclists and motorists in its calculations.
However, in the 2017 edition, Ocean Avenue west of Frida Kahlo Way was removed from the network. That year's calculations were based on data compiled by the San Francisco Department of Public Health's Transportation Injury Surveillance System, which used data from severe and fatal crashes that occurred in 2013-2015.
The health department updated the 2022 network late last year using data from 2017-2021. The methodology had to be updated because of the unprecedented changes in traffic patterns caused by the shelter-in-place public health orders during the pandemic.
WalkSF, a nonprofit organization dedicated to pedestrian safety, gave a presentation late last year before the San Francisco County Transportation Authority a report called "Safe Speeds City" that identified a handful of streetscape changes to improve safety.
The proposed improvements include: Reducing, reconfiguring and narrowing lanes; timing traffic signals; installing speed humps, cushions, and more; speed radar signs; chicanes, pinch points, crosswalks and islands; and roundabouts and traffic circles.
The report emphasizes reducing traffic speed at intersections and mid-block along with lowering speed limits. The San Francisco Municipal Transportation Agency used its new authority to lower speed limits on commercial streets in spring 2022 to reduce the speed limit on Ocean Avenue to 20 mph.
District 7 Supervisor Myrna Melgar directed the SFCTA to convene a group of neighborhood stakeholders for the Ocean Avenue Mobility Action Plan Task Force. Its mandate is to develop recommendations for projects that the city ought to advance by the end of spring.
Portions of San Jose Avenue, Geneva Avenue, Monterey Boulevard, Randolph Street and 19th Avenue are included in the high injury corridor network.