Housing & Development
Q&A: Robert Muehlbauer Talks What's Next for Ridge Lane
Neighbors have worked to create a safe and beautiful walkway for the neighborhood since 2013. But the work continues.

The Ingleside Light is an independent news outlet. Sign up to receive our latest stories as soon as they're published.
Longtime Ingleside resident Robert Muehlbauer, 70, has worked with his neighbors to develop an alley for improved pedestrian access and safety with a dash of natural beauty.
Ridge Lane, which is between Josiah and Howth avenues and San Jose Avenue, is a four-block pedestrian path with staircases and greenery, but it's not quite done.
"Of the four Ridge Lane parcels, two have been successfully completed, essentially, the entries at the east and west ends," Muehlbauer said. "Ridge Lane volunteers continue gardening and maintain those portions already constructed and perform repairs as necessary."
Since 2013, Ridge Lane Neighbors has worked tirelessly to turn the shortcut to Balboa Park Station into a suitable walkway.
"Our focus now is the interior two parcels, finding and applying for suitable grants, finding a reputable contractor, and proceeding with securing required approvals," Muehlbauer said. "The group keeps its eyes open for possible partnerships that might aid our effort."
To date, funds have come from the Community Challenge Grant, the Mayor's Office of Housing Community Development, add-back funds from district supervisors and donors.
The project is supported by the San Francisco Parks Alliance, San Francisco Public Works, San Francisco Public Utilities Commission and the Ocean View-Merced Heights-Ingleside Community Collaborative.
Landscape designer Nahal Sohbati has been especially dedicated to the effort for over ten years, starting when she was a student working on a class project.
On April 1, the advocates hosted a community day event where fellow neighbors and other Ingleside residents enjoyed refreshments, activities and live music from the Stephanie Woodford Trio.
The Ingleside Light caught up with Muehlbauer to learn more about the group's efforts and next steps for developing the remaining two parcels.
This interview has been edited for clarity and length.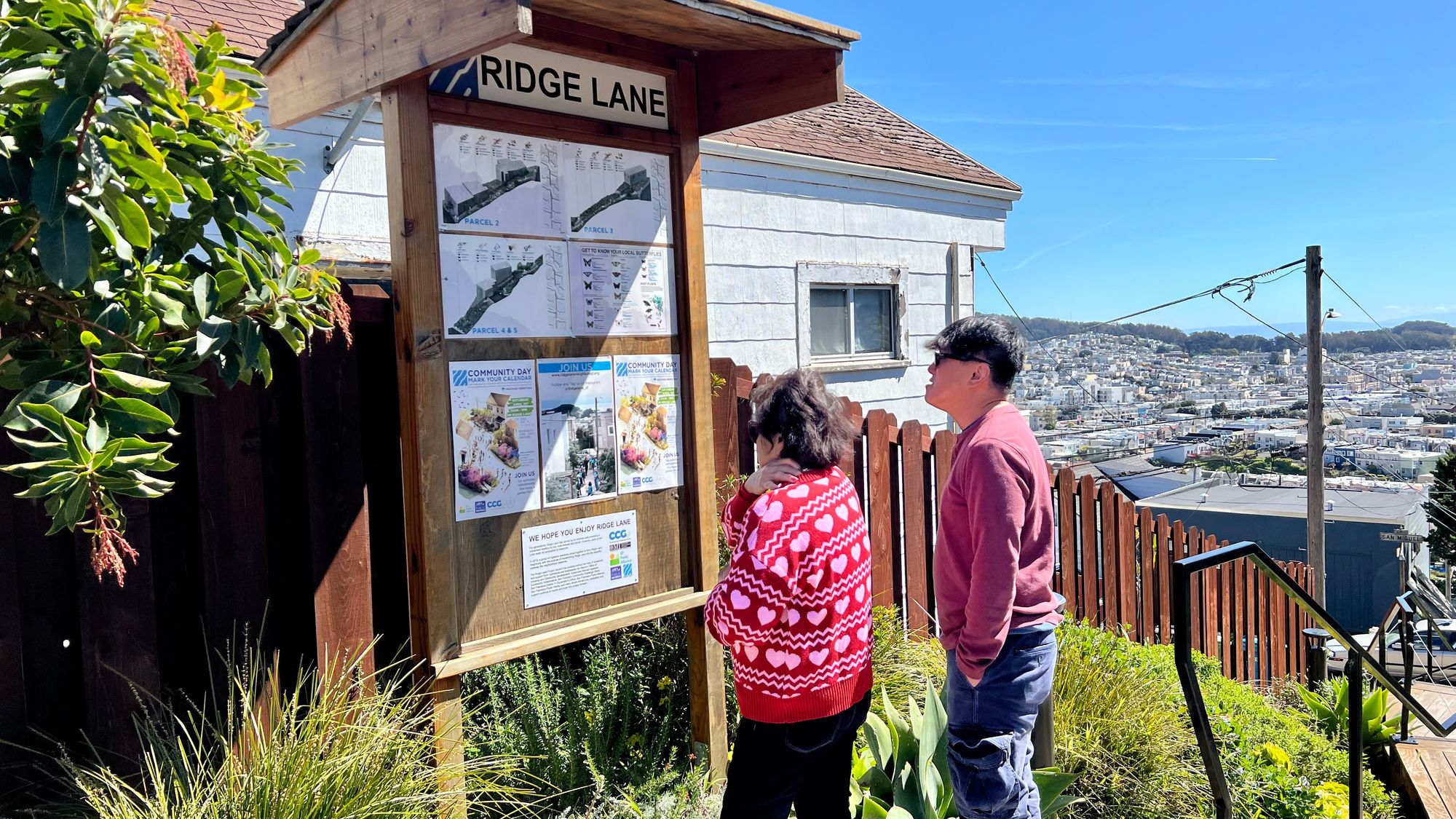 How and when did you become involved with Ridge Lane?
My role initially was to get neighbors to meet neighbors by sponsoring a house party of sorts. Supervisor John Avalos agreed to meet with us at a subsequent meeting, at which time all of us walked the immediate neighborhood and thought broadly about what to do with Ridge Lane. That served as a spark to take action, first by clean-up efforts along the lane, then to more active communication back and forth with Public Works about resources to aid our efforts.
Why is the Ridge Lane project important?
This is the future for San Francisco and healthy residential neighborhoods. We are now literally and figuratively choking on cars. My conviction is that if pedestrian infrastructure is well designed and viewed as a critical element to reduce car trips then more residents, like many already doing so, will not think first about their car keys before stepping out of their front doors to go wherever they are going. Ridge Lane is an opportunity to contribute and build upon that belief.
Why did the Ridge Lane Neighbors host the public event on April 1?
The April 1, 2023, event was to celebrate a lot of things really. No kidding, getting for the most part past the pandemic being one of them, to see and be with old neighbors and some new ones. A lot of us haven't seen each other than on Zoom so to speak. It posed a great chance to talk live and in person about why we use Ridge Lane and where we are going.
The other element was to again reach out to local officials about our progress and let them know that we are still here, still working this effort, looking for support, looking for ways to keep this all moving forward.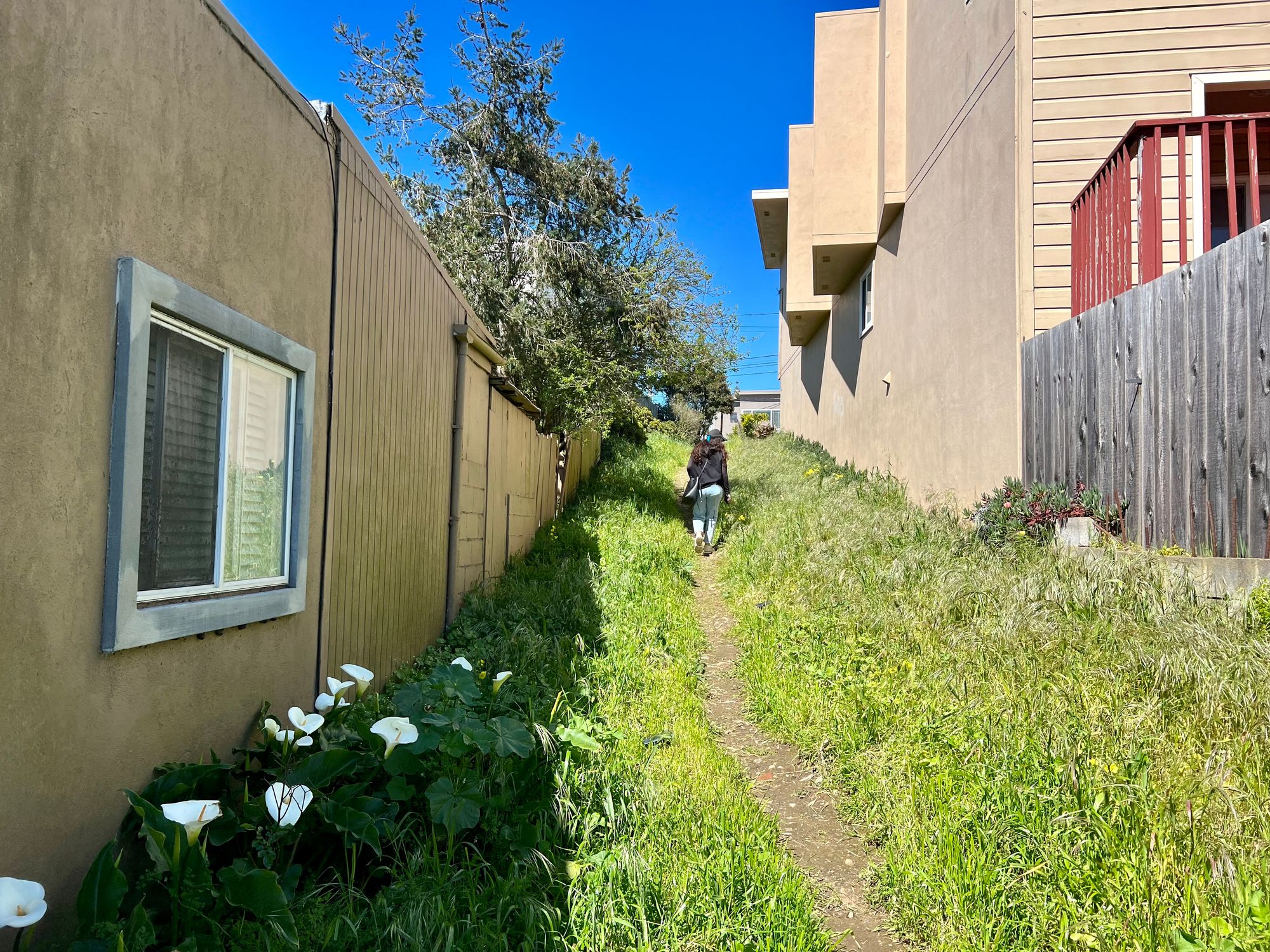 What are the next steps to building the lane?
Next steps are to work with our allies at Parks Alliance to identify new or continuing funding opportunities. Internally, we need to agree on stewards to lead with various initiatives. It's a big responsibility for any one person to manage project pieces as there are tenfold more possible complications than anticipated, so it's important that the group members contribute individually to assist volunteers taking on leadership roles.
The other next step is to preserve what has been built. Weeds grow. Some members relish the chance to get dirt under their fingernails so, again, in a post pandemic world we want to do more of that.
There continue to be offers of help. Public Works has been real good at providing green-waste bags, gloves, brooms, shears clippers and such, not to mention picking the bags up afterwards. As for 6 Caine Ave., Ridge Lane Neighbors want to establish a good working relationship with the new owners and, toward that end, are keeping the real estate broker associated with the sale up to speed with our efforts.
Any more events or advocacy actions coming up?
My wife Moneka and I will be speaking at Parks Alliance's Summit next month.
Support Us
This story you've just finished was funded by our readers. We want it to inspire you to either sign up to become a member, give a gift membership or make a gift contribution to The Ingleside Light so that we can continue publishing stories like this one that matter to our community and city.
The Ingleside Light is a reader-funded news publication that produces independent journalism to benefit the community. We were founded in 2008 to fill a void in San Francisco's press: An outlet dedicated to the people of the greater Ingleside neighborhood. More than a decade later, The Ingleside Light is still here doing the work because it is critical to democracy and our civic life.
Your contribution today will help ensure that our critical work continues. From development to small business, to parks and transportation and much more, we are busier than ever covering stories you won't see anywhere else. Make your gift of any amount today and join the hundreds of readers just like you standing up for the power of independent news. Thank you.
JOIN NOW