Politics
Redistricting Task Force Revises District 7, 11 Boundaries
Districts Seven and 11 residents attended the second Redistricting Task Force meeting to give input on the latest draft supervisor district maps.

Residents of Districts Seven and 11 tuned in and attended in-person at City Hall for the second Redistricting Task Force meeting to share input on revised draft supervisor district maps created after receiving considerable feedback on the first draft map released earlier this month.
The two draft maps, referred to as maps 2A and 2B, were drawn by Q2 Data and Research, an Oakland-based firm, this time with more input from the task force.
The latest maps altered the boundaries of District Seven by placing the Miraloma Park, Clarendon Heights, Forest Knolls and Laguna Honda neighborhoods inside of District Seven instead of District Eight as previously drawn.
Changes for District 11 include placing the district's northern border along Ocean Avenue east of Ashton Avenue and west of Interstate 280 instead of Holloway Avenue, which is the current border, and returning Visitacion Valley to District 10. Under the new draft maps, more of John McLaren Park is placed inside of District Nine, with the park bisected by Districts 11 and Nine along Mansell Street. Under the first draft map, all but the very northeastern corner of the park was in District 11, with the boundary cutting through the park along University Street, which placed the park's North Basin inside of District Nine.
The first draft map was drawn by Q2 Data Research with no direct task force input — only a set of parameters outlined by the task force including target population and preserving existing communities of interest, community benefit districts, cultural districts, and neighborhoods from Planning Department maps were given to the consultants, who were then allowed to draw the first draft map based on those guidelines.
The first draft map received sharp criticism from public officials and community leaders throughout the city. Geoffrea Morris, a former legislative aide for District 11 Supervisor Ahsha Safai, said that the draft map's inclusion of the Ocean View-Merced Heights-Ingleside neighborhood in District Seven weakened the political voice of people of color and jeopardized their public benefits by severing them politically from other communities of color in District 11, such as the Excelsior and Outer Mission.
Community Input
During the meeting regarding the second draft maps, the RTF members emphasized that they were interested in hearing feedback on how to preserve communities of interest, if the draft maps severed them at any point, and if such a split could cause issues for those communities.
The RTF received abundant public comment, with 63 people calling in or speaking in-person to comment on the new draft maps.
Many comments praised the draft maps, both of which adhere far more closely to the 2012 supervisor district maps as currently drawn.
Several District Seven residents from Miraloma Park and Forest Knolls praised the task force's placement of their neighborhoods inside District Seven in the current draft maps, instead of District Eight like in the first draft map.
"That's where we believe we should be," said Judy Clarke, representing the Woods of San Francisco Homeowners Association.
Several residents and community leaders in the OMI endorsed map 2B, which places the entirety of the Excelsior inside of District 11, drawing the border between Districts 11 and Nine along Madison Street, whereas map 2A places a chunk of the Excelsior inside of District Nine — namely blocks east of Naples Street and Avalon Avenue, north of Burrows Street, and south of Silver Avenue.
Renard Monroe, president of Invest Black, an outgrowth of the OMI Community Collaborative, advocates for investment of city resources including housing and workforce development in the neighborhood. He said that the map 2B would restore parts of Black communities taken out of District 11 and make those communities more cohesive inside a single supervisor district.
"This will keep us whole as a community and restore part of our district that was taken in 2012," Monroe said.
Former District 11 supervisor John Avalos, District 11 Democratic Club president Alida Fisher and OMI Neighbors In Action President Mary Harris, who is also a member of Invest Black, also endorsed map 2B during public comment.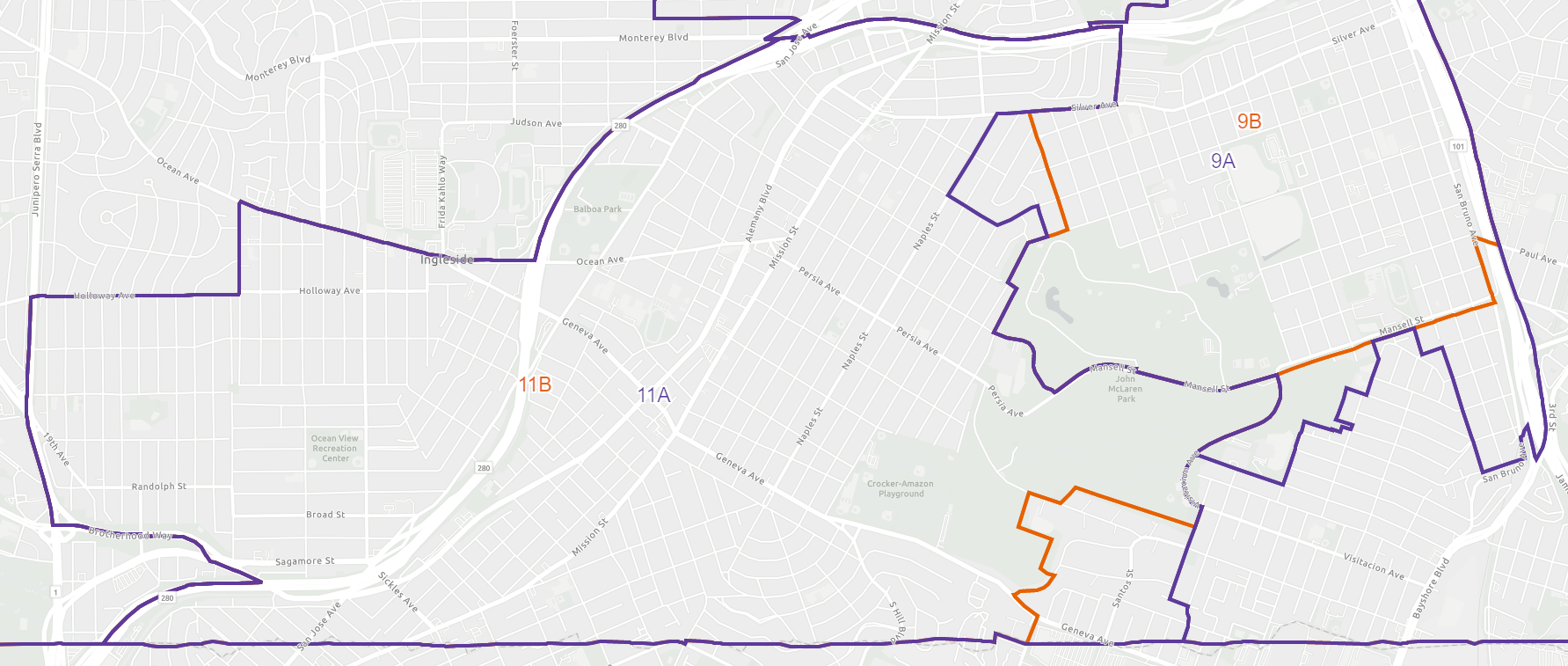 St. Mary's Park
Other points of contention materialized during the meeting, however, especially regarding District 11.
One area where residents disagreed was whether the neighborhood near Saint Mary's Park should be included in District 11. The current draft maps place all but a few blocks of Saint Mary's Park — namely those bordered by Alemany Boulevard, Congdon St, and Justin Drive — inside of District Eight. Currently, Saint Mary's Park is bisected between Districts Eight and Nine along Mission Street.
David Hooper, president of the New Mission Terrace Improvement Association, said that his Filipino neighbors in Saint Mary's Park have told him that they want to remain in District Nine, and that the RTF should therefore keep Saint Mary's Park outside of District 11.
Al Perez, president of Filipino-American Arts Exposition, asked the RTF to include Saint Mary's Park in District 11, citing the district as having the largest concentration of Filipinos in San Francisco and noting that there are nearly two dozen Filipino-owned businesses along Mission Street running from Saint Mary's Park to the Daly City border.
"I would like to encourage you to keep the Filipino community in D11 together," Perez said.
The RTF will meet on March 23 to continue discussing the draft maps presented during Monday's meeting, and will finalize the supervisor district map by April 15.
---
Support independent community news
No media outlet covers our neighborhood like The Ingleside Light. Full stop.
Reader support sustains the expensive reporting our community needs and deserves. Will you join the hundreds of readers and become a member?