The new trustees unseated three incumbents.
The Ingleside Light is an independent news outlet. Sign up to receive our latest stories as soon as they're published.
Three new members of the City College of San Francisco's governing board were sworn in during a hybrid meeting on Wednesday evening.
Vick Chung, Anita Martinez and Susan Solomon ran together in the November election to unseat three incumbent trustees with the support from the college's teacher's union, American Federation of Teachers Local 2121, and the San Francisco Labor Council.
"City College has been this long drawn out fight with community and labor on one side and City College administration on the other and the state," said Kim Tavaglione, the executive director of San Francisco Labor Council. "I think this is definitely a step in the right direction and hot damn we won the trifecta here."
Several City College faculty and staff along with numerous community members were in attendance, including San Francisco Supervisor Connie Chan, who endorsed the trio.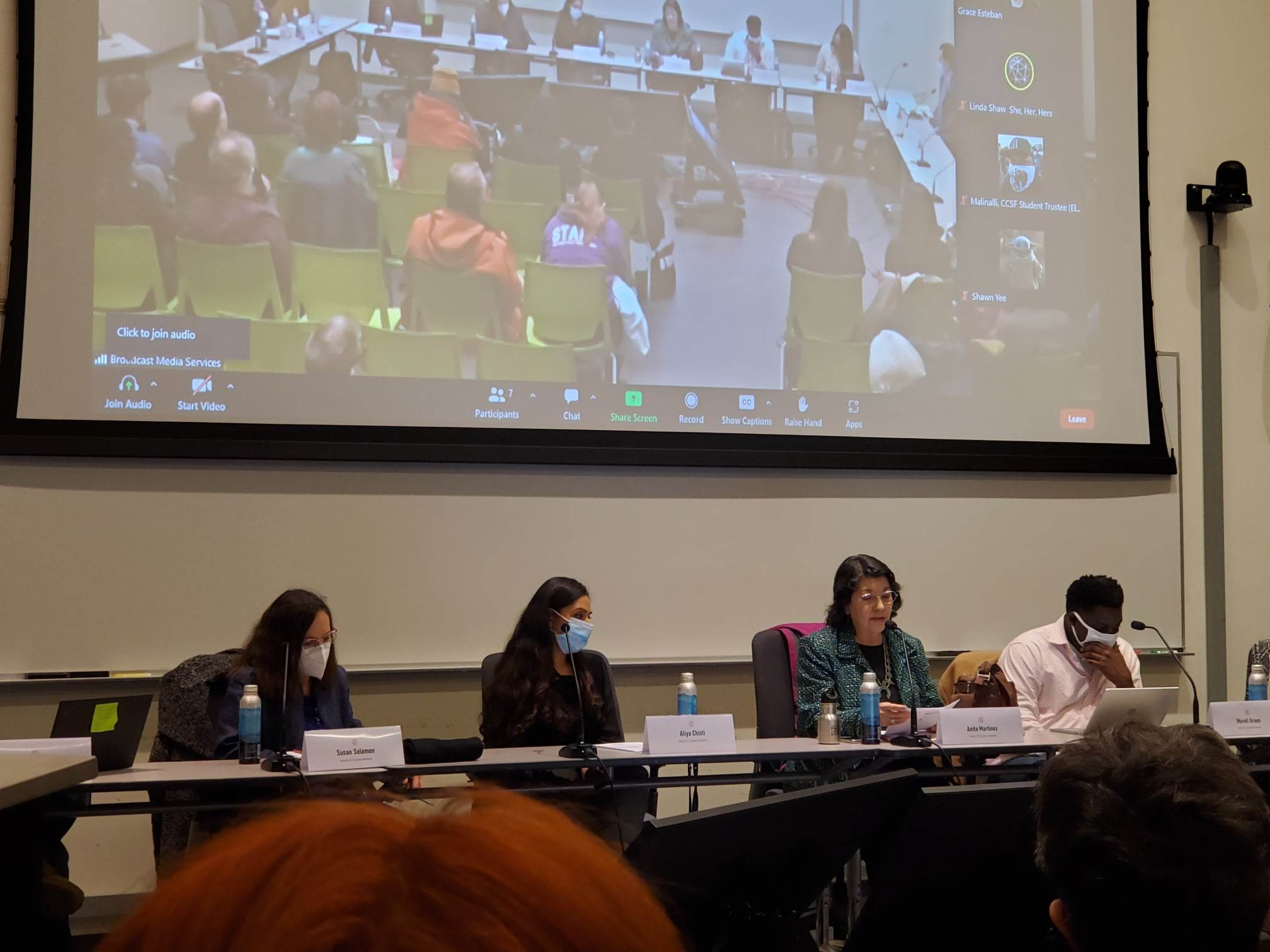 "We count on you to make sure that City College continues to thrive and especially coming out of this pandemic," Chan said. "We'll support you and, moving forward, we just hope that we will bring back City College to the glory days that it had in the past and then even better."
The trio campaigned on applying fiscal integrity, expanding revenue resources, building student services and making a comprehensive, diverse, green and safe campus.
Martinez, who is a former dean at the college, said she intends to learn from the experiences of others and from the many discussions to come to guide her policies.
"All I'm saying is that it's good to be home," Martinez said. "I want to thank all of the employees and the students who come here. It takes a family and this is our family to provide the education opportunities that our students so richly deserve."
Murrell Green, who was appointed to the board by Mayor London Breed and retained it in the election, was also sworn in to a full term.
Support Independent News
This story you've just finished was funded by our readers. We want it to inspire you to either sign up to become a member or make a gift to The Ingleside Light so that we can continue publishing stories like this one that matter to our community and city.
The Ingleside Light is a reader-funded news publication that produces independent journalism to benefit the community. We were founded in 2008 to fill a void in San Francisco's press: An outlet dedicated to the people of the greater Ingleside neighborhood. More than a decade later, The Ingleside Light is still here doing the work because it is critical to democracy and our civic life.
Your contribution today will help ensure that our critical work continues. From development to small business, to parks and transportation and much more, we are busier than ever covering stories you won't see anywhere else. Make your gift of any amount today and join the hundreds of readers just like you standing up for the power of independent news. Thank you.
JOIN NOW