A moment after a foreclosure auction's start time, city officials located the auctioneer and halted the proceedings.
The Ingleside Light is an independent news outlet. Sign up to receive our latest stories as soon as they're published.
A moment after a foreclosure auction's start time this afternoon, a city official flanked by Sheriff's deputies descended down the Van Ness Avenue steps of City Hall and located the auctioneer working for Superior Default Services, Inc. Would-be bidders and activists filmed a hushed conversation on their cell phones.
The official directed the auctioneer to move down to the corner to conduct his business for the sake of social distancing and stated that holding auctions on the City Hall steps has been forbidden since 2012.
Lt. Michael Kilgariff of the Sheriff's Department read a statement to the auctioneer from the City Attorney summarizing the necessary provisions for the auction to proceed: a social distancing protocol and a document stating that the business qualifies as essential.
The auctioneer made a phone call and went to the corner. An aide for District 11 Supervisor Ahsha Safai asked the sheriff's if the gathering was necessary.
"This is a nonessential transaction going on," Kilgariff said to the crowd. "The auctioneer doesn't know what he is doing; he's on a phone call right now. So right now I'm going to have to ask everyone to disperse for the public safety."
The crackdown may have thwarted any bidders from picking up affordable property, but for those property owners and tenants who would have been impacted it was a reprieve.
For attorney Tom LaLanne, 72, the crackdown was sweet.
"I was very pleased that the Sheriff came out in force," Lalanne said. "As 2 o'clock approached, I was concerned that they weren't going to come. They were pretty serious about closing it down."
On Tuesday, April 21, two properties owned by Lalanne's client were sold on the City Hall steps. Footage of that auction obtained by The Light shows that social distancing guidelines were not followed.
"Under normal circumstances I would have been challenging the foreclosure sales in court,"  Lalanne said.
But many courts are closed across the state to prevent the spread of the coronavirus.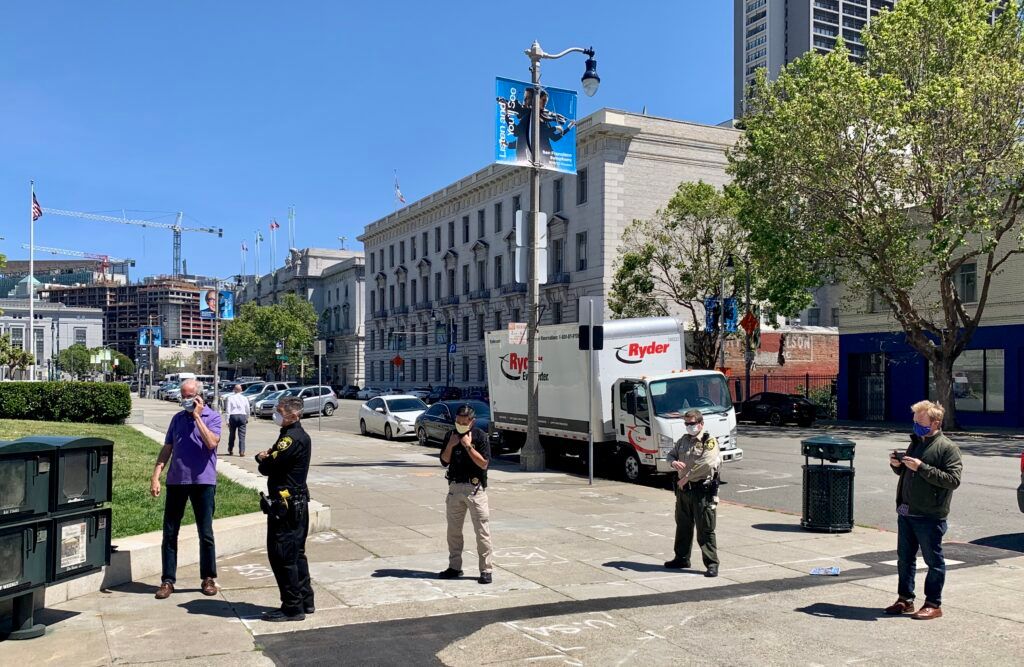 "I think it's amazingly insensitive and inappropriate that these auctions were going on so long," Lalanne added. "It should have been obvious that nonjudicial foreclosures were going on. These are really important things to people's livelihoods."
There is a provision in the public health order that allows for residential real estate transactions. At a minimum, the business must follow social distancing and have a social distancing protocol in place. However, online transactions are preferred.
Because the auctioneer moved the location from where it was advertised, the auction, held by Superior Default Services, Inc., was postponed.
The Southern California-based corporation "has nearly 20 years of experience in the foreclosure field," according to its website. The company operates in California, Arizona, Nevada, Washington and Oregon.
A message left for Superior Default Services Inc. was not returned by press time. However, its website lists the Van Ness Avenue entrance to City Hall as the location of its Tuesday and Thursday auctions for San Francisco County.
"Evictions are prohibited during the pandemic," City Attorney spokesperson John Cote said via email. "The stay-safe-at-home order does allow for services that enable residential real estate transactions. The reason is to allow people to continue to purchase or rent a home so they have a place to go. However, these sales should be conducted remotely if possible."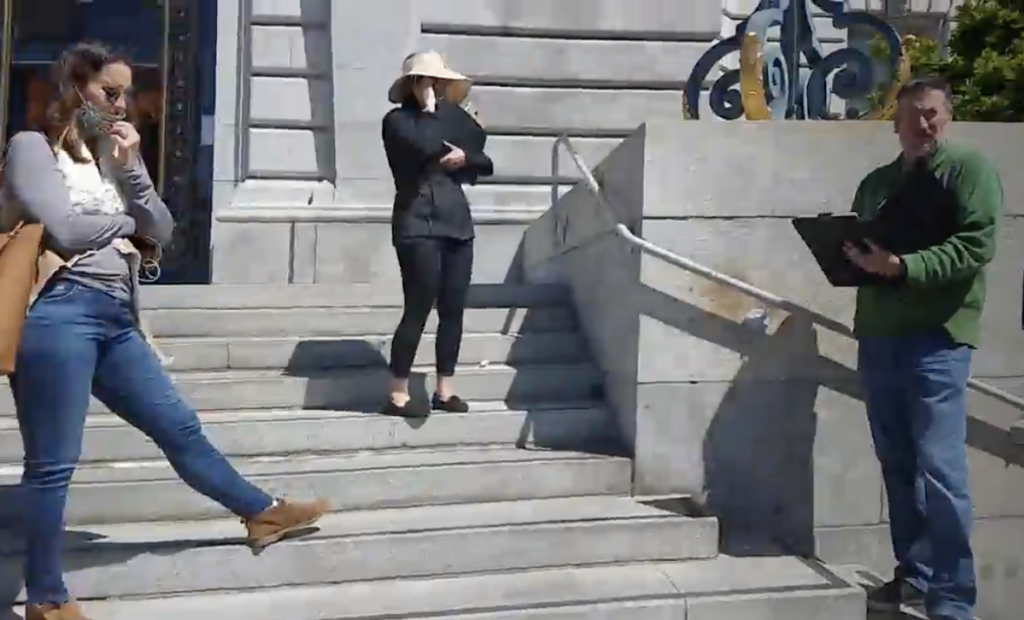 The Sheriff's Department did not have information about how many warnings were issued to auctioneers since the shelter-in-place order was issued.
In 2012, a policy prohibiting auctions on the steps of City Hall went into effect, according to Sheriff's Department spokesperson Nancy Hayden.
"I can tell you that when there is a policy violation, the Sheriff's Office asks people to leave," Hayden wrote via email.
Support Independent News
This story you've just finished was funded by our readers. We want it to inspire you to either sign up to become a member or make a gift to The Ingleside Light so that we can continue publishing stories like this one that matter to our community and city.
The Ingleside Light is a reader-funded news publication that produces independent journalism to benefit the community. We were founded in 2008 to fill a void in San Francisco's press: An outlet dedicated to the people of the greater Ingleside neighborhood. More than a decade later, The Ingleside Light is still here doing the work because it is critical to democracy and our civic life.
Your contribution today will help ensure that our critical work continues. From development to small business, to parks and transportation and much more, we are busier than ever covering stories you won't see anywhere else. Make your gift of any amount today and join the hundreds of readers just like you standing up for the power of independent news. Thank you.
JOIN NOW