Arts & Entertainment
'Ingleside Wildflowers' Mural Evokes Neighborhood's Long Gone Natural Past
"Ingleside Wildflowers," the striking mural on the 1100 block of Ocean Avenue, was inspired by a unique source.

The striking mural across the PG&E substation on the 1100 block of Ocean Avenue has a secret.
"Ingleside Wildflowers" depicts the neighborhood's past as shown in a rare piece of ephemera.
The mural was drawn from a postcard from the early 1900s showing people in an open field abounding with blueish wildflowers with what appears to be Lake Merced distant in the background. Overset text reads, "Picking wild flowers (sic) at Ingleside. San Francisco, California." An image of the postcard was provided to the nonprofit Western Neighborhood Project by a private collector.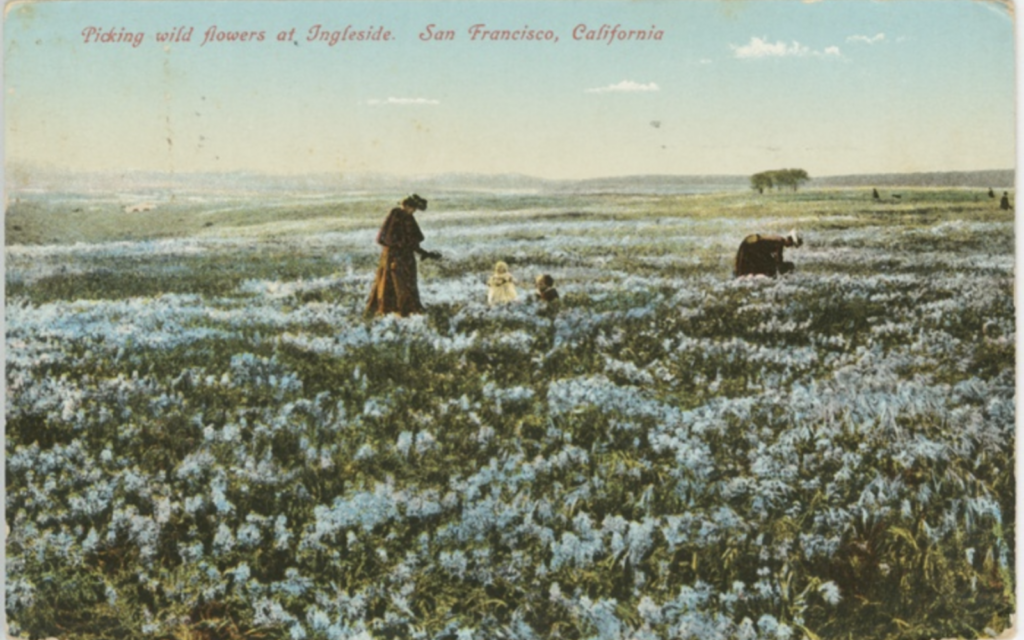 "Being able to bring some nature back to our urban city aims to bring calm to viewers and passersby and remind us all of the continuing evolution of Ocean Avenue," Dan Pan of 1AMProjects told the Ingleside Light.
Pan and muralist Antoine Marnatta created the work with volunteer assistance from this reporter. Funds came from a District 7 Participatory Budgeting grant awarded to the Ocean Avenue Association.
Obtaining permission from PG&E and approval from the San Francisco Arts Commission took one year.
For cultural sensitivity reasons, 1AMProjects left out the people in the postcard.
"Ingleside Wildflowers" is one of a handful of restored and new works in the neighborhood.
1AMProjects was commissioned to put the Ocean Avenue mural on the retaining wall at the intersection of Geneva and Ocean avenues. They also created the "Ingleside Pride" mural on the 1500 block of Ocean Avenue.
"Having learned so much about Ocean Avenue's community and history when creating the Ocean Avenue mural five years ago, I was inspired to celebrate the rich history and romanticize what Ocean Avenue looked like even further in time," Pan said.
Pan added that he appreciated all the community members who thanked and showered him with kind words during the painting process.
The mural is one of the best in Ingleside, according to artist Neil Ballard, who recently painted a mural on a storefront in the neighborhood.
"The cool, soft colors are transporting and evocative of natural beauty, and the fact that the mural is based on an old postcard of how the neighborhood used to look makes it all the more significant for those who are familiar with the history of the Ingleside," Ballard said. "Ingleside needs more murals and more public art, and I would love to see murals on the walls inside the substation as well."
---
Support independent community news
No media outlet covers our neighborhood like The Ingleside Light. Full stop.
Reader support sustains the expensive reporting our community needs and deserves. Will you join the hundreds of readers and become a member?